Fiscal Year 19-20 Highlights
Million-Dollar-Plus' Deals
21
Unexecuted Order Book (as on March 31, 2020)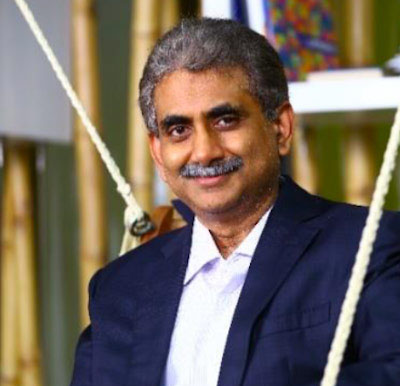 In the world of business today, speed matters more than anything else, and Digital Transformation will be possible only when organizations are agile. Transforming operations will bring in operational excellence that will be driven by technology thus paving way for innovation and excellence. This is where Digital Transformation steps in. We, at Ramco, continue to emphasize on the fact that a true Digital Transformation is all about results that should be driving an improvement that is not just incremental but substantial. What was expected to become a need by 2025, has now become urgent and important.
Ramco Systems Q1 net profit grows 54% QoQ
Rajapalayam - August 2, 2018
Rajapalayam, India – August 2, 2018: Ramco Systems (BSE - 532370, NSE – RAMCOSYS); a global enterprise software company focusing on enterprise cloud platform, products and services, today announced the results for the first quarter of 2018-19.
For the quarter ended June 30, 2018 (Q1: 2018-19), global consolidated income of Ramco Systems Limited stood at USD 19.33m (Rs 127.7 cr) as compared to USD 17.55m (Rs 112.8 cr), in the same quarter last year. The net profit after tax for the quarter, grew 54% QoQ to USD 1.02m (Rs.6.7 cr) as compared to USD 0.66m (Rs 4.2 cr), in the previous quarter.
Financial highlights – Q1:
Revenue grew by 11% YoY to USD 19.02m
Six 'million-dollar-plus' deals were added in the quarter
Order bookings in the quarter stood at USD 25.61m predominantly contributed by Logistics, Aviation and ERP
Geography highlights – Q1:
Revenue from markets outside India stood at 77%
Asia (excluding India) continues to be a dominant market contributing 38% to the overall revenue
Ramco Payroll in Australia gets Single Touch Payroll (STP)-ready to enable clients comply with Australian Tax Office (ATO) regulation
Business highlights – Q1:
Leading the trend by skipping a generation of User Interface by moving commonly used transactions to Chatbots and Voice bots (Google Assistant & Amazon Alexa). HCM Chatbot – CHIA which has been in use by multiple clients, sees standalone business wins
Ramco Aviation wins marquee clients including an order from HAECO, one of the world's leading independent aircraft engineering and maintenance, repair and overhaul ("MRO") group, for complete Inventory Technical Management and an order for Fighter Jet Maintenance Software from a leading Defense Contractor
Logistics continues to strike a chord with clients with its focus on 'one unified offering for Logistics'; contributing 23% of order book
Yet again, Ramco becomes the only Asia based vendor to be featured in Gartner's Magic Quadrant for Cloud Core Financial Management Suites
Focus on Innovation to drive simplification, standardization and automation in HR & Payroll wins Global Payroll Association's 'Payroll Innovation Award'
Operational highlights:
EBIDTA stands at 21% in Q1 due to improved operational efficiencies and quality client acquisitions
Commenting on the results, P.R. Venketrama Raja, Chairman, Ramco Systems, said, "Beating the traditional trend of a muted Q1, we have maintained a healthy start to business this year. With focus markets and offerings delivering as expected, the future looks promising. Our thrust on Innovation by delivering a frictionless experience through voice bots on Google Assistant and Alexa has caught the market's attention. The strategy we embarked upon has been working well for us and we will continue to press on the same."
** Google Assistant™, virtual personal assistant is a trademark of Google LLC | Alexa and all related logos are trademarks of Amazon.com, Inc. or its affiliates
Download PDF