Industry's Leading Aviation Maintenance Software for Civil & Defense
Is going Digital on your agenda? Time to experience Innovation-rich Aviation maintenance software built to address the demands of the dynamic aviation industry. Look beyond aging ERP systems - and deploy an all-inclusive M&E/ MRO software to address all your business and regulatory requirements. From BOTS to drones, and Machine Learning, get ready with best-in-class Aviation maintenance software to face the challenges head-on.
A Solution Fit For Each Industry
Why Choose Ramco Software for Aviation Maintenance?

ONE STOP SHOP FOR ALL YOUR NEEDS
Largest IP on a single platform, Multi-tenant capability, Real time analytics, Desktop to Mobile, Minimal Programming, Intelligence embedded

IN MEMORY PLANNING & OPTIMIZATION
Our Next-Gen Aviation Maintenance Mobility Solutions empowers you to go fully digital & paperless and work on the go.

GO MOBILE - PAPERLESS DIGITAL MRO
Maintenance on Mobile empowers you to work on the go, fully digital & paperless onboard our Next-Gen Aviation Maintenance Mobility Solutions

DISRUPTING THE STATUS QUO
Launched the first MRO Innovation Lab in Singapore with anchor partner AFI KLM E&M & Singapore EDB
PROVEN TECHNOLOGY CHAMPIONS
Endorsed by ISG Paragon Awards, ARSA and Frost & Sullivan

USABILITY FOCUS
Contactless interactions, moving towards Conversational UI for enhanced UX
A Solution For Every Aviation Need
Ramco Aviation Solution Map
While Aircraft Technology has leapfrogged, the ground reality is that the M&E MRO support systems are yet to catch up with the new-age technology. Paper based manual processes along with multiple disparate systems still exist!
Ramco is here to bridge this vision gap. Our product strategy is to create and provide the Next Generation Enterprise Solution that can enhance the competitive edge of the Aviation Industry by leveraging the latest technology innovations and proven business processes. Our Aircraft maintenance management software lets organizations streamline activities and set timely inspections for speedy and efficient operations.
Warranty Management - $6M savings on warranty
Data availability & Reporting – 40% reduction in data corruption
Inventory Management – 6% reduction in carrying cost
Contract Management – 10% reduction in revenue leakages
Engineering Management – 80% Automation of non-critical activity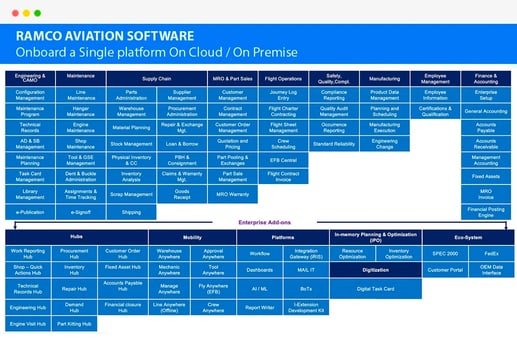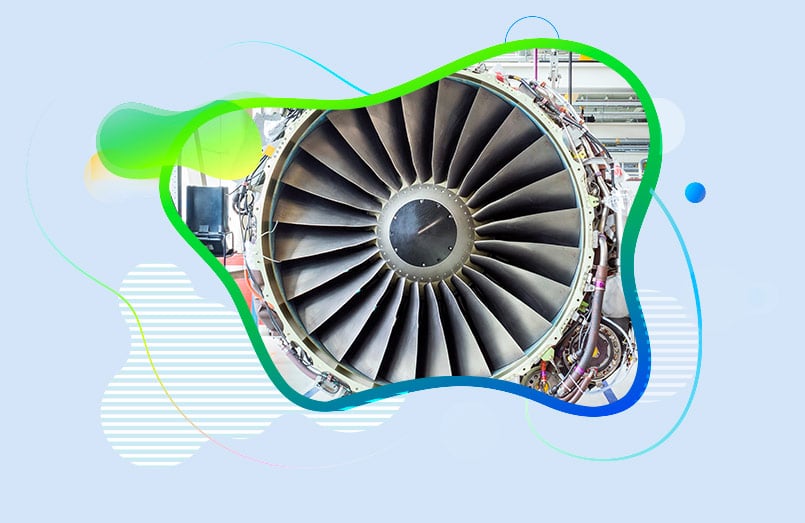 Contact Us for Next-Gen Aviation Maintenance Software