PARAMETER VALUE TRACKING
Ramco Aviation Suite facilitates tracking of rotor parameter values at various levels. In addition to Flight Hours & Landings tracking, additional parameters like rotor brakes, rescue brake hoists, rotor coast downs, engine starts, hobbs meter, Retirement Index Number (RIN) etc. can be tracked. Maintenance programs for components can also be tracked for trackable parameters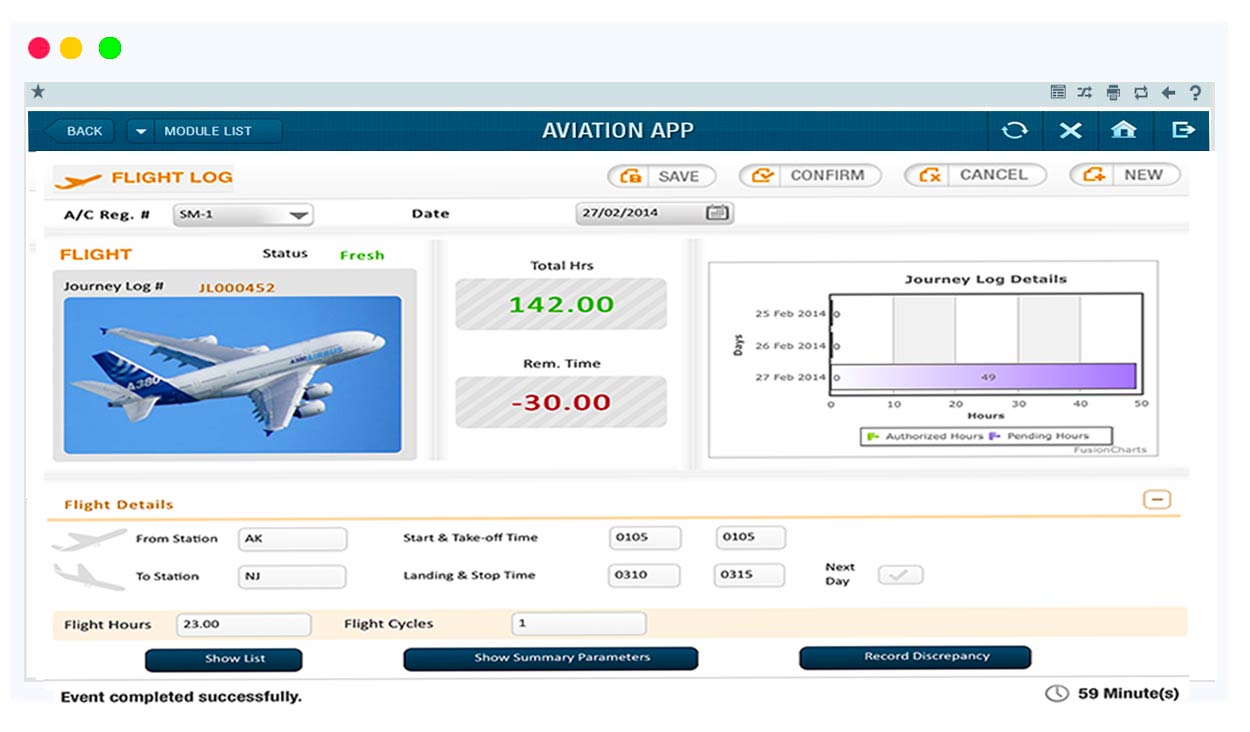 POSITION BASED SCHEDULE TRACKING
Schedules which change based on the attachment of the part to a location in the rotorcraft can be effectively managed by using position based schedules available in Ramco Aviation Suite. This feature provides flexibility to have different schedules for the same task in part to adjust automatically based on its current location on the rotor craft.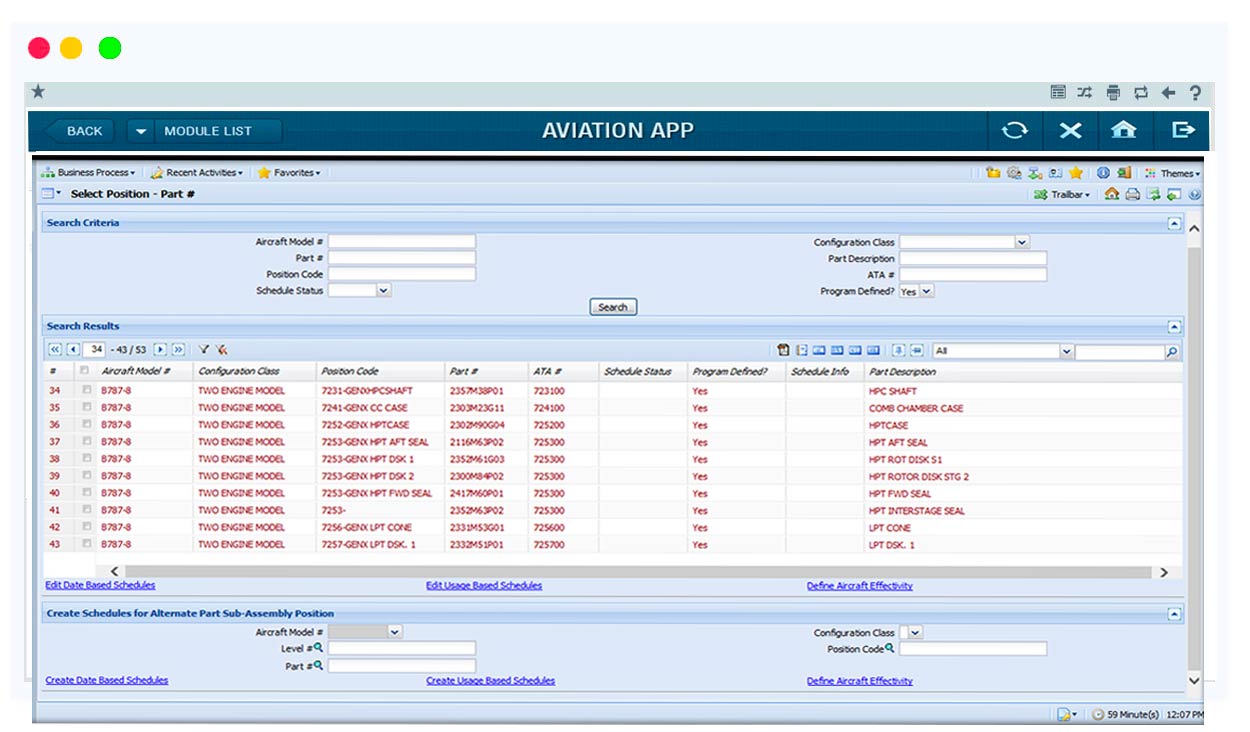 OFFLINE FIELD MAINTENANCE SYSTEM
Ramco Aviation Suite is now providing a solution to overcome the challenge for operators having remote operations. Asynchronous mode of data transfer is also possible: which implies that the same data can be updated from the main and field bases and system takes care of merging the data. Moreover, data transfer can happen using any media like email, USB drive etc. Auto data transfer using file transfer protocol is also supported which handles movement of extracted data movement from field to main bases and vice versa. The most exciting part is that the entire data transfer can be at the click of a button.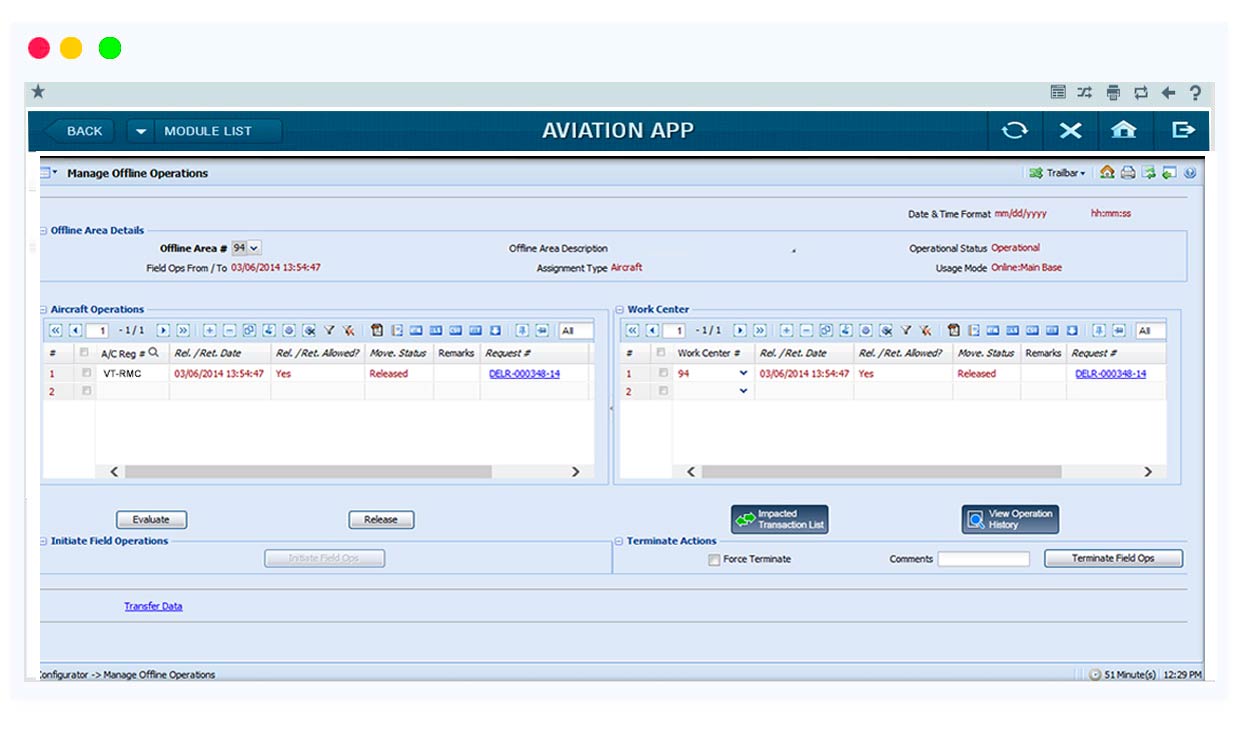 MOBILE APPLICATION WITH IPAD®
Ramco solution available in IPAD® enables a mechanic to access the system from virtually anywhere without any additional costs. IPAD® solutions also facilitate a paperless system for the entire line and hangar maintenance operations. With mobile systems, mobility is fully integrated with the main system, thereby maximizing productivity, and streamlining processes.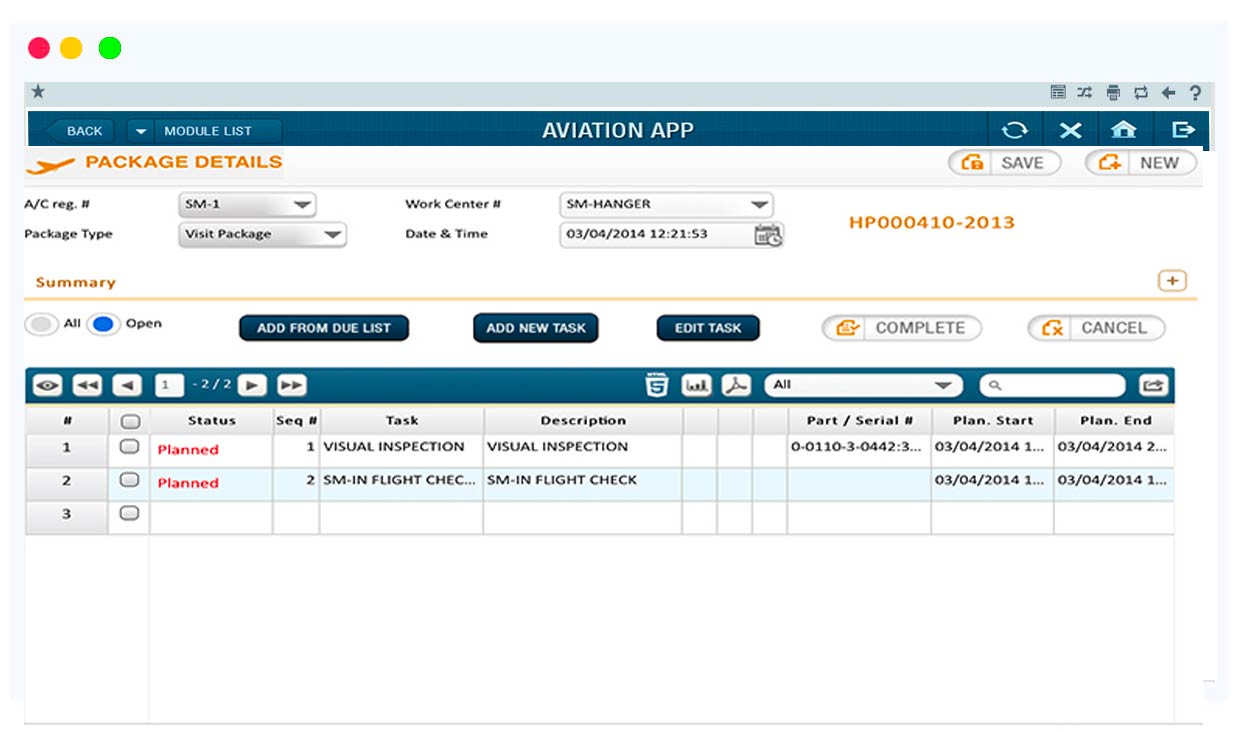 POWER BY HOUR (PBH)
PBH model is gaining wide acceptance as there is no capital cost involved and replenishment and maintenance is typically managed by OEMs. Many operators enter PBH agreements for Engines/APU/Landing Gears with OEMs where payment is made on monthly basis based on the usage of the part. Ownership of these parts lies with the OEMs and the repair is done by the OEM with zero exchange costs. Ramco Aviation Suite manages PBH agreements for any part type on a supplier on a specified list of parts for specific tail numbers. In addition multiple contracts with different OEMs can be modeled with programs which aim to boost part availability and lower customer risk. The system also tracks core due part which needs to be returned to the supplier and tracks the ownership of the part in the inventory.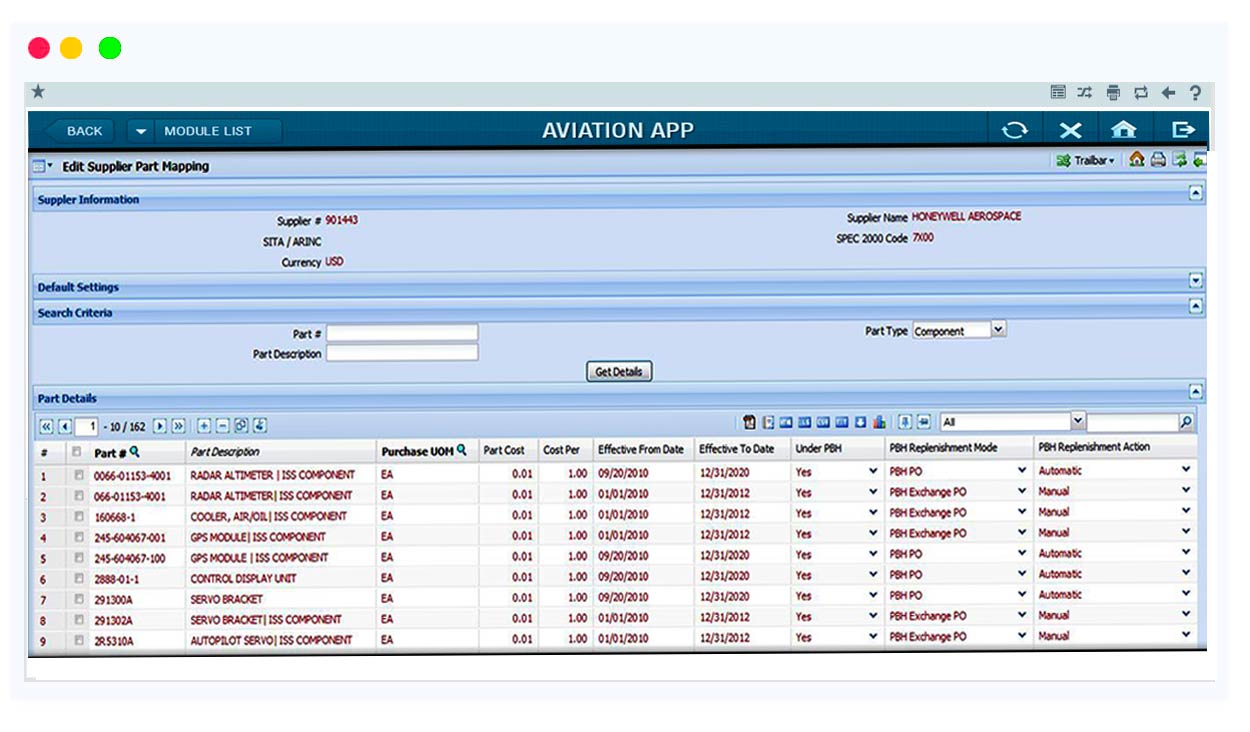 ELECTRONIC FLIGHT BAG
Ramco Electronic Flight Bag (EFB) offers flight crew an on-board flight management system to effectively manage on-board tasks. By integrating with downstream processes like maintenance, billing delivers significant savings on time and money. It makes paperless flying a reality. Ramco Electronic Flight Bag is packed with a wide range of features to help with on-board tasks like:
Navigation Planning
Weight & Balance Calculations
Reference Manuals, Checklists, Route Maps, Runway Maps etc.
Discrepancy Reporting and Tracking
Integrated with Maintenance and Billing Modules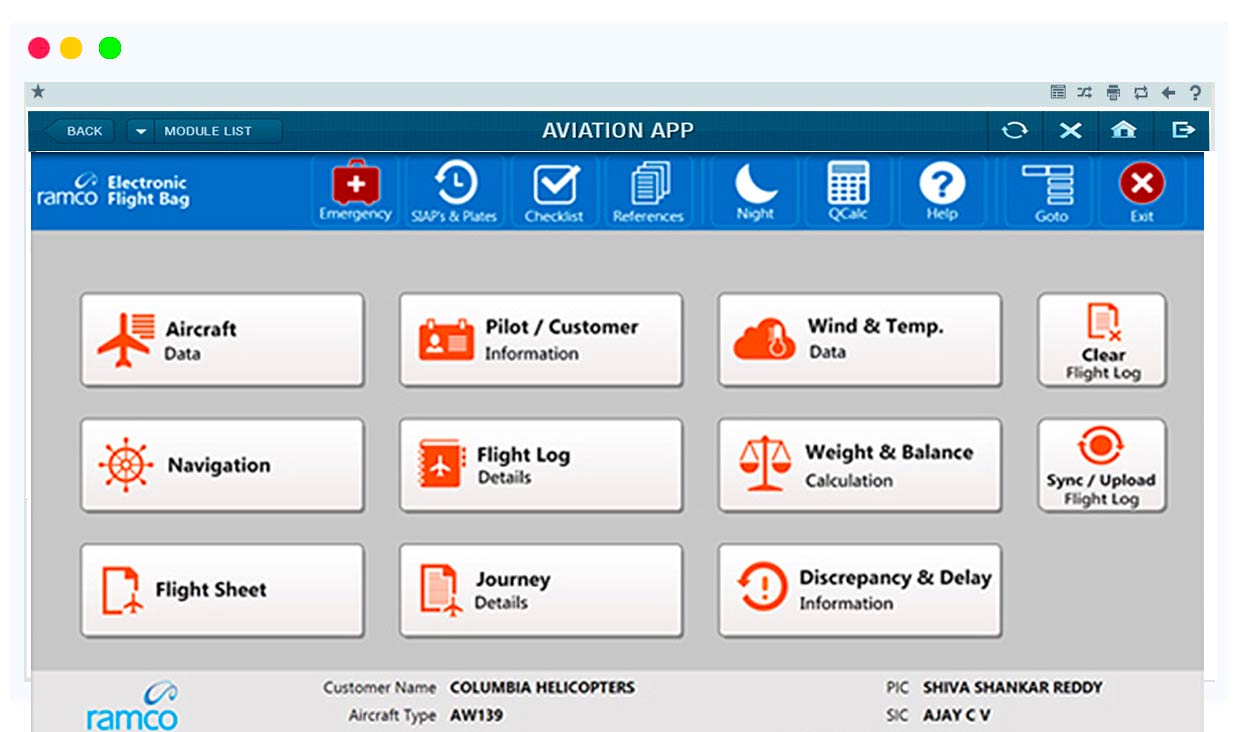 FLIGHT CONTRACTING & INVOICING
A solution which integrates the data points captured on the Electronic Flight Bag (aircraft usage, number of flight hours, activity information, crew charges etc.) with the Do's and don'ts of a customer's contract can help in the formulation of a flight invoice which can be released to the customer based on the rate definitions made in the contract. Ramco's EFB and intuitive Flight contract based invoicing does just that. The new feature weeds out all the manual work from the process by automating it completely acting as a big time saver to go from journey logs to contract based invoicing all in 1 step.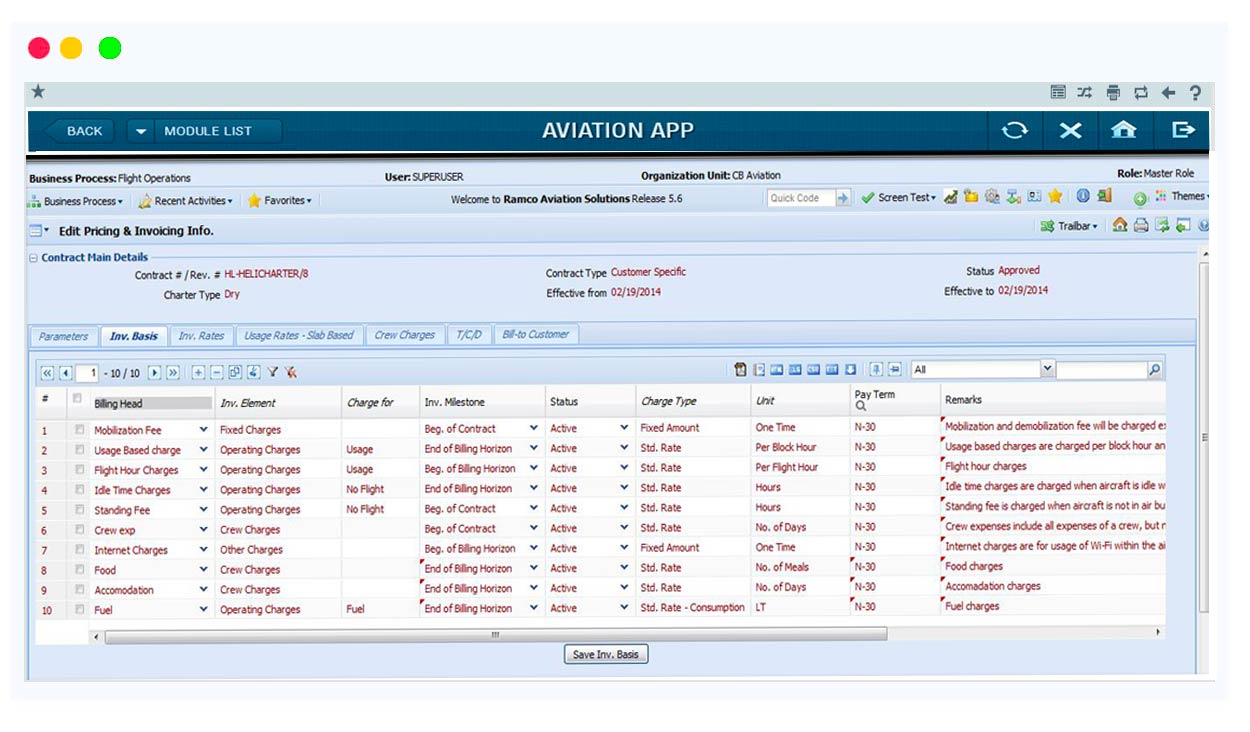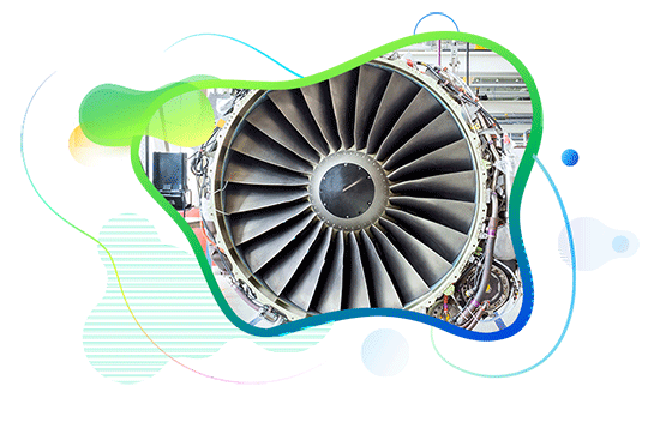 Contact Us for Next-Gen Aviation Software