GO-LIVE IN 8 TO 10 WEEKS
Untangle the complexity of software Implementation
Using Ramco LEAN implementation methodology, you benefit from faster realization of the software. Most of the preliminary activities of Initiation, Conference room piloting, Data collection training is done virtually through Audio and Video Conference aligning to your time zones. Engagement schedules are optimized which will help the users to balance their normal duties effectively.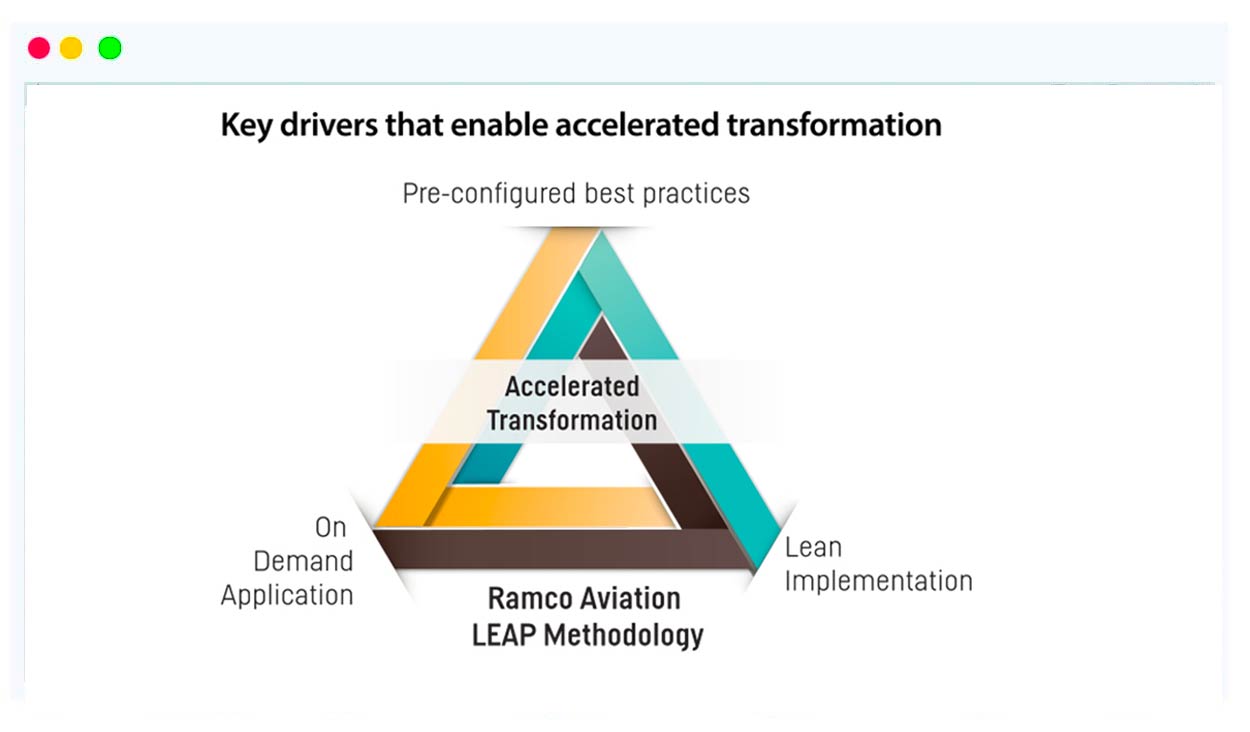 LOWER YOUR CAPEX AND OPEX
On cloud deployments reduce the cost outgo on Hardware and maintenance
Ramco Aviation Suite's cloud hosted model reduces the CAPEX outgo and increases the flexibility of payments through annual or monthly subscription fee. The Cloud model ensures that you focus on your core business and let us manage your Hardware and maintenance with high levels of Availability, Performance and Data security. You also stand to benefit as upgrades are deployed and managed by us.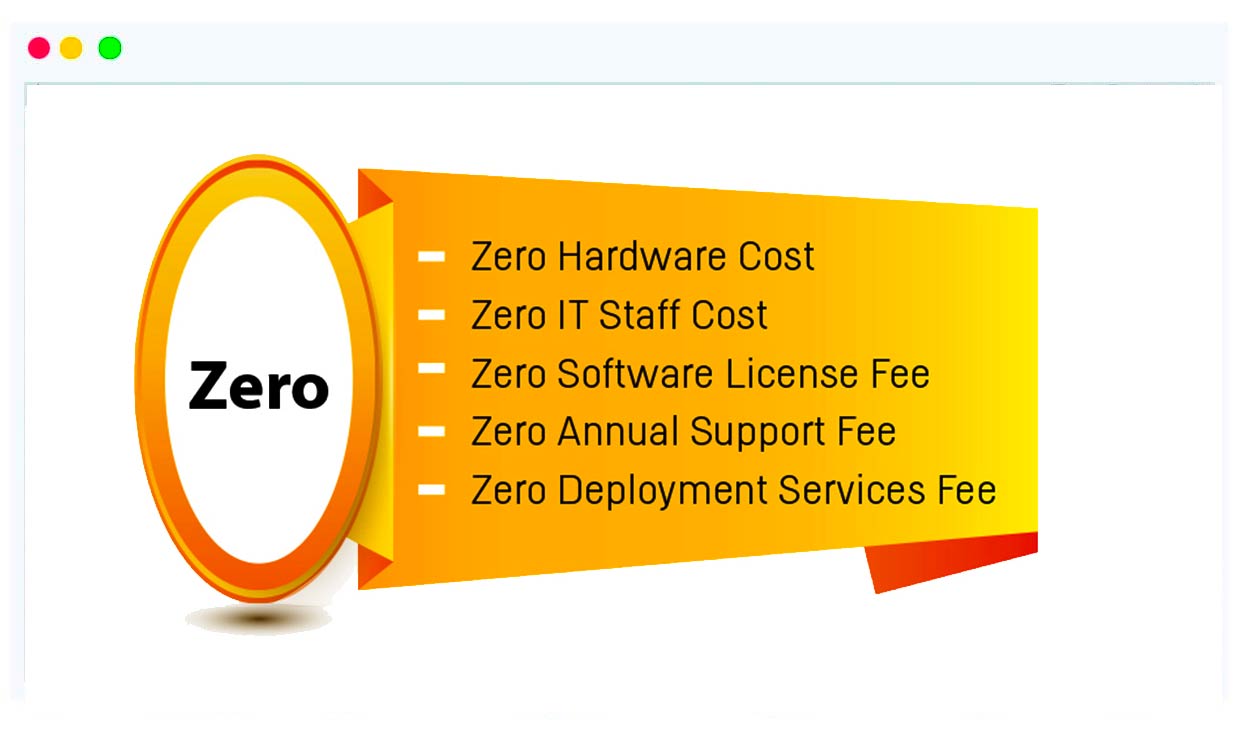 AVIATION BEST PRACTICES
Benefit from Pre-configured business process and Preloaded Industry standard codes
Ramco Aviation Suite's state-of-art solution offers the best of breed capabilities to derive business benefits. Business processes flows are pre-configured with preloaded industry standard codes from ATA, IATA, SPEC organizations. Full alignment between requirement and solution is imperative to avoid post-implementation issues. Training guides are delivered to the user organization with the end-user in focus which can be used without any additional re-work.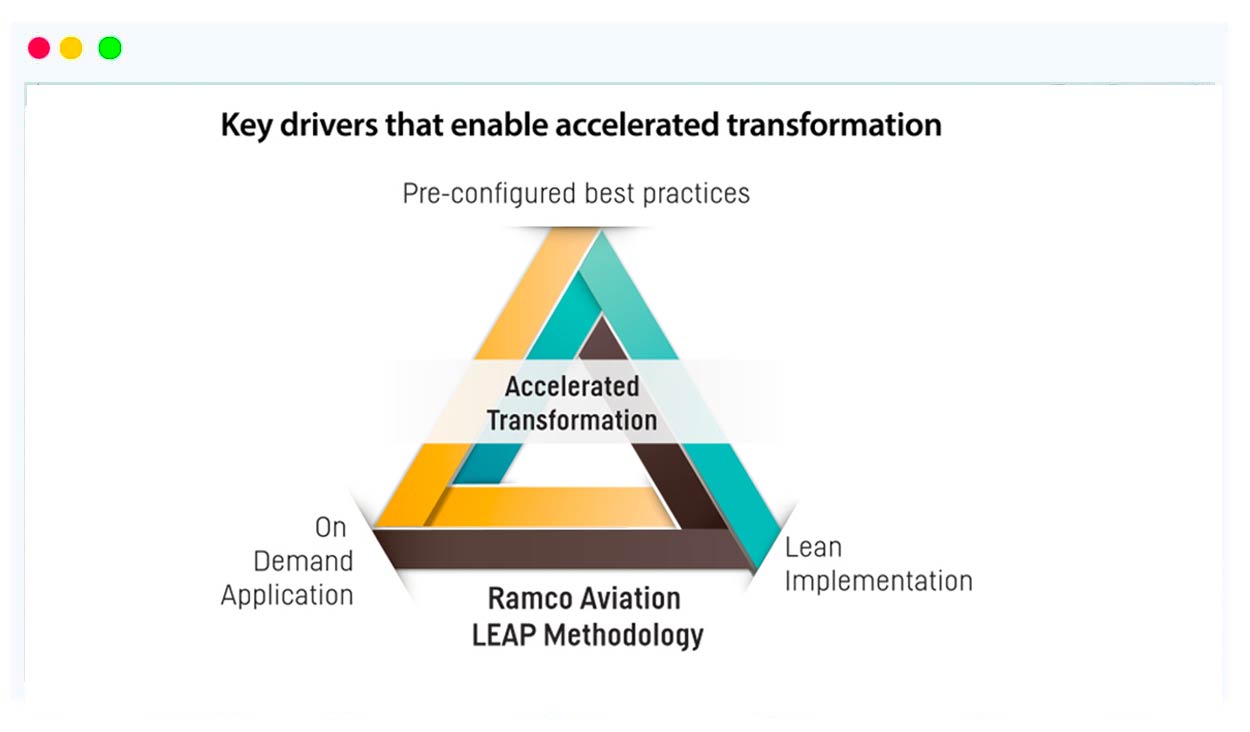 COMPLETELY INTEGRATED M&E SOLUTION
Control your operations, costs & manage personnel—all in a single system
Disparate systems for various business functions lead to redundancy and duplication of work. More importantly, information not available at the right time may result in loss of business opportunity. Ramco Aviation Series 5 Suite provides the integrated system of Maintenance & Engineering, Materials Management, Purchase & Repairs Management, Warranty Tracking, accounts Payables etc. The integrated system helps in getting comprehensive reporting using our repository of pre-built reports.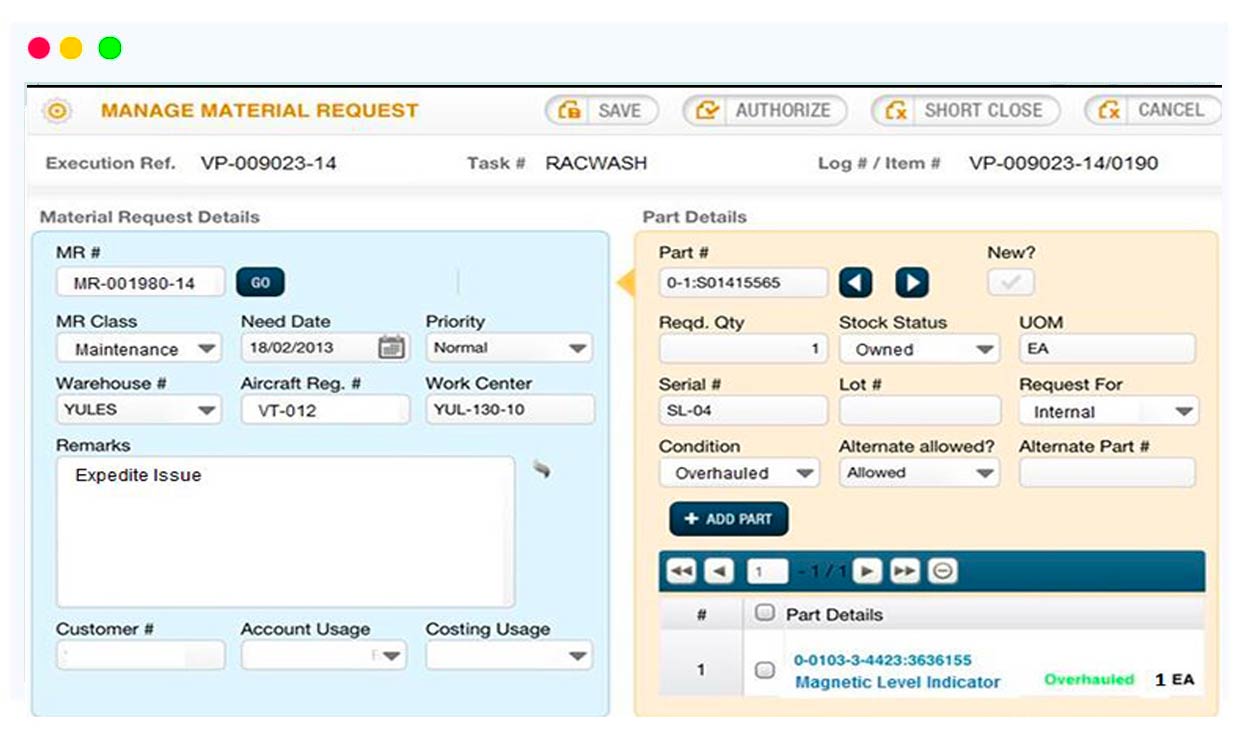 INCREASE ADHERENCE TO REGULATORY COMPLIANCE
Ensure Regulatory compliance through automated maintenance compliance engine
Planning, execution and compliance tracking of all maintenance tasks from MPD, Service Bulletins, Airworthiness Directives, Modifications, are made easy by integrated Programs, Engineering, Planning and execution modules. Seamless flow of information automates the compliance update which helps in preparation of compliance reports, as dictated by the OEMs and Regulatory Authorities.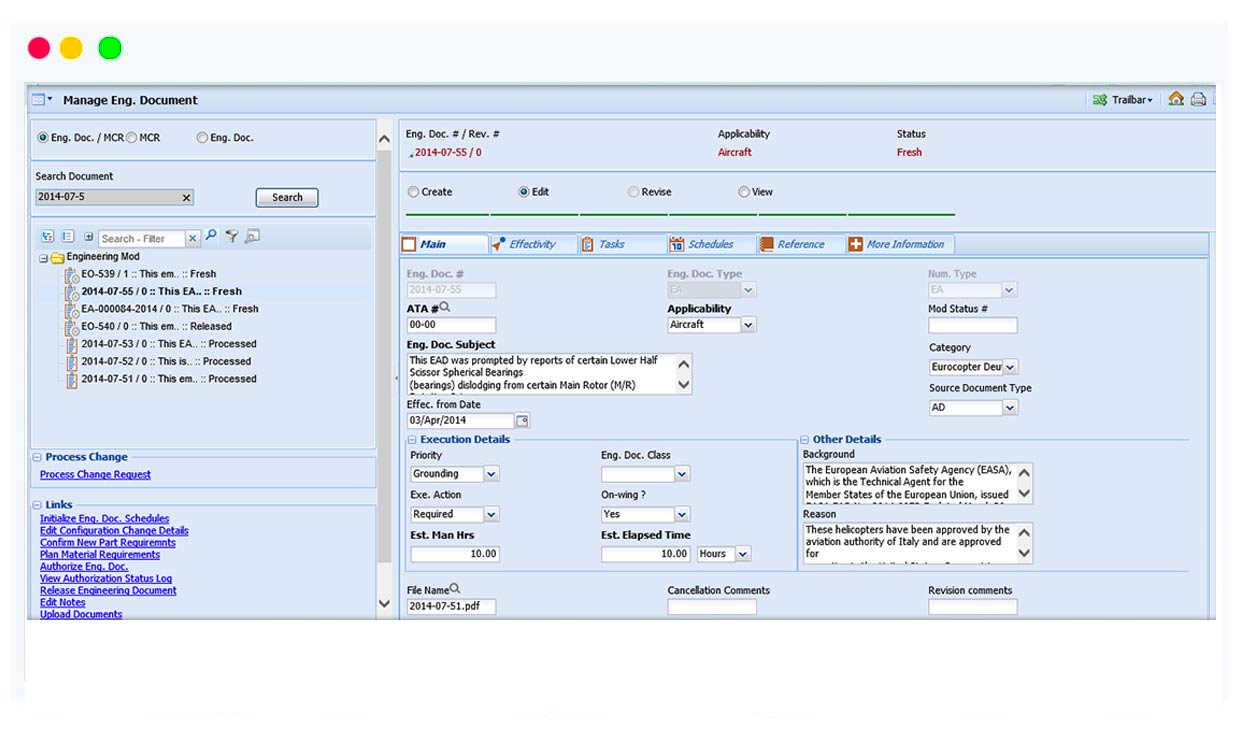 INCREASE SERVICE LEVELS WITH OPTIMIZED INVENTORY LEVELS
Efficient material planning ensures meeting the demand on time at less cost
Part classifications, Automatic replenishments based on Min-Max, Re-order points, IT inventory analysis etc. enables you to maintain inventory at optimum levels without affecting the service levels expected. Right parts at the right place and right time minimizes AOG situations and loss of revenue. Monitor Part Supply Chain Performance to gauge historical consumption and purchase information and vendor ratings, to assess options before initiating procurement.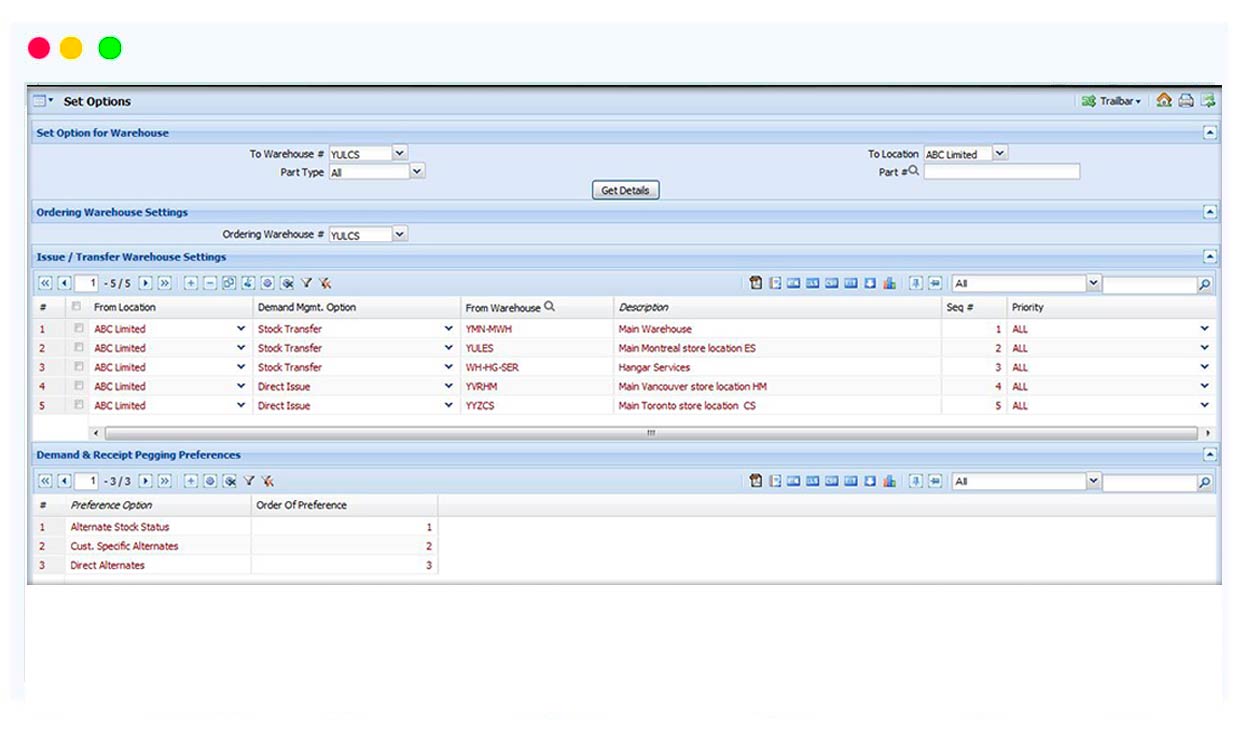 ROLE-BASED WORKSPACES
Simple interfaces to ensure powerful user experience
The revolutionary role-based 'WorkSpace' is one of our flagship features built into the suite. WorkSpaces are a set of user centric interfaces specifically built around every critical aviation role, which when implemented spikes productivity to a whole new level. With powerful visualization capabilities WorkSpace is a fusion between transaction and analytics giving a fresh user experience. Our end user experience are powered by interfaces that are as simple to use as present day smart phone, with no compromise to functional robustness. As a result, the training time on our software has dropped from a few weeks (industry average) to just a few hours.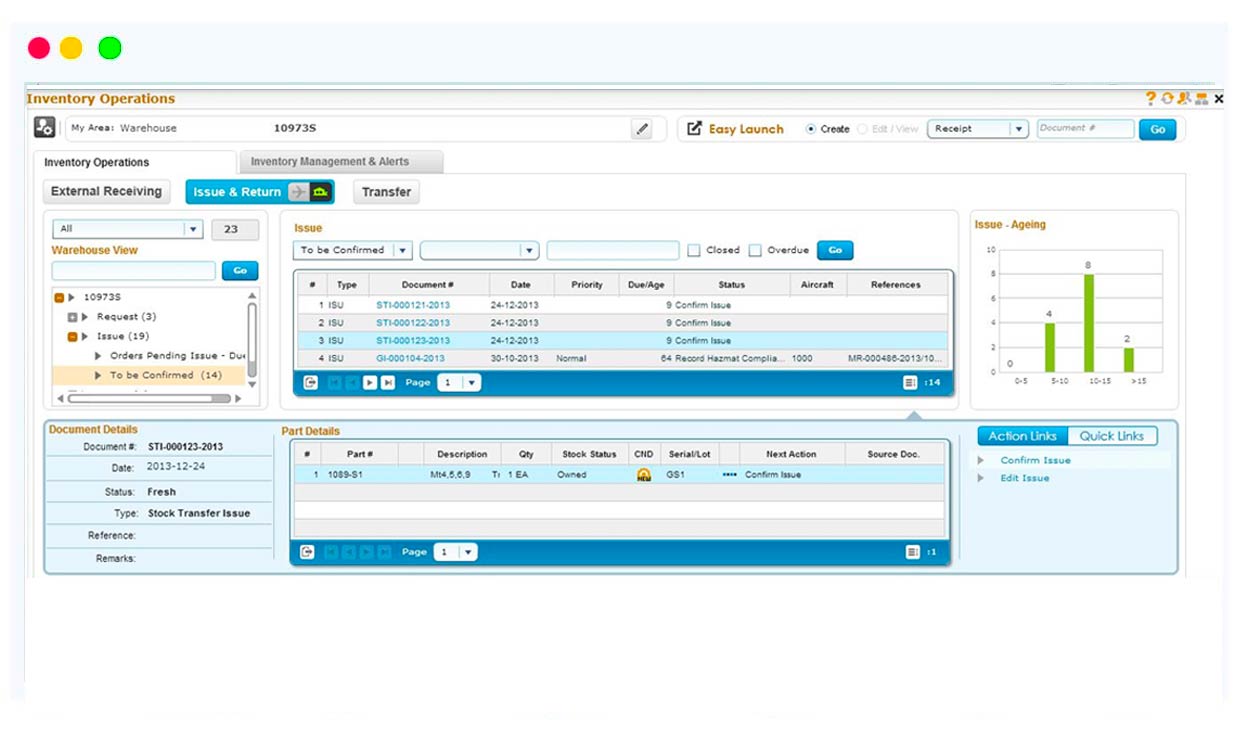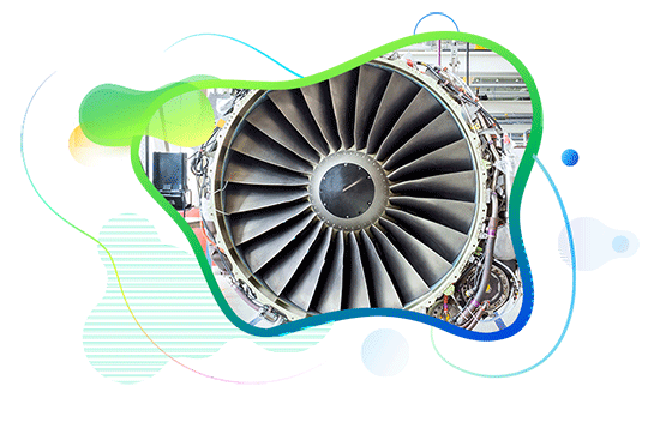 Contact Us for Next-Gen Aviation Software