Advanced Payroll Software Systems for Your Organisations
A payroll system involves processing and management tasks that include a wide range of activities. In today's fast-paced world, doing these activities manually can become complex, time-consuming and cause discrepancies. A payroll software can streamline your payroll tasks and makes space to focus on other business aspects.

So, keep your promise of paying your employees the right pay at the right time, across regions, including UK. Overcome the hurdle of constant payroll updates - from tax to regulatory changes - through a systematic online payroll system.

With integrated Core HR, Time & Attendance and Expense modules, Ramco offers a Global Payroll Software that can be deployed on-cloud, on-premise or as a managed service offering.
TAKE THE WORRY OUT OF YOUR MULTI-COUNTRY PAYROLL WITH RAMCO GLOBAL PAYROLL SOFTWARE
Create organization-specific rules
Define your business logic for Earnings, Deductions, Bonus, Arrears, Leave and Attendance
Stay compliant to standardized practices across geographical locations
Take into consideration variances within individual, local geographies
Deal with multi-element, multi-decimal, multi-currency, and multi-country payroll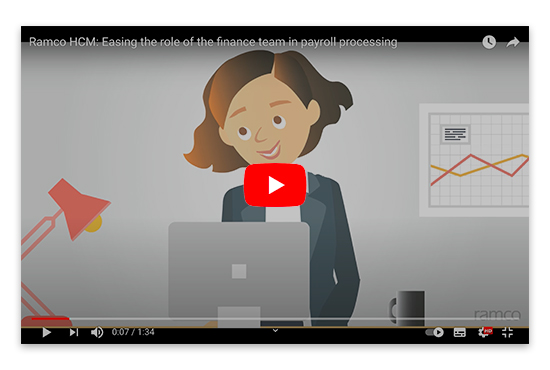 Global Payroll Solution
Enjoy a no-sweat experience with our payroll software. Stay well-informed about changing regulatory requirements across 50+ countries covering
Asia/Pacific: Singapore, Malaysia, Taiwan, Indonesia, Philippines, Vietnam, Thailand, Hong Kong, India, Bangladesh, Pakistan, Kazakhstan, South Korea, China, Macau, Sri Lanka, Myanmar, Nepal, Japan, Brunei, and Cambodia
Middle East and Africa: Bahrain, Kuwait, Oman, Qatar, Saudi Arabia, United Arab Emirates, Yemen, Iraq, Lebanon, Jordan, Egypt, Morocco, Cyprus, Turkey, Sudan, Republic of S. Africa, Tanzania, Nigeria, Ghana, Kenya , Algeria and Mauritius
Oceania: Australia, New Zealand, Papua New Guinea and East Timor
Europe: United Kingdom and Ireland
Americas: US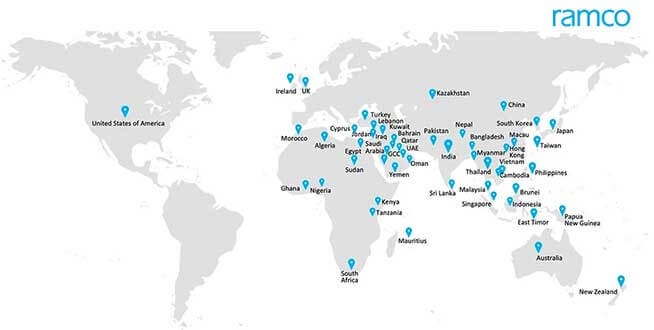 Key Advantages of our Payroll System
With Ramco Payroll Software, manage your distributed workforce in an accurate, timely, secure and flexible manner. With our payroll system, give your employees the benefit of a Multi-lingual Employee Self Service (ESS) delivered in English, Chinese, Vietnamese, Thai, Bahasa Indonesia, Japanese, French, Spanish, and Arabic.

More benefits of our online payroll system:

Accuracy: Our Artificial Intelligence and Machine Learning powered Payroll software is equipped with Net Pay Anomaly Detector which can analyze historical data spanning across years in a fraction of time to spot payroll anomalies, and assure accuracy in payroll processing

Timeliness: Automated payroll reduces efforts significantly, saving an exponential amount of processing time

Ease: Ramco Global Payroll System streamlines and automates the payroll processes- simplifying seemingly complex tasks
Demystifying Global Payroll
Complementary Modules Built on Common Platform

A unified platform, powered with RPA, AI, ML and advanced analytics, that allows you to automate payroll processing, assists in payroll outsourcing, and provides self-service payroll management tools for your employees
Read More

Fully integrated Time and Attendance module - which supports multiple time entry modes such as swipe cards, bio devices, online data input, NFC and facial biometric based attendance
Read More
Excellent Customer Support
Over two decades of experience and a global presence has enabled Ramco to create effective business solutions. We understand the challenges in payroll outsourcing and have deep knowledge of regulations in UK. While our cloud payroll software improves accuracy and saves time, it is also affordable and highly intuitive. Cost efficient and easy to scale, our payroll software is ideal for your business in UK.
Contact Us for Global Payroll