Industry Challenge
Defence operations and sustainment programs are highly time-sensitive, where the main goal is to ensure aircraft availability and readiness for critical missions. Delay in aircraft dispatch or availability may adversely impact the safety aspect or cause a delay in deployment. To ensure timely availability of Defence operators and MROs, an aviation software needs real-time access to information, and all of this is a highly automated process.

Defence segment, in general, is underserved with next-generation Fleet Maintenance Software where still green screens are in use for highly critical operations and requires multiple software to manage different fleet platforms and its end-to-end operations.

Ramco Aviation Suite is the next-generation M&E MRO software that addresses end-to-end Defence operator's and MRO needs. It also includes Fleet Management solution for efficient airworthiness management and managing different types of fleet on a single platform.

Ramco's Aviation Suite is an Aircraft asset management software that enables high productivity and automation of fleet sustainment with automated processes and access to real-time information. The application ensures aircraft readiness and availability for tactical missions with its next-generation capabilities like;
Asset Configuration Control and Tracking

Cost Accounting and Reporting

Asset Lifecycle and Modification Management

Offline Mobile Application for Remote Operations

Government Property Control and Tracking

Service Contract Framework as per Defence Compliance

Mission Readiness Dashboards
Trusted by leading military & commercial sustainment providers

World's largest outsourced civilian, tactical airborne training organization
Pratt & Whitney Engine MRO in Norway

Holds type certification for Boeing Chinook forward operating support for U.S. Military in Afghanistan

Largest Heli MRO to support Royal Saudi Military fleet

2000 users, 64 Line Stations, 10 Repair Stations, in 34 countries covering 300 customers

One of the largest MROs for C-130 and P-3 in New Zealand and Australia

Commercial Airline, Operator (Specialty, Helicopter and Defense), third party MRO, Original Equipment Manufacturer

One of the largest landing gear MRO

Fleet Management for Canadian Air Force
Features and Benefits

COMPLETELY INTEGRATED M&E MRO SOLUTION
One-stop solution to manage end-to-end operations on a single platform

RAMCO MOBILE APPLICATIONS
Native mobile applications for maintenance, inventory and flight crew

OFFLINE CAPABILITY
Seamless operations with zero connectivity

ELECTRONIC SIGNATURE
Complete paperless operations with dual authentication for electronic signature

ZERO TOUCH EXPERIENCE
Voice based commands and transactions

COGNITIVE TECHNOLOGY
Intelligent software aids decision making
Conferred with the 'Certificate of Industry Membership' by Army Aviation Association of America, Inc.
In recognition of the desire to participate in cooperative Association-Industry affairs concerned with U.S. Army Aviation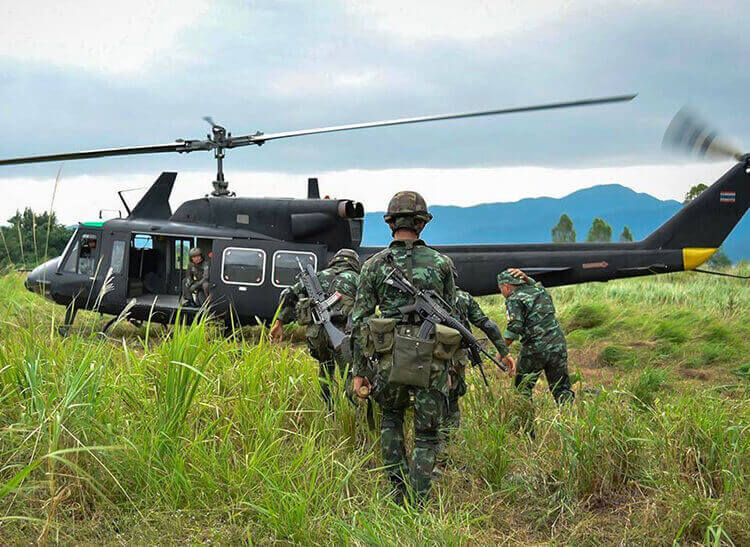 Value Proposition
Ramco's aircraft asset management software covers all functional areas, and it is well integrated to manage defence operations

Reduction in manual effort for managing/recording data which makes the process more efficient

Offline mobile application capability to manage remote operations with zero connectivity

Electronic signature capability to achieve paperless operations with dual authentication capability
Flexibility to manage multiple types and variants of fleet, which ensures quick turnaround for aircraft induction

Ramco's dashboard and reporting tools provide real time data visibility for executives, directors, managers, mechanics & technicians, and administrative users

Ramco's deep experience in implementing solution for defence operations
Ramco Aviation Solution map
While Aircraft Technology has leapfrogged, the ground reality is that Fleet Maintenance Software, and Aviation asset management, specifically M&E MRO support systems are yet to catch up with the new-age technology. Paper-based manual processes along with multiple disparate systems still exist!

Ramco is here to bridge this "Vision Gap". Our product strategy is to create and provide the "Next-generation Enterprise Solution" that can enhance the competitive edge of the Aviation Industry by leveraging the latest technology innovations and proven business processes.


Warranty Management - $6 M savings on warranty
Data availability & Reporting – 40% reduction in data corruption
Inventory Management – 6% reduction in carrying cost
Contract Management – 10% reduction in revenue leakages
Engineering Management – 80% Automation of non-critical activity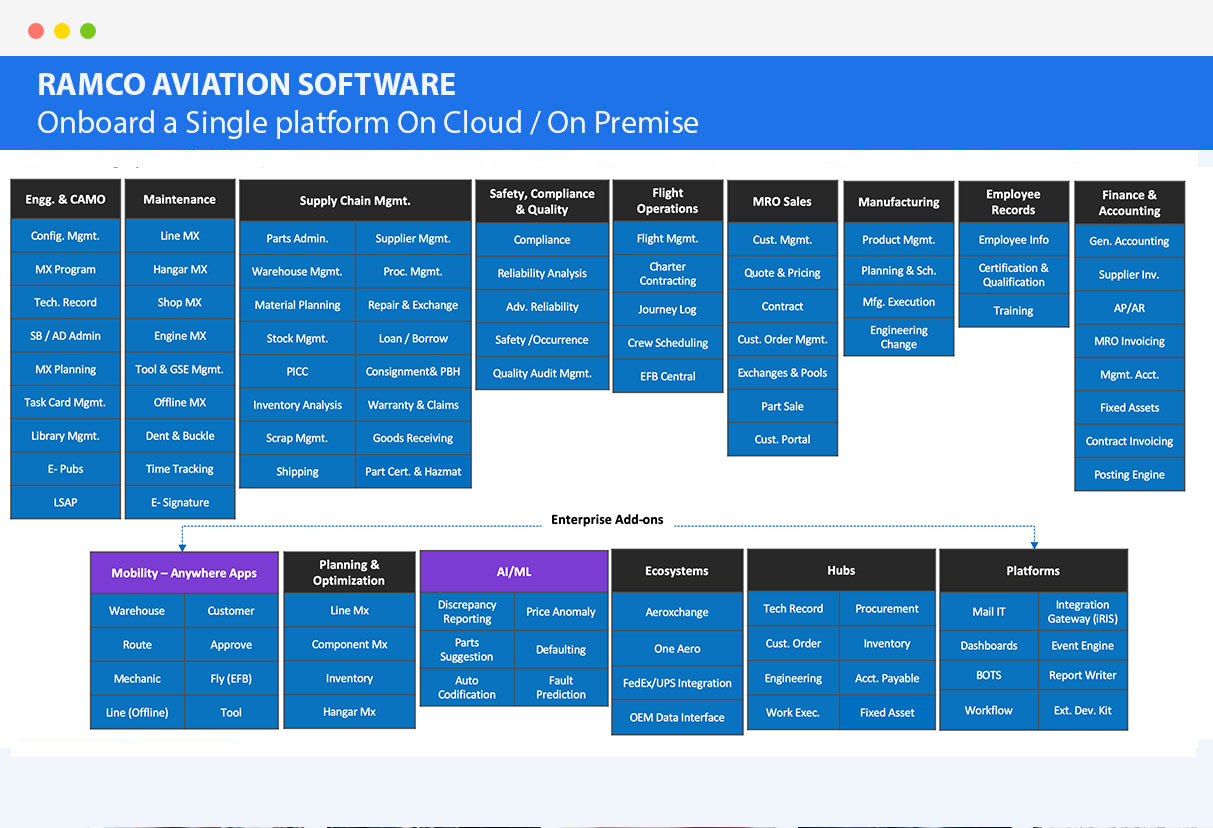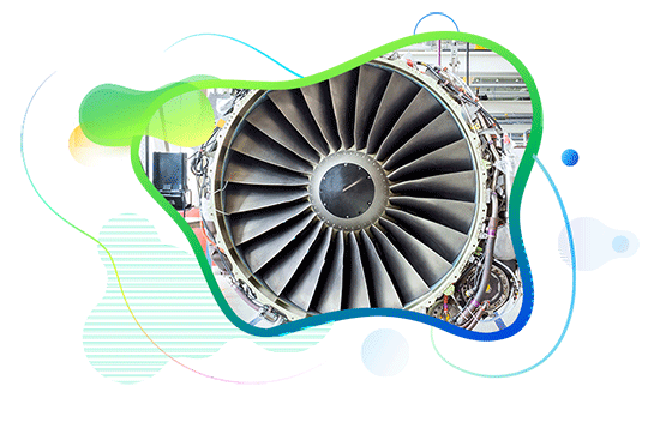 Contact Us for Next-Gen Aviation Software