The Value of ERP Software
Digitisation of businesses is a reality. In a world where robots are gearing to enter the front-office, enterprises need to think radically to survive. ERP solutions in UK have already overcome the limitations of spreadsheets and the perils of managing multiple systems. However, focusing on ERP software just as a tool to improve operations will no longer suffice.
Best Cloud ERP Software to Empower Businesses
It is here that Born-in-cloud enterprise solutions are transforming businesses. ERP on cloud is redefining the digital backbone of organisations that are keen to innovate and succeed in a volatile, uncertain and complex market.
Complementary Modules Built On Common Platform
Why choose Ramco's ERP software?
Power of One
Built ground-up using One Codebase ensuring all components of ERP solution work seamlessly with each other

Cloud Benefits
Tremendous cost saving opportunity with Zero CapEx and pay-for-use subscription

Mobility
Connecting businesses 24/7 by providing real-time insights on the go

Flexibility
Enhancing customer experience through wide range of extension tools and capabilities

Integration
A robust enterprise services platform offering complete integration solution for all Ramco ERP applications across industries

User Interface
New set of features focusing primarily on moving towards ZERO UI, and providing the Best-in-class User Experience

In-Memory
Optimizing processes, planning resources, and minimizing costs. Ramco Optimizer makes complex procedures, elementary

Context Aware
An intelligent and intuitive application proactively presenting relevant information to users based on their role and security privileges
Tat Hong Trusts Ramco

Ramco's Solution Allows Us To Combine Multiple Functions On One Single Platform Which Can Be Accessed By Field Staff Operating Across Multiple Locations. This Will Allow Us To Monitor Our Asset Performance And Make Smarter Decisions, In Short Getting More Out Of Our Fleet Of Assets

Lewis Ng, Executive Director, Tat Hong
TASC Outsourcing Trusts Ramco

A progressive combination of technology and innovation are key to the growth of any business today. In the staffing industry, it is important to ensure transparency in the processes, to build long-term engagement between the two most important stakeholders – the employee and the customer. By automating our processes through Ramco's ERP for Service platform, we hope to enhance our offering of a strongly integrated value chain

Mahesh Shahdadpuri, Executive Director, TASC Outsourcing
Al Jazeera Support Services Company – MEHAN Trusts Ramco

With rapid economic development in the Kingdom, the staffing industry is gaining increased prominence. In order to break out, we needed to have better visibility and control over operations. Embracing future-ready technology and innovation in process management would be instrumental to achieve the desired level of operational efficiency. Keeping these factors in mind, we zeroed in on Ramco ERP as our technology backbone. The functional depth and domain expertise brought in by Ramco's offering will help us optimize our resources, thus arresting revenue leakage and improving profitability

Hani AlSulaim, CEO, Al Jazeera Support Services Company – MEHAN
First Balfour Trusts Ramco

Ramco's fully integrated software is the perfect fit for our business needs as we strengthen our position in the local engineering and construction industry. Our previous systems were unable to fully automate our equipment rental functions and gave us minimal overview of our business processes. With Ramco ERP, we have streamlined company-wide operational efficiencies and can now better manage our assets – manpower and equipment

Ismaelito Altamirano, Head of Plant and Equipment Division, First Balfour
Viadux Trusts Ramco

8 months since we processed our first order in Ramco's end to end ERP system including HCM, Payroll, Finance and Sales, we are starting to simplify the backend of our business, we are seeing the benefits of improved visibility through the analytics and develop processes that create a leaner, more responsive customer orientated business. It has been an important initiative in our journey to become far more responsive and a real-time enterprise for our customers. We have begun our journey to become leaner, more agile, and a platform-driven business with much better and automated processes, mobility and insightful dashboards. Despite challenges of a complex, big-bang implementation, we have done well. We have got rid of high cost, legacy ERP and other systems which were holding us back, and now with this new cloud platform, we are looking forward to accelerating our growth and profitability.

Michael Negri, CEO, Viadux
A peek into Ramco's next-Gen ERP Solutions
Built on Ramco VirtualWorks®, Ramco ERP on Cloud is the most advanced and revolutionary enterprise application assembly and delivery platform. Ramco ERP Software on Cloud enables you to get a 360-degree view of your business in UK and anywhere else, at any time, from anywhere. You can do this by putting all your business functions on to one single platform on the Cloud and automating and integrating them, end-to-end. With this unified view of business, you can drive innovation across the value chain, improve efficiency, and reduce costs and time to market. What's more, the entire suite of product is accessible over the Internet, which gives you the freedom to access information from any part of the globe at the click of a browser button, whether from a laptop, a PDA, mobile phone or a tablet PC.Here's a peek into the world of Cognitive ERP applications where systems understand and think for the user. Ramco has been building features that reduce the time spent on the application by making it intuitive and simple to use.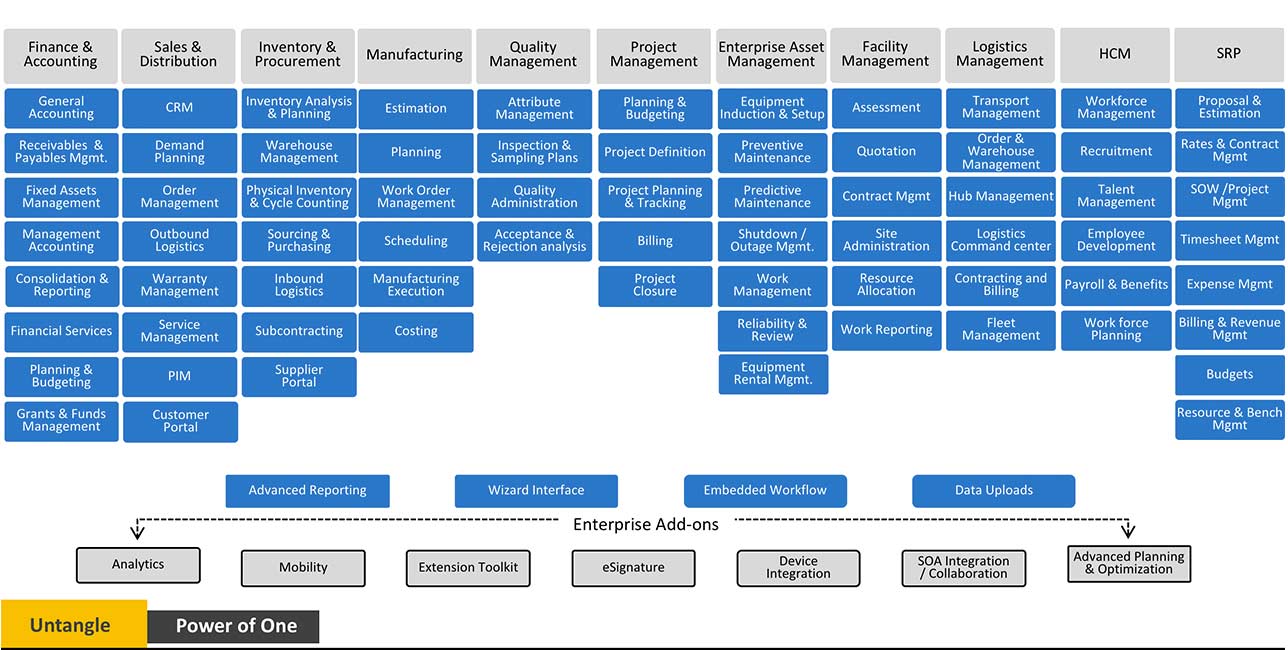 Excellent Customer Support
Ramco combines the power of digitisation, radical thinking and collaboration to reimagine business processes for customers and their ecosystem. Our robust and integrative approach makes for ERP software solutions that are productive and cost-efficient across multiple sectors like manufacturing, finance, and MRO. Our ERP software solutions are powered by an equally efficient customer support team, well-versed in query response, tracking, and resolution. You may contact us with your queries at contact@ramco.com.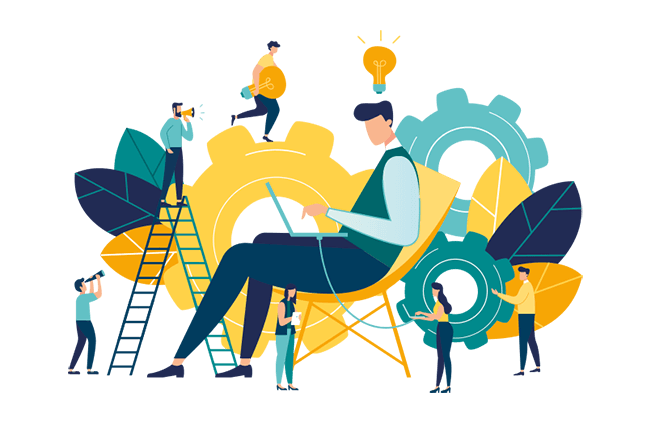 Contact Us for ERP Software