Enterprise Asset Management Software in Singapore
From robotics and sensors connected through Internet of Things (IoT) to Big Data and Deep Learning for Predictive Maintenance - the tech landscape is ever-changing. Make your asset-intensive business lean and agile with a future-ready solution to power it!

Explore Ramco Enterprise Asset Management Software for Planning, Maintaining and Managing all of your Assets on a Cloud and Mobile-ready platform.
Ramco Digital Asset Management Software - Power Of One
Ramco's Digital Asset Management Software is a result of more than two decades of global experience in delivering and implementing solutions for managing critical assets – from power plants to aircrafts, from manufacturing plants to buildings & real estates, from a city transport fleet to windmills, from infrastructure equipment like cranes to large facilities.
Maximize asset performance through asset performance management driven by predictive techniques and action-oriented asset analytics

Assess both equipment failure risks and magnitude of impact to predict to prioritize and execute maintenance

Increase regulatory adherence by compliance tracking and utilize asset tracking to keep it audit-ready

Streamlined operations and improved asset performance to increase investment effectiveness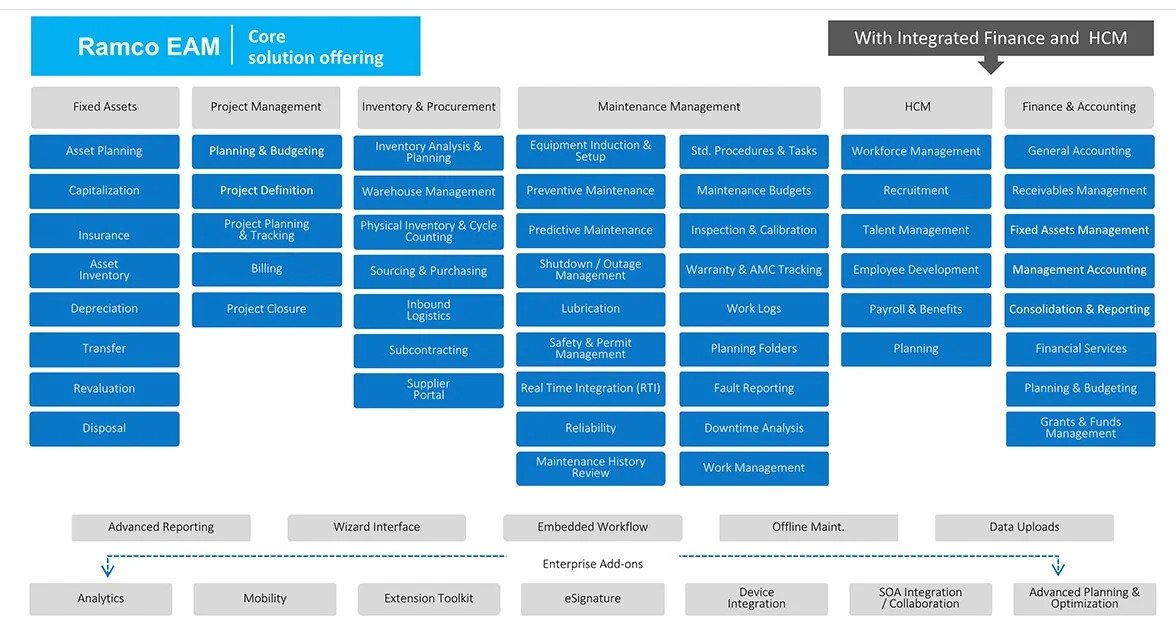 Have Complete Control Over Your Capital Assets with our Digital Asset Management Software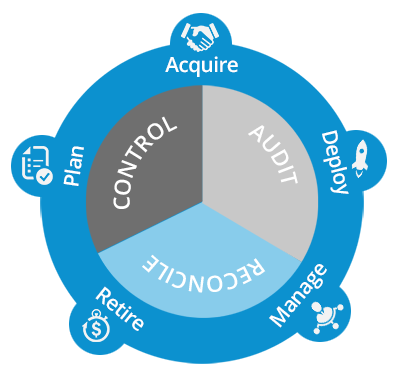 Plan
Have complete control of asset acquisition, planning, budgeting and approval from a single asset management application

Acquire
From capital procurement for commissioning new assets to managing supplier contract and payments, acquire process is simplified and hassle-free

DEPLOY
Be it asset installation and commissioning or maintaining fixed asset register or induction of new equipment, the deploy process helps streamline it

Manage
Have maintenance programs and work management in place, coupled with much needed failure analysis & RCA, thus enabling you manage your assets more efficiently

Retire
Reconciling data starting from asset retirement proposal to asset scaling up or scrap can be optimized in the retire phase of assets
Tat Hong Trusts Ramco

Ramco's Solution Allows Us To Combine Multiple Functions On One Single Platform Which Can Be Accessed By Field Staff Operating Across Multiple Locations. This Will Allow Us To Monitor Our Asset Performance And Make Smarter Decisions, In Short Getting More Out Of Our Fleet Of Assets

Lewis Ng, Executive Director, Tat Hong
TASC Outsourcing Trusts Ramco

A progressive combination of technology and innovation are key to the growth of any business today. In the staffing industry, it is important to ensure transparency in the processes, to build long-term engagement between the two most important stakeholders – the employee and the customer. By automating our processes through Ramco's ERP for Service platform, we hope to enhance our offering of a strongly integrated value chain

Mahesh Shahdadpuri, Executive Director, TASC Outsourcing
Al Jazeera Support Services Company – MEHAN Trusts Ramco

With rapid economic development in the Kingdom, the staffing industry is gaining increased prominence. In order to break out, we needed to have better visibility and control over operations. Embracing future-ready technology and innovation in process management would be instrumental to achieve the desired level of operational efficiency. Keeping these factors in mind, we zeroed in on Ramco ERP as our technology backbone. The functional depth and domain expertise brought in by Ramco's offering will help us optimize our resources, thus arresting revenue leakage and improving profitability

Hani AlSulaim, CEO, Al Jazeera Support Services Company – MEHAN
First Balfour Trusts Ramco

Ramco's fully integrated software is the perfect fit for our business needs as we strengthen our position in the local engineering and construction industry. Our previous systems were unable to fully automate our equipment rental functions and gave us minimal overview of our business processes. With Ramco ERP, we have streamlined company-wide operational efficiencies and can now better manage our assets – manpower and equipment

Ismaelito Altamirano, Head of Plant and Equipment Division, First Balfour
Viadux Trusts Ramco

8 months since we processed our first order in Ramco's end to end ERP system including HCM, Payroll, Finance and Sales, we are starting to simplify the backend of our business, we are seeing the benefits of improved visibility through the analytics and develop processes that create a leaner, more responsive customer orientated business. It has been an important initiative in our journey to become far more responsive and a real-time enterprise for our customers. We have begun our journey to become leaner, more agile, and a platform-driven business with much better and automated processes, mobility and insightful dashboards. Despite challenges of a complex, big-bang implementation, we have done well. We have got rid of high cost, legacy ERP and other systems which were holding us back, and now with this new cloud platform, we are looking forward to accelerating our growth and profitability.

Michael Negri, CEO, Viadux
Ramco Enterprise Asset Management Software (EAM) Powered by Future-Ready Technology
Drive disruptions with best technology provider in Singapore by powering your assets with our smarter Enterprise Asset Management solutions embedded with cognitive capabilities, gesture computing, zero UI, remote maintenance enabled by drones, among others.

Mobility & Cloud
Going asset light with cloud and accessibility redefined by maintaining your asset from anywhere anytime now possible on any device

Zero UI
Driving next-gen user engagements with Role-based HUBs, Mail BOTs and Cognitive Intelligence driven systems

Power of Optimization
Ramco iPO for optimized maintenance planning, crew rostering, risk mitigation, planning and driving predictive maintenance

360 degree visibility
Enabling complete view of business performance - Availability & Performance, Reliability & Sustenance, Operational Costs and Return on Assets

Real-time Analytics & Reporting
Customized dashboard with real time insights, automated delivery of MIS to stakeholders, real time tracking of Work Order status & assets and live asset tracking on maps

Innovation @ Core
Continual innovations led engagements in emotion analytics, robotics inspection, gesture computing, among others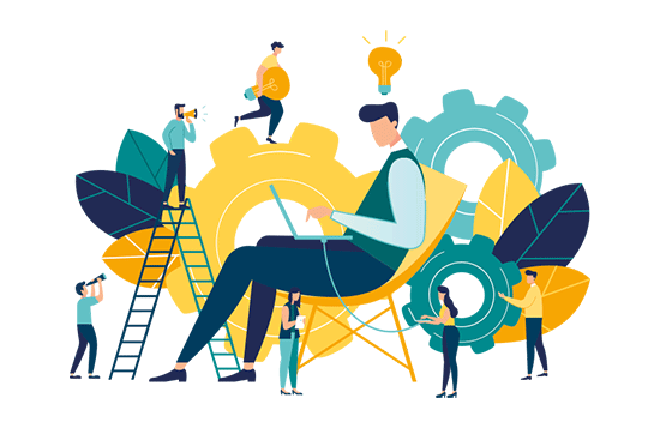 Contact Us for Ramco EAM Solution
Asset Management Software FAQs