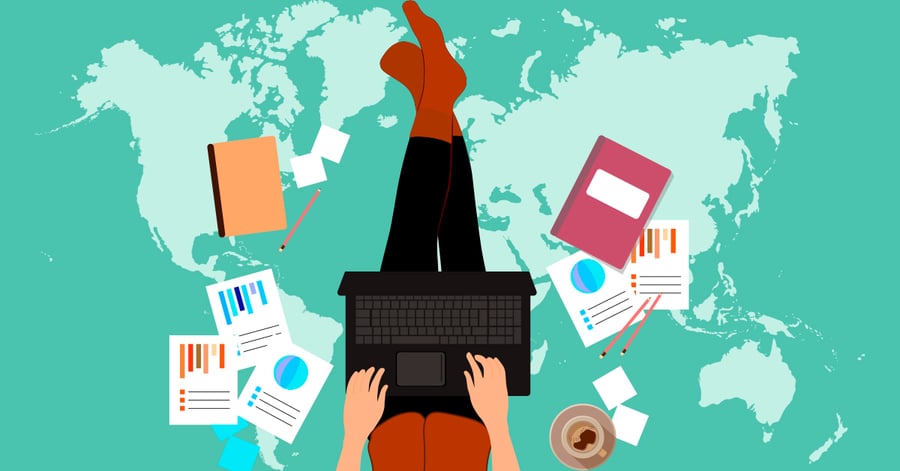 The Developing Notion of Work-From-Anywhere
Jenny, a software professional, is delighted with the new 'work-from-anywhere' policy introduced in her organization. She can now wake up at 8:50 AM for a 9:00 AM meeting and still not panic! Jenny can log on to her work system in pyjamas and start the meeting straightaway.
Furthermore, she need not worry about catching the bus or driving her vehicle through congested traffic. She does not have to commute to the workplace.
Jenny feels ecstatic working in this flexible model. There are no geographical or demographic barriers. She can choose to work from the office, home, coffee shops, gyms, salons, shopping malls, or anywhere in this world.
All Jenny requires is an uninterrupted internet connection. Jenny only needs access to her office intranet and can indeed work from anywhere!
It is not just Jenny, In a study by Forbes, it was found that 97% of employees don't want to return to the office full-time and 74% of professionals expect remote work to become standard. So how can organizations make this model work?
The following factors are the standing pillars of work-from-anywhere. They have made the model a reality:
Swift advancement in digital technology

Easy availability of broadband connections and technological devices, such as laptops, tablets, and smartphones, at economical rates

User-friendly virtual communication platforms and tools that facilitate connecting with people across the globe

Increasing employee preferences on maintaining a work-life balance and cutting daily office expenses (travel, clothes, shoes, etc.)
Post-Pandemic Relevance
By all means, work-from-home or remote working was the only possible course of action available with the employers and employees during the pandemic. The sudden lockdowns and their perpetual extensions made it a go-to solution to the prevailing predicament at that time. But what started as a makeshift arrangement is now a popular and favoured working style.
Several companies worldwide, such as Google, Adobe, HCL, are now adapting to the hybrid working model. The purpose is to address the prevalent crisis (contain the spread of coronavirus) and provide workplace flexibility to their employees owing to its manifold advantages. Companies are now redesigning their workplace models to derive synergies from this emerging trend.
The new flexible workplace trend will benefit different employees having distinct requirements. Some examples: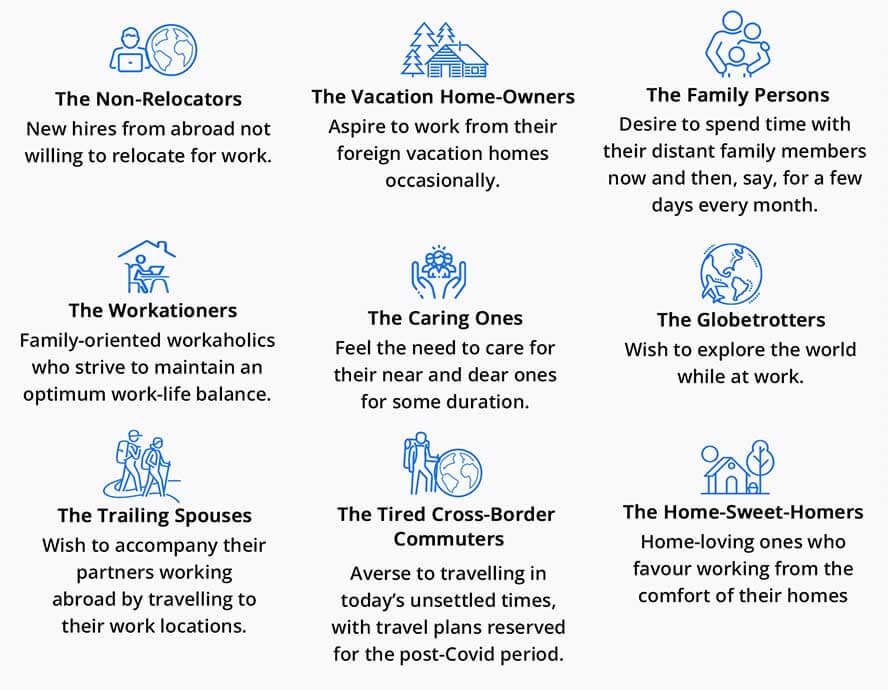 Challenges
Here are some challenges work-from-anywhere poses.
Comply with the applicable laws of the land
When employees work from different foreign locations, companies face the challenges of complying with the following laws applicable in each country:
Social Security: Registering social security number of employees working in any of the European Union member countries
Income Tax and Payroll Tax: Designing different salary and benefits structures, processing payroll calculations in multiple currencies, and paying payroll withholding taxes at applicable rates
Permanent Establishment (PE) risk and transfer pricing: Mitigating PE risks in the country where the employee is working and managing taxes and transfer pricing on the company's profits
Employment and Labor laws: Relating to regulatory licenses, working hours, health benefits, and safety measures
Immigration: Processing their visas and work permits
Data Security and Protection
Work-from-anywhere increases the risks of cybersecurity breaches. Companies need to safeguard their confidential data from theft and unauthorized disclosures.
Employee Performance Management
Driving employee engagement and productivity is challenging for a geographically-dispersed employee base.
Opportunities
For Employees
Give more time to family members and lessen the weekend to-do list

Pursue professional or academic courses alongside their jobs to leverage their free time

Flexible Working time, an employee can plan their work over the course of the day based on the deadline

With increased use of Job-Sharing opportunities are abundant, employees can do multiple jobs with different organizations enabling them to fully utilize their potential.

Uninterrupted & Increased productivity as they save a lot of time in travelling to office in many of the cities and distractions in the office

Time for their Fitness regime as they can take a stroll around the neighbourhood when they get a break during the day

Cost-saving in Travel/parking/lunch/coffee/wardrobe & in some cases childcare too
For Employers
Creating a flexible work environment and fulfilling employees' personal and professional interests in workplace choices help to build employer branding and make them an employer of choice

Offer dual-career opportunities to employees to work at different locations.

Hire talent from across the globe based on their skills and competence

Creating a diverse workforce and culture as there are no geographical barriers

Save operational costs (daily upkeep, transport, repair, electricity, etc.)

Fuel savings, CO2 reduction, and less pollution due to less commuting positively impact the environment
Conclusion
The work-from-anywhere trend is here to stay. Employers need to take the necessary measures to enable it better and ensure workforce satisfaction.
It is achievable when they take strategic steps, such as consulting key stakeholders for drafting global business expansion policies, identifying operational and statutory risks of international remote working and developing sustainable solutions to mitigate them.
Employers must also redesign policies on data-sharing, communication, and employee performance management and engagement. At the same time, they need to manage employee governance and statutory compliance on implementing workflows, getting approvals, and managing employer obligations.
Contact Us for Global Payroll