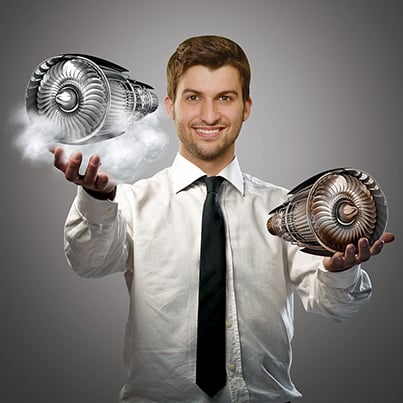 Bringing in productivity and efficiency is no more a choice, but a prerequisite to any business model's survival and growth. The pressure is perpetual for aviation enterprises to cut costs on Fuel, Skilled resources and Maintenance expenditure, all of which are hard to monitor, let alone control.
In addition, Small and medium sized operators face the challenge of operating with limited manpower and lack robust internal systems and processes that can adapt to changing industry dynamics and competition.
When an enterprise is in startup stage, it is mostly managed by a core of knowledgeable resources. In successive stages of growth individual departments leverage tools and software to improve functional efficiency respectively. When the organization reaches key maturity milestone these individual departments generate a lot of inertia with respect to data flow and transparency. This leads to the birth of multiple silos standing in the way of the Right Data at Right Time.
A typical ERP implementation; with considerable time and cost being invested, have to be carefully evaluated prior to the initiation stage. The effect of short sightedness during this stage can have catastrophic impact on SME operators who lack the luxury of budget buffers. Implementation methodology has to be out of box and prescriptive with best practices in-built enabling a quick start deployment.
However, with proper planning and implementation, an ERP's impact on an organization can be highly positive enabling swift efficiency and productivity changes. Based on diverse experience, the following are three key drivers for an organization to transform itself post a successful ERP implementation.
Accelerated Transformation: Three key drivers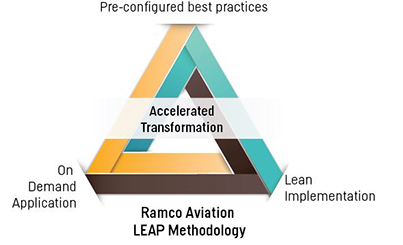 Driver # 1: Pre-Configured best practices
Enterprises have to move away from legacy systems and personnel dependent processes and leverage a state-of-art solution that offers 'best of breed' ERP capabilities to derive business benefits.
During selection, equal weightage should be given to what is implemented and how it is being implemented. ERP should have best practices methodology inbuilt and industry standard codes (ATA, IATA, and SPEC) pre-loaded.
Tools and training materials should be available to the user organization to migrate legacy data 'with ease' and accurately re-use the training material, eradicating the need for re-work.
Organizations should be able to buy and implement modules as and when needs arise. This can help organizations roll out a deployment based on the planned budget and incrementally add the modules according to business needs.
Driver # 2: On Demand Application
Rendering Software as a Service (SAAS) has proven short term and long term benefits globally. In the short term, the upfront IT infrastructure CAPEX cost is reduced to zero. This letsenterprises to focus their initial growth stage investments on core areas of business such as Maintenance and engineering, Spares Provisioning without worrying about the non-core areas.
As more and more software are being offered in the SaaS model, interfacing requirements between any two cloud systems can be easily configured in a cost effective manner.
The Interface between a Flight scheduling and M&E Operations system or M&E and financial system has showcased great potential in increasing the overall efficiency within the organization.
Cloud model drives the service provider to monitor the service levels as stated in the agreement on Availability, Performance and Data security. This offers high level of predictability to enterprises as compared to traditional on-premise models.
Driver # 3: Lean Implementation
With the technology shrinking the world digitally, Audio and Video conferencing can be effectively leveraged for migrating from traditional in-person implementation to virtual implementation. Virtual implementation process reduce implementation cost between 30% and 50%.
With key activities such as business process mapping and data migration being carried out virtually, instant feedback mechanism should be in place through documentations such Check list, MOM , Feedbacks, Status reports and sign off reports. This will weed out all understanding and consensus of outcome, post implementation.
A data collection strategy should enable the customer to collect only key data fields available in documents provided by OEMs (IPC /MPD/AMM) and key accounting data to start with.
In-addition to extensive role-based hands on training on key business scenarios, users should be sensitized on the pre and post process impacts. Training on real business data will help to better understand the process's need to be performed. Refresher training schedule should be in place to sustain the initial training and also to derive business benefits on the key enhancements delivered by the ERP periodically.
Detailed planning and preparation is essential for a successful execution. Care should be taken in scheduling, allowing SME customers to carefully deploy their limited manpower / user champions effectively, without affecting their routine activities.
Conclusion: Time to LEAP ahead
When organizations realize a business drag caused by legacy process and systems, its already late. Therefore the key at this juncture is not to run, but Leap.
By adopting the 3 drivers of Accelerated Transformation, aviation MROs are bound to gain on the following:
Quick to reap the benefits of a robust ERP system
Vast reduction in CAPEX cost and faster transformation as a result of SAAS model
Reduced implementation cost due to limited on-site activities powered by lean implementation
With a robust ERP system governing at the grassroots, organizations can build strong eco systems at a much earlier stage, seeding capabilities of scalability, improvements in cost reduction, efficiency and productivity for all present and future needs.
Blog By:
1. Saravanan Rajarajan S, Principal Consultant, Aviation Practice, Ramco Systems.
2. Senthil Kumar V, Head-Projects, Aviation Practice, Ramco Systems.
You can reach them at contact@ramco.com
Ramco's Point of View are intended to provide insights of evolving trends in Aviation industry and the ideas / Solution to the business problem.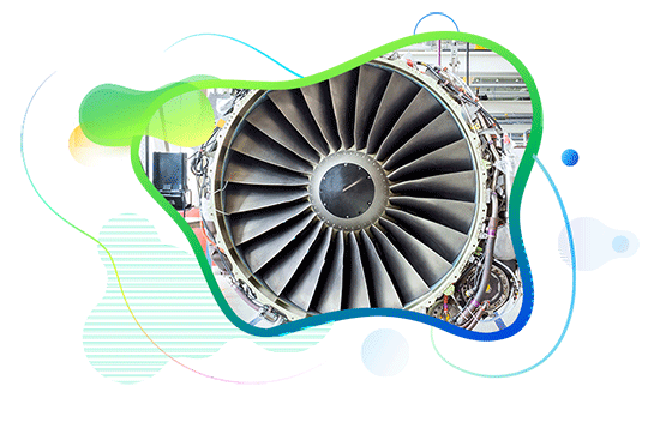 Contact Us for Next-Gen Aviation Maintenance Software