An ERP implementation is generally viewed as being complex and challenging and is perceived with a deep sense of apprehension. This is accentuated by the many articles, case studies and marketing headlines on ERP success stories (and failures!). On the contrary, there have not been too many pointers on what,the success factors really are and how an ERP success is really measured.
ERP systems by themselves are essentially information Management systems that when used effectively are expected to support and enhance Management decision making. It is often, difficult to measure the success of an ERP system as it involves almost every aspect of business operations and is bound to have different perspective of what success of an ERP system implementation is.
So what are the critical success factors for an ERP implementation?
Is it the completion of the ERP implementation process, right from data conversion to training users to system installation?
Is it a complete achievement of all the stated business objectives defined at the project initiation stage?
Is it the measure of the Return on investment that the company had expensed to justify the cost and effort spent?
Or is the count of the requests for change, a measure of the usage and thus the success of an ERP?
Top Management involvement: One of the fundamental and foremost factors affecting a project would be the involvement of Upper or executive management. It goes without saying that the scope, budget and cost factors are directly influenced by their direction. Steering committees are an effective wayto approve necessary resources, motivate the project management team and make high-level and sometimes tough decisions to create a vision for success.
User Participation and engagement: It is imperative that Power users and Subject Matter Experts (SMEs) be involved right from the beginning of the project towards meetings, discussions and decision making points. Education and learning of the ERP system is instrumental for its own success. It is through this type of engagement – from decision making to training- where Power Users will accept the system and its functionality, take ownership of the system, and transfer that attitude ultimately to the end user.
Process owners, will further improve their own skillsets and be able to properly articulate to the end users why certain decisions were made, why the business process flows are different than before.
Minimize changes to software: This factor can significantly reduce a lot of headaches for the management as they are responsible for significant budget overruns and delays in meeting project deadlines – all of which can significantly increase the total cost of ownership. More importantly, customizations or feature modifications can add to the complexity of supporting and upgrading the software in the future and have a downstream impact on virtually every part of the implementation – from development, testing, documentation and user training.
Many times, customizations are requested because users are simply against change management and want to maintain the old processes they used, in their day to day jobs, which often were inefficient. It is estimated that many of the delivered customizations are actually never used even six months after Go-Live because the usersapparently discovered there were better processes already within the system that could help achieve the same or better results compared to their legacy processes.
Focused Data migration strategy: Data migration are generally regarded as the most time consuming of all the implementation activities and the most frequently blamed when project timelines are not met. Thus, creating a focused data migration strategy pays in the long run as each project characteristics are unique and different. A well-defined strategy addresses the processes and activities involved in the migration of the data such as: data elements, the data volumes, the means/mechanism for cleansing that data, consolidation of data and tools used to upload that data.
Focused System testing: It is obvious that any solution has to be thoroughly tested, for any successful implementation, since the objective is not just to see if the software works, but also to ascertain if the system is meeting the Company's business needs.Also, the general tendency to curtail system testing duration in the event of budget overruns has to be curbed. A more pronounced methodology to system testing could be to tailor the scenarios from the Solution mapping phase as test cases.
There should be a proactive addressing of all these factors, as causes, that will help ensure that an implementation project ends as a 'Success' story rather than a 'Failure'. A few proven success factors like disciplined Project Management practices, approved solution design, all round user participation; documented processes etc have always been strictly considered and have yielded quantifiable results.
While expecting an ERP system to immediately start delivering benefits might not be rational, it's a fact that no ERP; no matter how advanced or expensive it is; becomes useless if the users do not know how to take advantage of it and apply the technology to better the performance of their business operations and exceed customer expectations.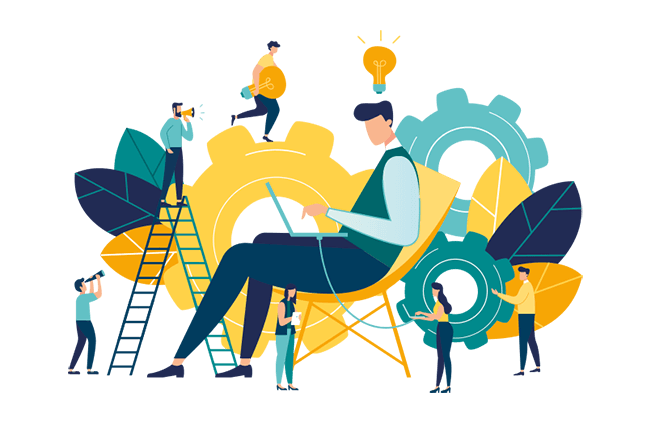 Contact Us for ERP Software