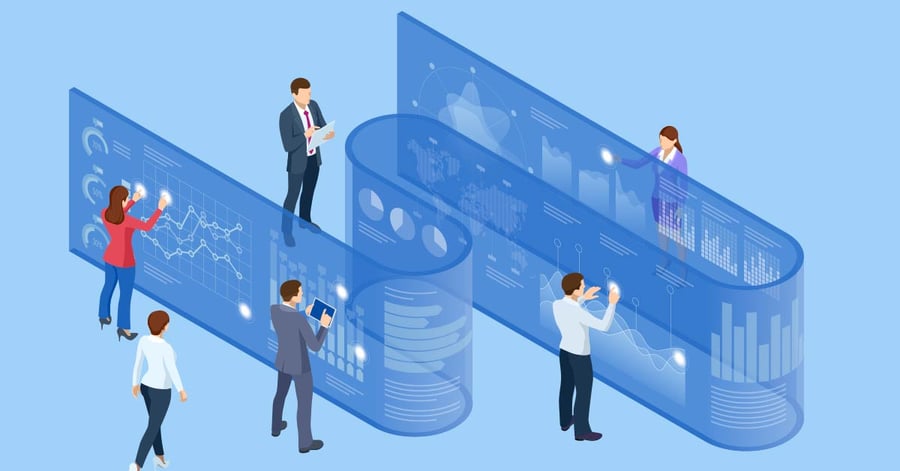 Increasingly, businesses across industry verticals are using payroll analytics to glean HR insights. Several large businesses use payroll analytics to improve profitability. The smaller and medium-sized businesses have been a little slow in warming up to the idea, but this stance is also beginning to change.
Payroll, for most businesses, is now free of the traditional paper-bound manual processes. Payroll software, now used for payroll processing, enables a detailed look at payroll data and provides reports on employee absence rate, the incremental cost of compensation change, etc. Such reports, although useful, do not provide the same value that analytics does.
Payroll analytics takes payroll data and applies data analytics to understand underlying trends to support decision-making. It involves an in-depth, multi-aspect analysis of payroll to help decide on a future course of action or identify aspects of the business that are contributing disproportionately to, for example, the indirect labour costs.
Undertaking such an analysis helps see the linkage between the performance of the business to the performance of a particular department or shifts. Insights from payroll analytics help businesses optimize employees' workplace experience to drive superior business outcomes.
Putting Payroll Analytics to Work
Payroll data, when combined with HR and business data, becomes an invaluable source of information. The strategic potential of this data can be fully leveraged through payroll analytics to glean HR insights.
The strategic HR insights that can be extracted using payroll analytics include:
Minimize/Eliminate Errors


For most firms, payroll is the single largest expense head. For some large MNCs, it can account for 50% or more of the company's overheads. In such a scenario, even small errors can snowball into major problems. Identifying the cause and frequency of errors can help organizations devise remedial action and save operational costs.



If the available data indicates that errors consistently originate from a particular location, it is indicative of a requirement for additional training. If the trends suggest that errors spike at a specific time of the year, it is a prompt to re-examine the holiday calendar, streamline the workflow, and redesign staffing numbers and job responsibilities.
Informed Business Decisions


The analysis of payroll performance helps generate accurate annual forecasts. Accurate forecasts enable efficient budget and cash flow management, which is particularly important when the business is going through a period of change or growth. For business leaders contemplating critical business decisions, payroll analytics facilitates the assessment of the true cost and impact of the decisions.



For example, following the introduction of a successful new product, the business would plan increased production. Insights extracted from payroll data provide inputs on current staff strength and performance, cost, and impact of awarding overtime to meet increased production versus hiring additional manpower, additional tax requirements, possible effect(s) on support and IT staff, etc. The business's leaders can factor these insights into their decision-making to choose the best course of action, set prices, and lead the business with a clear view of where and how the funds are deployed.
Planning for Future Growth


The correct analysis of payroll data can also support business leaders in formulating strategies for future growth. Having a complete picture of operational costs and future fund requirements empowers the business's leaders to weigh the available options. For instance, data could tip you off about the impending retirement of key personnel in a certain location, enabling you to plan a smooth transition. Payroll analytics could also arm you with data to decide on business expansion in a particular location over another based on the cost of compensation, training cost, tax liabilities, etc.
Superior Hiring Decisions


An assessment of the challenges of deploying a larger workforce to power growth should accompany any planning for future growth. When the business is spread across geographies, accurately evaluating the costs and risks of employing staff in multiple locations is vital for the planning and hiring process.



One needs to weigh hiring full-time employees versus hiring temporary workers. Hiring full-time employees requires compliance with vastly different insurance and benefits regulations. Analysis of data might show that hiring full-time workers might be a better long-term move to preserve knowledge, maintain confidentiality, and not have to train employees every time a temporary worker decides to leave.
Improved Employee Retention


Payroll analytics can reveal the correlation between monetary compensation and performance at work. Uncovering such insights from HR payroll helps draft employment contracts that help attract top talent and retain them. For example, younger employees might value a flexible work arrangement over a generous health insurance scheme, while the reverse might be true for older employees. Such insights empower you with a complete range of inputs to help tailor employment contracts that are a win-win for both the business and the employees.



Insights derived from payroll data may help predict specific outcomes for example increased overtime input might help predict employee burnout rates which might impact the attrition rate. A timely action by HR professionals could not help averting unfavourable scenarios but also help improve employee well-being.
Final Thoughts
Payroll analytics is helping businesses benefit from the data they have always had. Businesses are now undertaking an in-depth analysis of payroll data to extract valuable information, applying this information to create exceptional customer and employee experiences and deliver superior business outcomes.
Contact Us for Global Payroll