Fiscal Year 19-20 Highlights
Million-Dollar-Plus' Deals
21
Unexecuted Order Book (as on March 31, 2020)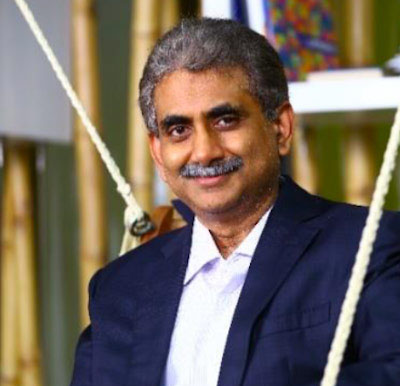 In the world of business today, speed matters more than anything else, and Digital Transformation will be possible only when organizations are agile. Transforming operations will bring in operational excellence that will be driven by technology thus paving way for innovation and excellence. This is where Digital Transformation steps in. We, at Ramco, continue to emphasize on the fact that a true Digital Transformation is all about results that should be driving an improvement that is not just incremental but substantial. What was expected to become a need by 2025, has now become urgent and important.
Ramco Systems Q1 revenue stood at USD 17.17m; Q1 Order book grows 121% YoY
Chennai - August 3, 2017
Chennai, India – August 3, 2017: Ramco Systems (BSE - 532370, NSE – RAMCOSYS); a global enterprise software company focusing on enterprise cloud platform, products and services, today announced the results for the first quarter of financial year 2017-18.
For the quarter ended June 30, 2017 (Q1: 2017-18), global consolidated income of Ramco Systems Limited stood at USD 17.55m (Rs 112.8 cr) as compared to USD 16.62 m (Rs 110.5 cr), in the same quarter last year. Exchange rate movement across quarters and ongoing investments in building Logistics practice had a minor impact on the bottom line.
Financial highlights:
Revenue grew 4.1% YoY in Q1
Beating the traditional trend of a muted Q1, FY 2018 order book showed a growth of 121% YoY
67% of overall Q1 booking was on Cloud, ensuring recurring revenue for the future
Unexecuted order book continued to show steady increase with 31% YoY growth
Geography highlights:
After opening offices in Philippines, Hong Kong and China, expansion in Asia continues with subsidiaries in Vietnam & Indonesia. With complete coverage and infrastructure in place for the Asia market, Ramco is poised to become a formidable force in the region
Ramco ERP enables its clients experience seamless transition to GST in India on Day 1 of roll out
Business highlights:
Sharper focus in core offerings and identified niche areas of strength paying off;
Investments in Logistics bearing results. Ramco Logistics contributes 40% of the overall order book for Q1
Opportunities for stand-alone Finance module see a rise; NGF – Next Gen Finance team set up to build deeper functionality and usability in Finance module
Becomes the only Asia based vendor to be featured in Gartner's Magic Quadrant for Cloud Core Financial Management Suites
Ramco Aviation strikes gold with the addition of one of the top 3 Global leaders in Aircraft manufacturing as its client
Ramco User Meet (RUM) 2017 concludes on a high note with 70+ customers and global partners reaffirming their trust on Ramco
Commenting on the results, P.R. Venketrama Raja, Chairman and Managing Director, Ramco Systems, said, "Ramco User Meet - RUM 2017 was a great opportunity for business leaders from across the globe to meet and deliberate on the technological disruptions hitting the Aviation & Logistics industry. I was excited to witness the palpable excitement among clients when we showcased technological innovations building on Artificial Intelligence, Machine Learning, Block Chain and more. The ability to tie these innovations to address business pain points and bring productivity gains is what drives our clients to place their trust on us. The future holds innumerable possibilities and I am glad we are in the right direction with market, customers, analysts and partners endorsing our story."
Commenting on the business performance, Virender Aggarwal, CEO, Ramco Systems, said, "The thrust to focus on fewer offering and build a strong funnel is helping the organization channel its energy, effort and investment in the right direction. With Logistics contributing 40% to the overall order book, HCM with Global Payroll driving inroads into multi-country opportunities, and Aviation continuing to win marquee clients – Q1 has marked a good start to this Financial Year. Our entry into Gartner Magic Quadrant as the only APAC vendor has further propelled our market position."
Download PDF