Fiscal Year 19-20 Highlights
Million-Dollar-Plus' Deals
21
Unexecuted Order Book (as on March 31, 2020)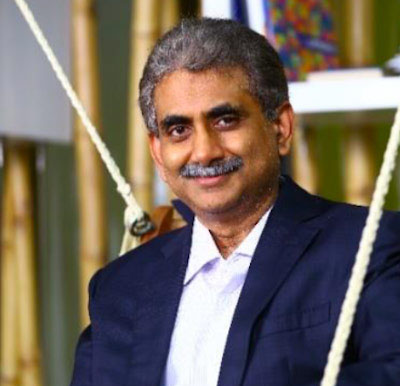 In the world of business today, speed matters more than anything else, and Digital Transformation will be possible only when organizations are agile. Transforming operations will bring in operational excellence that will be driven by technology thus paving way for innovation and excellence. This is where Digital Transformation steps in. We, at Ramco, continue to emphasize on the fact that a true Digital Transformation is all about results that should be driving an improvement that is not just incremental but substantial. What was expected to become a need by 2025, has now become urgent and important.
Ramco Systems Q2 revenue grows 7% QoQ
Chennai - October 30, 2019
Chennai, India – October 30, 2019: Ramco Systems (BSE - 532370, NSE – RAMCOSYS); a global enterprise software company focusing on Next Generation Cloud Enterprise Applications, today announced the results for the second quarter of 2019-20.
For the quarter ended September 30, 2019 (Q2: 2019-20), global consolidated income of Ramco Systems Limited stood at USD 21.81m (Rs 151.4 cr). The net profit after tax for the quarter, amounted to USD 1.07m (Rs.7.4 cr) as against USD 0.41m (Rs 2.85 cr) in Q1 and USD 0.55m (Rs 3.91 cr) in the same quarter, the previous year.
Q2 Financial highlights:
Quarterly order bookings stood at USD 26.01m, 21% growth over Q1 2019
5 'Million-Dollar-Plus' deals signed
Q2 Business highlights:
Revenue from markets outside India stood at 76%
Asia continues to lead the pack, both in order booking and revenue
Focus on driving Digital Transformation leads to increase in large opportunities getting added to the pipeline; ERP wins largest transformational deal from a leading cement company in Asia for transforming its operations
Continues the thrust on adding newer geographies to its multi-country payroll fold; Builds Integration and APIs to connect with leading global HR platforms

Continues to attract Global Fortune 500 giants to its Global Payroll clientele

Aviation continues to invest in building its strength to address the Defense segment; adds key innovations including 'Drag and Drop' feature, real-time visualization of mechanics on Maps and so on
One of Philippines' leading domestic shipping and logistics provider, AP Cargo goes live on Ramco Logistics ERP
Ramco's virtual assistant, CHIA launched on WhatsApp; 30+ self-service transactions which hitherto was available on Microsoft Teams, Skype and Slack, now also accessible via WhatsApp
Commenting on the business performance, P.R. Venketrama Raja, Chairman, Ramco Systems, said, "Having etched a strong footprint in the Aviation, Logistics and Global Payroll segments, we are now witnessing the next big wave of opportunity emerge in asset-centric ERP market. This quarter, we won one of the largest ERP Digital transformation mandates from a leading Asia based Cement organization looking to digitize its operations. Our asset-centric ERP (EAM) struck the right chord with its ability to deliver simplification while addressing the complex operations with ease. With all our focus product lines showing good progress, we hope to keep the momentum going strong in future, too."
Download PDF