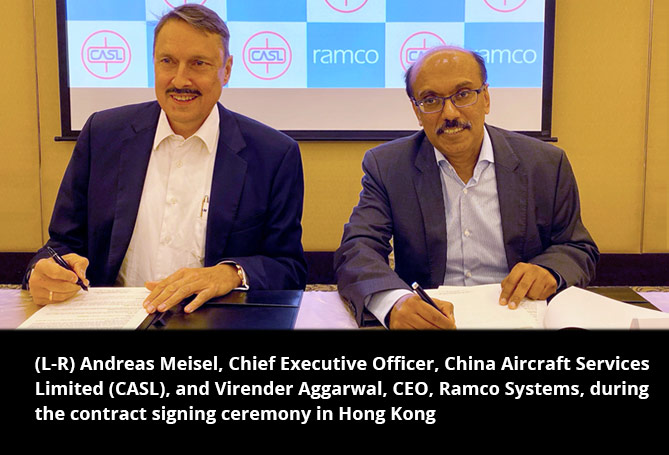 A joint venture company among CNAC(G), UAL, CAL & Gama Aviation China Aircraft Services Limited TRUSTS Ramco
Embarks on a digital transformation journey with Ramco Aviation to optimize resource utilization and arrest revenue leakage
Lantau, HONG KONG / Chennai, INDIA – December 16, 2019 – One of the largest third party MRO providers, and a joint venture company among CNAC(G), UAL, CAL & Gama Aviation, China Aircraft Services Limited announced that it has signed an agreement with the global aviation software provider Ramco Systems to implement its Aviation Suite V5.8 for end-to-end base and line maintenance operations.
Through this collaboration, Ramco will provide its integrated Aviation Suite with modules for Maintenance & Engineering, MRO Contracts, Supply Chain, and Finance to help CASL manage their end-to-end line and base maintenance, ground handling and cabin services.
The mobile-enabled application will also offer real-time processing for work order, thereby reducing the overall turnaround time. Hosted on cloud with mobility and optimization features, the solution will replace disintegrated systems across various departments and seamlessly interface with other third-party airline, flight following and HR systems.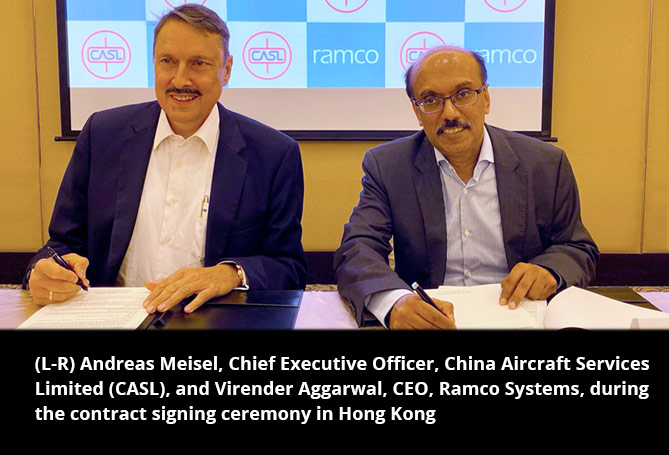 Commenting on the association, Andreas Meisel, Chief Executive Officer, China Aircraft Services Limited (CASL), said, "At CASL, we have always aimed to provide higher level of aircraft maintenance services which in turn demands effective utilization of resources and manpower. By leveraging the power of Ramco Aviation, we are confident that we will now be able to optimize our resources, automate business processes thereby reducing overhead costs. Ramco's intelligent platform with in-built analytics will also enable us with real-time decision making. We look forward to our digital journey with Ramco."
Virender Aggarwal, CEO, Ramco Systems, said, "Hong Kong has been a hive of MRO activities, and we at Ramco have been investing focused efforts in offering disruptive technology to bring in a paradigm shift in the industry. Our win at China Aircraft Services is a not just a testament to our focused expansion in the MRO space, but a stepping stone that will help us cement our footprint in the Line MRO space, globally."
Ramco Aviation Software is trusted by over 22,000 users to manage more than 4,000 aircraft globally. Accessible on cloud and mobile, Ramco Aviation Software continues to add technological innovations with Anywhere Apps to significantly reduce transaction time both during aircraft on ground (AOG) conditions and critical aircraft turnarounds. With innovative concepts of Artificial Intelligence & Machine learning, Ramco is changing the paradigm of enterprise software with zero user interface (Zero UI) powered by features such as chatbots, mail bots, HUBs and cognitive solutions. Ramco has also developed application compatibility on Microsoft HoloLens to bring augmented reality which improves efficiency in maintenance operations. With more than 75 aviation leaders onboard, Ramco is the solution of choice for several large airlines, heli-operators, defense sustainment and logistics contractors, and maintenance, repair and overhaul (MRO) organizations.
About China Aircraft Services Limited:
Founded in 1995, China Aircraft Services Limited (CASL) is a joint venture among China National Aviation Corporation (Group) Limited (40%), Gama Aviation (20%), United Airlines, Inc. (20%) and China Airlines Limited (20%), providing aircraft line and base maintenance, cabin cleaning and ground support equipment, as well as supply and stores services at Hong Kong International Airport. Air China, China Eastern Airlines, China Southern Airlines and Xiamen Airlines have representations in the company via the 40% shareholding of China National Aviation Corporation (Group) Limited in CASL. Apart from operating in Hong Kong, CASL and China Eastern Airlines established a joint venture company Shanghai Eastern Aircraft Maintenance Limited (SEAM) in 2002, providing aircraft line maintenance and ground support equipment services at Shanghai Pudong International Airport and Shanghai Hongqiao International Airport.
By opening its aircraft maintenance hangar at Hong Kong International Airport in May 2009, CASL is capable of providing a higher level of aircraft maintenance services to worldwide airline customers in both aircraft line maintenance and heavy maintenance.