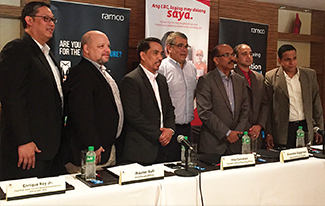 LBC Express and Ramco HCM ink software deal
Massive HR transformation program to automate HR & Payroll operations of LBC's 8000 employees across 30+ countries
Manila, Philippines/ Chennai, India – December 14, 2016 – LBC Express, Inc., Philippines' leading logistics and remittance brand has signed Ramco Systems' HR & Payroll solution to streamline the entire life cycle of its approximately 8,000 roster of employees, from hire to retire, on a unified solution.
As a part of the agreement, LBC Express will implement Ramco HCM integrated with Global Payroll across its global enterprise covering associates in more than 30 countries. This will include modules for Core HR, Time & Attendance, Leave Management, Employee Self Service, and Recruitment. The move to a unified web-based application will enable LBC Express' HR team to focus on more strategic HR initiatives while aspects related to employee self-service, which were hitherto manual will now be completely automated. Employees on the other hand will be able to get real-time access to data via SMS chat, Mail transactions, CHATBOT among others. This is expected to reduce employee support cost, time and effort, substantially.
Commenting on the association, Jhayner V. Bhufi, Chief People Officer, LBC Express Inc., said, "In a service-centric atmosphere, our associates (employees) play a pivotal role in ensuring we deliver on our commitment to customers. We wanted a simplified but operationally rich HR software that can address our complete HR needs. Ramco HCM with its innovative features fit the bill with its Innovative offerings around HUB, Mail it, Chatbots and Mobility. We look forward to leveraging the application in creating a highly engaged and empowered workforce."
Virender Aggarwal, CEO, Ramco Systems, said, "Our recent entry into the Philippines market has started yielding significant results. With rapid economic growth, the Philippines has been showing greater adoption for innovative technology. Some of our next-gen, intuitive features like Chatbots and Mobility have been garnering great interest. The addition of LBC Express to our growing Filipino clientele further strengthens our footprint in the region paving way for major inroads into the market."
Trusted by 400+ global customers, Ramco HCM & Global Payroll with Time & Attendance is compliant with statutory and taxes across 35+ countries and has partnerships to cover Payroll for 108 countries, globally. Recognized as an Achiever in Everest Group's Multi-Country Payroll Assessment, Ramco HCM with built-in Mobility and Intuitive user experience continues to add on an average two new customers a week in 2016. With a comprehensive coverage of APAC, Middle East and Australia, Ramco Global Payroll covers countries such as Hong Kong, Philippines, Thailand, Indonesia, Singapore, Malaysia, Vietnam, China, India among others in APAC; all of GCC and Egypt, Nigeria, Ghana, Sudan, Republic of S. Africa, in Middle East-Africa; Australia, New Zealand, United States and UK.
About LBC Express Corporation:
LBC is the Philippines' market leader in retail and corporate courier & cargo, money remittance, and logistics services. With a growing network of over 6,400 branches, hubs & warehouses, partners, and agents in over 30 countries, LBC is committed to moving lives, businesses, and communities and delivering smiles around the world. Listed in the Philippine Stock Exchange through LBC Express Holdings, Inc., LBC aims to deliver value to all of its stakeholders, as it has for over 60 years. Founded in 1945 as a brokerage and air cargo agent, LBC pioneered time-sensitive cargo delivery and 24-hour door-to-door delivery in the Philippines. Today, it is the most trusted logistics brand of the Global Filipino. LBC can move it for you: visit www.LBCexpress.com, or call telephone +632 8585 999 (Metro Manila), 1 800 10 8585 999 (Provincial), +632 9086 522 (Solutions) and follow LBC Express (Facebook and Twitter).