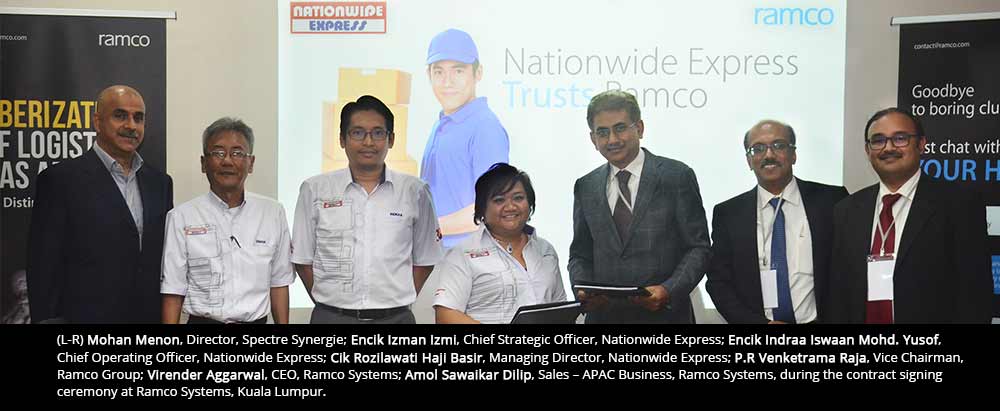 Malaysia's Leading Courier Service Provider, Nationwide Express TRUSTS Ramco for Enterprise-wide Digital Transformation
To manage its growing business spread across Malaysia and serving 180+ Locations
Kuala Lumpur, Malaysia/ Chennai, India – October 27, 2016 – Malaysia headquartered Nationwide Express Courier Services Berhad, leading providers of courier, freight forwarding and customised logistics services in Malaysia today announced that it will implement Ramco Systems' Logistics ERP Software across 180+ locations. Ramco's partner Spectre Synergie, a Malaysia based IT Consulting company played a vital role in this engagement.
Founded in 1985, Nationwide Express is one of the first few locally established companies in Malaysia, with its principal activity being that of a courier service provider. Supported by 1,400 dedicated employees, 300 fleet of NATWIDE mobiles and 500 motorbike couriers, it meets the demand for door-to-door fast, efficient and reliable service for speedy transfer of lightweight and high value goods between locations.
To date, its network encompasses 180 nationwide locations across 3 ASEAN nations – Malaysia, Singapore and Brunei Darussalam; comprising branches, service centres and agents. Through its alliances with reputable international companies and agents, Nationwide Express delivers to over 200 countries worldwide.
Taking into cognizance Nationwide Express' comprehensive and extensive courier network, it needs to adopt and adapt the changing landscape of the courier industry to stay in the forefront of the industry. Nationwide Express will replace multiple legacy systems to bring Ramco solution as the single unified ERP to cover Express Cargo & Small Parcel Management, Fleet (Asset) Management, SCM (Procurement & Inventory Management), Finance & Accounting, Human Capital Management and Payroll along with Business Analytics.
Speaking on this, Cik Rozilawati Haji Basir, Managing Director, Nationwide Express Courier Services Berhad, said, "Nationwide Express has built a brand name which is trusted for fast, efficient and reliable service in Courier. In this day and age where businesses are getting challenged by nascent organizations, it is imperative for us to have complete visibility of operations and leverage technology to our advantage. Our legacy systems were unable to cope with the rapid change in demand. Ramco offered a comprehensive Logistics offering with integrated Finance and HR which addresses all our business needs. Their product vision and focus on Innovation to drive business results played a key role in our decision to move to Ramco.
We look forward to working with Ramco and their partner, Spectre Synergie in enabling us to further strengthen our presence across all divisions of the Logistics chain."
P R Venketrama Raja, Vice Chairman & Managing Director, Ramco Systems, said, "The win at Nationwide Express is a clear testament of how Ramco Logistics ERP as a postmodern and single integrated ERP platform can deliver significant innovation, cost savings, and superior business processes to organizations, globally. Ramco's focus on innovations in usability, context-awareness, mobility, overall flexibility, apart from comprehensive set of functionality has enabled smooth transitions possible for customers."
Ramco Systems' second largest operations outside India – Malaysia – has seen rapid growth over the years. Designed like a Silicon Valley set up with open seating and a vibrant workforce; Ramco has been strengthening its base in the region.
Virender Aggarwal, CEO, Ramco Systems, added, "To build a culture of Innovation, we have been hiring from top notch premier institutes like UM, IIUM, USM and many more International institutes. Today, we have a healthy mix of people from all nationalities – Malaysia, Indonesia, Philippines, China, Vietnam, Australia, France among others working towards building disruptive technologies from our Kuala Lumpur centre. We have also entered into partnership with leading Bumiputera players and Malaysia-based IT Consulting organizations to further expand and serve local businesses".
Speaking on the partnership with Ramco, Mohan Menon, Director, Spectre Synergie, added, "Malaysian businesses are on the threshold of breaking-free from legacy applications which were hindering their growth. We are witnessing good demand for disruptive and innovation-led technologies which are able to solve business pain points. With Ramco, we have a strategic principal who brings globally recognized new-age technology, strong domain expertise and a long-term commitment to the region. We look forward to taking this partnership forward in further supporting Malaysian organizations and their IT needs."
Ramco Logistics Software is an integrated Cloud-based platform for Third Party Logistics, Freight Forwarders, and Parcel/ Courier service providers seeking a high-performance logistics software. An Integrated end-to-end solution that can link every stage of a logistics chain and bring all the functionalities under a single technology platform, which is flexible, scalable, cognitive, and ready to adapt to change is helping the solution attract customers, worldwide.