Middle-East based Danube Group select Ramco HCM & Payroll
To integrate their HR operations across Middle East, Africa and India
Dubai, UAE/ Chennai, India – June 20, 2016 – Ramco Systems, the global HR software provider on Cloud, Mobile and Tablets, today announced that Middle-East based Danube Group will have Ramco HCM as their technology platform to automate and integrate HR operations for more than 2500 employees in Middle East, Africa and India markets.
Ramco HCM on Cloud will provide solutions pertaining to various HR functions including Core HR, Talent Management, Recruitment, Leave & Time Management and Payroll. Danube will also benefit from latest technology innovations from Ramco including ability to transact with the application without Logging in - the Mail BOT.
Thamimul Hussain, Executive Director, Danube Group said, "Danube is a household name in the Middle East and we've come a long way since the inception of our company. Our thrust on innovation has been consistent with our growth. We have been relentless in our commitment towards our customers and employees. Ramco's commitment towards being future-ready, coupled with great technological advancements and features like Mobility and Mail It instilled faith in us to partner with them. With Ramco, we look forward to holistic automation, and foresee a seamless functioning of all our HR functions."
Commenting on the win, Virender Aggarwal, CEO, Ramco Systems said, "With 100+ clients and a growing number of consultants on board, Middle East & Africa is one of the largest markets for us. Our ability to offer Payroll for all regions in Middle East and most parts of Africa coupled with innovations delivered through Cloud and Mobile has positioned us favourably among both local and global players looking for HR software in the region. We are glad to have partnered with Danube in their journey towards modernizing the HR operations. With a complete, yet refreshingly simple HR offering, we have seen Ramco HCM record 63% YoY growth in FY 2016."
Trusted by 400+ global customers, Ramco HCM & Global Payroll with Time & Attendance is compliant with statutory and taxes across 35+ countries and has partnerships to totally cover Payroll for 108 countries, globally. Multi-country Payroll, Mobility, and Intuitive user experience are driving the product to add on an average two new customers a week in 2016. With a comprehensive coverage of APAC, Middle East and Australia, Ramco Global Payroll covers countries such as Hong Kong, Philippines, Thailand, Indonesia, Singapore, Malaysia, Vietnam, China, India among others in APAC; all of GCC and Egypt, Nigeria, Ghana, Sudan, Republic of S. Africa, in Middle East-Africa; Australia, New Zealand, United States and UK.
About Danube Group:
Danube Group was founded and established by Mr. Rizwan Sajan in 1993. Mr. Rizwan Sajan retained number twelfth ranking on Top 100 Indian leaders in the UAE List 2016 by Forbes Middle East. Over the years the Group has grown steadily from a small trading firm to being the no. 1 building materials company in the region, with its diversified branches worldwide. Danube Group recorded AED 5.13 billion turnover in 2015.
Danube Group comprises of Danube Building Materials FZCO (The leader in building materials in the region); Danube Home (The retail arm (home interior/ décor solutions); Milano (Bath products & solutions with innovative technologies & water saving features); Danube Properties (The residential property development entity); DanubeDirect.com (An exciting new way to buy products (home solutions/ electronics) online at significant savings); Danube F&B (Cha Cha Chai Café & Lounge, serves premium tea blends in a relaxed atmosphere, along with snacks and food); Danube Fashion (Tudors- Shirts, Xti- Footwear); Danube Systems (Security & Smart Home Solutions provider of more than 150 leading international brands in the security & IoT field)and Alucopanel Middle East LLC (Architectural applications such as external and interior claddings, roof covering, and ceilings of buildings).
By end of 2016, Danube Group will operate 50 branches in 9 countries worldwide including UAE, Oman, Bahrain, Saudi Arabia, Qatar, Kenya, India and procurement offices in China with employee strength of over 3,000.
Danube Group has earned accolades and distinctions from various local and international bodies- Mohammed Bin Rashid Al Maktoum Business Excellence Award, Dubai Quality Award, Dubai Customs Award, RAK SME Award, the Dubai Logistics and Supply Chain Award and UAE's Top 20 Performers.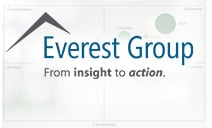 Everest Group assessed global payroll platform vendors in the rapidly growing Multi-country Payroll Platform (MCPP) market. Read their Evaluation of vendors on Functionality & Usage and Execution effectiveness.
Download Report