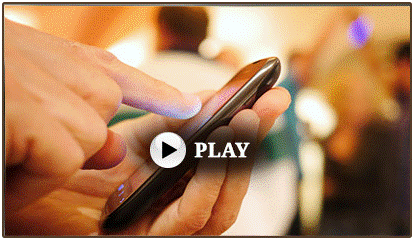 Mobile is the New Attendance Kiosk!
Ramco HCM on Cloud now powered with GPS & NFC
Chennai, India – February 17, 2014 – Ramco Systems, an enterprise software product company focused on delivering ERP, HCM and Aviation on Cloud, Tablets and Smart phones today announced that its comprehensive HR & Talent Management solution, Ramco HCM on Cloud (Human Capital Management) will now be available with GPS (Global Positioning System) and NFC (Near Field Communication) Support. With this new feature, Ramco HCM will offer its customers an option to record NFC based time and attendance to authenticate, trace, and interact with employees at various levels. Watch a Video to see how this feature works.
In an increasingly changing business environment where a sizeable number of employees are on the move addressing business needs in remote locations, the need to capture employee attendance and integrating it back to payroll has become a challenge. Also businesses are unable to get complete visibility of workforce distribution to enable them to plan resource allocation effectively.
Commonly used attendance mapping systems such as Biometric and Swipe cards are limited in scope, high on investment and do not scale to the needs of a geographically dispersed workforce. Ramco HCM with its GPS + NFC based attendance management system is aimed at addressing this pain point of an organization.
Talking about the latest capability, Mr. Virender Aggarwal, CEO, Ramco Systems, adds, "Ramco is driving a move towards enabling a 'Digital Enterprise' and with Internet of Things becoming mainstream, we are using the tectonic shift in technology to drive business benefits in a manner not thinkable earlier. With the emergence of a young breed of millennial workforce, HR Managers are forced to relook at their current systems. With the launch of GPS and NFC based attendance system, we are providing enterprises with a new technology to address the attendance, billing and payroll needs of a complex workforce."
NFC is a set of radio frequency communication standards that allow enabled phones / devices to read contactless tagged cards in a range of 4-10 centimeters. The NFC feature provided also prevents proxies and increases the accuracy of attendance. For Attendance clocking, employees are issued a card that contains an NFC tag. Upon holding the card close to an NFC enabled device, such as a smart phone, employee is instantly recognized and authenticated. The smart phone acts/becomes a Kiosk.
Ramco HCM on Cloud is a comprehensive solution that covers every aspect of an employee lifecycle: Workforce Management, Recruitment, Talent Management, Employee Development, Workforce Planning and Payroll & Benefits. Ramco's experience and knowledge gained over the years has been invested in re-architecting the product to bring in a Gen-Y interface, making it accessible on Smart phones (iPad, Android and Windows 8), integrating it with Social channels, besides bringing in the speed and agility of an In-memory engine and the intuitiveness of a context-aware solution.