Philippine Airlines, Inc. (PAL) Partners with Ramco Aviation
Signs digital transformation deal to automate and optimize business operations across the PAL Group network
Pasay City, PHILIPPINES / Chennai, INDIA – February 15, 2023 – The Philippines' national flag carrier, Philippine Airlines, Inc. (PAL), announced that it has signed an agreement with the global aviation software provider Ramco Systems, to deploy Ramco's state-of-the-art Aviation Suite V5.9. The solution will replace standalone legacy systems thereby integrating, automating, and enhancing business performances across PAL and its affiliate PAL Express.
Aligned with PAL's Accelerated Initiatives for Recoveries and Full Optimization through Innovation and Leadership (AIRFOIL) program, Ramco's on-cloud, next-gen platform will offer PAL end-to-end optimization of maintenance and engineering business processes that will support regulatory compliance and enable sustainable digital transformation through paperless operations.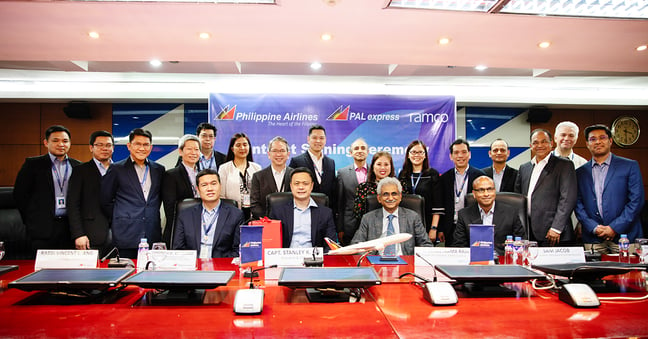 Team from Philippine Airlines, Inc. (PAL) and Ramco Systems during the contract signing ceremony in Philippines
Capt. Stanley Ng, President & Chief Operating Officer, Philippine Airlines, Inc. (PAL), said, "At PAL, our focus has always been on improving our global network infrastructure and making Philippine Airlines worthy of our customers' enduring trust and support. This has led us to embark on a transformational journey towards technological upgrades and innovation. The extensive functionalities of Ramco's next-gen Aviation Software, together with our shared values of excellence and customer-centricity, will offer us a technological edge and will help us serve our customers with a robust digital infrastructure."
P.R. Venketrama Raja, Chairman, Ramco Systems, said, "The addition of Philippines' national flag carrier to our expanding clientele is a testament to Ramco's track record as a leading software provider in the airlines segment. Embedded with latest technology, best-in-class functionality and user-friendly features, Ramco Aviation Software has gained the trust of many leading operators in the industry. As PAL's tech partners, Ramco will support PAL organization's mission of service and propel its global expansion plans."
Philippine Airlines is engaged in fortifying its network as the recovery of air travel gains steam globally. PAL is the only airline offering nonstop flights linking the Philippines with the U.S. Mainland, Canada and Hawaii, along with the largest network of flights on multiple routes to Japan, Australia and countries in the Middle East. PAL will launch a pioneer direct flight between Manila and Perth, Australia in March 2023, while re-opening flights between the Philippines and Beijing, Shanghai and Macau in addition to other mainland Chinese destinations.
Ramco Aviation Suite is trusted by 24,000+ users to manage 4,000+ aircraft globally. With 90+ Aviation organizations onboard, Ramco is the solution of choice for top Airlines, 3rd party MROs, large Heli-Operators, leading Defense organizations, and major Urban Air Mobility companies around the world. Available on cloud, Ramco Aviation Suite provides accessibility with 'Anywhere Apps', significantly accelerating organizational efficiency and agility. Ramco is changing the paradigm of enterprise software with Artificial Intelligence based solutions, intelligent voice enabled user experience, and advanced features such as digital task cards, offline maintenance capability, conversational chatbots, HUBs and cognitive solutions.
About Philippine Airlines, Inc. (PAL):
Philippine Airlines (PAL) is the Philippines' flag carrier and only full-service network airline. PAL was the first commercial airline in Asia and will celebrate its 82nd anniversary in March 2023. PAL's fleet of Boeing 777, Airbus A350/A330/A320/A321, and De Havilland DHC-8-400 Next Generation aircraft operate out of hubs in Manila, Cebu, Clark and Davao to 32 destinations in the Philippines and 35 destinations in Asia, North America, Australia, and the Middle East. In addition to flying passengers on regular scheduled services and extending its hallmark heartwarming and gracious Filipino service, PAL also carries air cargo shipments and undertakes charter flights to boost Philippine tourism, support the economy and serve the travel needs of overseas Filipinos.