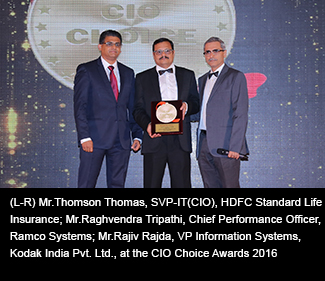 Ramco bags CIO Choice Honor & Recognition 2016
Awarded for its complete yet refreshingly simple, HR & Global Payroll software in the Large Enterprise category
Mumbai, India - January 11, 2016 - After receiving six prestigious awards for Best HR Management Software, Talent Management Software and Payroll Software at the HR Vendors of the Year 2015 in Singapore, Malaysia and Hong Kong, and the ISG Paragon Awards for Innovation in Australia, Ramco Systems bagged yet another prestigious honor and recognition from the CIO Choice Awards 2016 for its innovative HR and Global Payroll software.
The 4th Annual CIO CHOICE Recognition was by far the most competitive in its history, with the highest number of nominations and entry submissions to date with a distinguished CIO Advisory. More than 150 entries were received this year, from a wide array of public and private ICT Vendor companies, both Large as well as Small & Medium Enterprises and from a variety of geographic regions in India. Winners of CIO CHOICE 2016 were determined by an independent CIO voting survey from across the country on product performance, customer satisfaction and continued customer service. It is a recognition and validation that CIOs can trust because it is 'By the CIO and for the CIO'.
Mr. Anoop Mathur, President, Centre Of Recognition & Excellence (CORE) said, "I congratulate Ramco on being recognized with the much coveted title and being a recipient of CIO Choice 2016. CIO Choice trust seal is a Gold Standard and validation from the CIO community. With a focus on Innovation and usability, Ramco has been growing in strength. The award is a reciprocation of the trust that Indian CIOs have placed on Ramco and its HR offering."
On this momentous occasion, Mr. Virender Aggarwal, CEO, Ramco Systems, said, "It is a great pride that CIOs and end-users have voted in favor of our brand and recognized us against global players. Our belief in simplicity has led us to stamp our Indian product footprint in the global market. It is truly exciting to be recognized in our home ground for our innovations. This award certainly underscores Ramco's ability to provide a unified system for a globally diversified workforce."
Trusted by 350+ global customers, Ramco HR & Global Payroll (covering Payroll for over 108 countries) with Time & Attendance is a comprehensive offering on Cloud and Mobile. Ramco HCM has been adding innovative features like Mail It - enabling transactions by sending an email, HUB It - a one screen does it all, Thumb It - mobility redefined with option to choose than type and Prompt It - a cognitive ability that prompts the users with action. Ramco has been adding 2 new customers every week, globally.