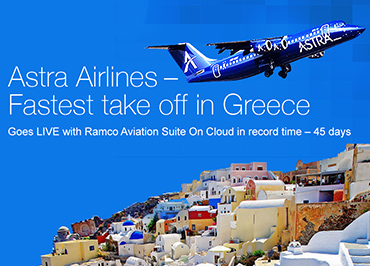 Ramco enables Aviation Solution on Cloud for Astra Airlines Group
Further strengthening its cloud base for small & medium operators
Chennai, India – September 10, 2013 – Ramco Systems, the global Aviation Software provider on Cloud, Mobile and Tablets today announced a new order win from Astra Airlines Group, one of the emerging passenger airlines operating from Greece. The win further fortifies Ramco's position in the global MRO segment.
Under the agreement, Ramco will provide its Maintenance Repair and Overhaul (MRO) solution, including Maintenance & Engineering (M&E), Aviation Finance, Technical Records & Engineering, Inventory & Supply Chain, and Maintenance Planning & Execution.
Mr. Kostas Drizis, CAMO Manager, Astra Airlines, said, "We had been on the lookout for an efficient solution that would manage our Aviation operations. After extensively screening multiple products, we chose Ramco for their comprehensive aviation suite, sound business process mapping and efficient management of the entire spectrum of M&E Activity. Moreover, the solution's friendly user-interface, ease of learning, structured implementation strategy and cloud configuration promise to make this project successful from the very beginning. We are confident that we will be realizing concrete improvements on our M&E KPIs by the end of the current year.
Commenting on the new win, Mr. Virender Aggarwal, CEO, Ramco Systems, said "We have been increasing our presence in the Aviation business. Our cloud offering is well suited for the underserved small and medium operator space, globally. Ramco's solutions are adaptable for large to small enterprises, helping them increase efficiency in a heterogeneous landscape. This scalability also makes us a preferred choice as the MRO solution partner, across the Aviation industry."
"The Aviation software has been well received for its functionalities, and with its latest features of Mobility, Gen-Y user interface and intuitive WorkSpaces, it is sure to appeal many more customers," added Mr. Aggarwal.
Built ground-up for the Aviation sector, the Ramco Aviation Suite caters to airlines, rotor wing operators as well as third party MROs. The solution helps Aviation businesses to bring in best practices into all engineering and maintenance operations, and reduce overhead costs.