Ramco Systems Positioned as a LEADER in Quadrant Knowledge Solutions' SPARK Matrix™: Multi-Country Payroll Platform, Q4 2022
Ranked among Top 3 Tech Leaders for Technology Excellence and Customer Impact
The Quadrant Knowledge Solutions'

SPARK Matrix: Multi-Country Payroll Platform, Q4, 2022,

includes a detailed analysis of global market dynamics, major trends, vendor landscape, and competitive positioning. The study provides competitive analysis and ranking of the leading Multi-Country Payroll Platform vendors and gives strategic information for users to evaluate vendor capabilities, competitive differentiation, and market position.
According to Nikhilesh Naik, Analyst, Quadrant Knowledge Solutions, "Ramco Systems, through its emerging technologies-infused smart payroll software, enables organizations to streamline, simplify, and improve their payroll process. Through its Ramco payroll processing solution, the company, empowers its users to create organization-specific rules, formulate policies related to attendance, earnings, bonus, deductions, & leave, maintain compliance & manage variance according to geographies, and design & implement multi-decimal, multi-currency payroll. With its proprietary Enterprise Cloud Computing platform, Ramco VirtualWorks, Ramco Systems enables organizational decision makers to simplify the process of accommodating new clients and their employees, manage multiple HR & payroll activities through a single platform, and provide utmost accessibility to employees."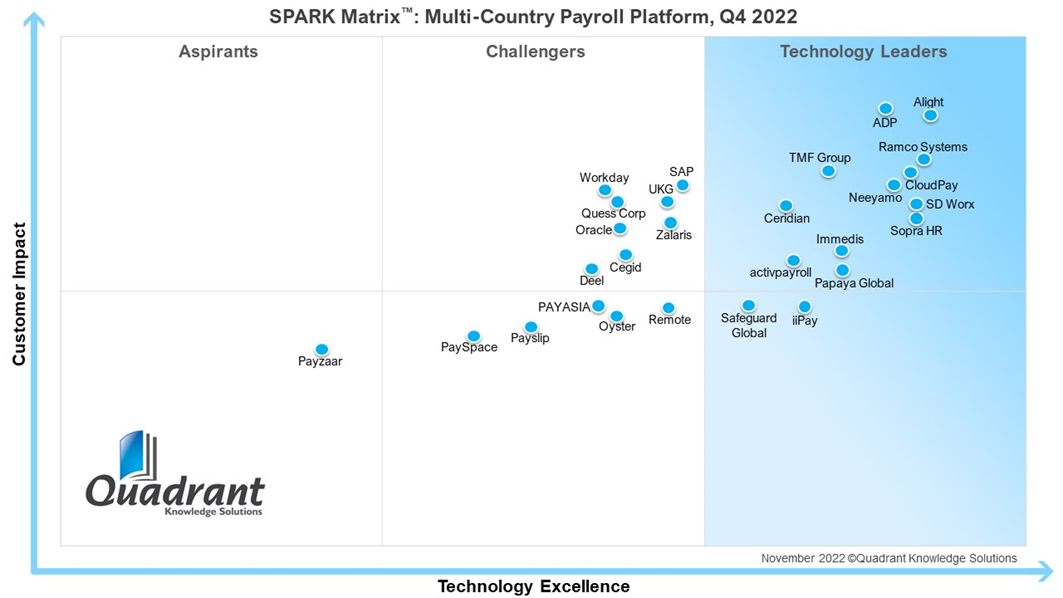 "Ramco Systems, with its comprehensive technology for the Multi-Country Payroll Platform, has received strong ratings across the parameters of technology excellence and customer impact and has been positioned amongst the technology leaders in the SPARK Matrix of the Multi-Country Payroll Platform market, Q4, 2022," Nikhilesh adds.
Commenting on the recognition, Rohit Mathur, Head – Ramco Global Payroll & HR Solution, Ramco Systems, said, "Organizations are increasingly turning to payroll solutions that elevate their employee experience and enable their payroll teams to play a greater role in strategic decision making. Our focus on providing automation and transformation features like anomaly & reasoning engine, pro-active chatbots, self-explaining payslip, financial wellness services, and voice-based navigation powered by AI, ML & RPA has put us ahead of the curve in the multi-country payroll market. To provide our clients with greater payroll coverage on a single platform, we continue to add more countries on our payroll engine. Our positioning as a Technology Leader in Quadrant Knowledge Solutions' Multi-Country Payroll SPARK Matrix is testament to our efforts to provide a next-generation payroll experience for our customers."
The Multi-Country payroll platforms have gained increasing traction in the recent past due to the increasing geographical presence of organizations across the globe. With organizations inducting a plethora of employees from diverse backgrounds, adhering to stricter regulatory compliances and increasingly complex payroll processes an advanced Multi-Country Payroll Platform equipped with emerging technologies is the need of the hour. A next-gen payroll solution will enable the HR teams to focus more on other employee related issues and design policies to improve employee experience.
Download the report
to get an understanding of the global Multi-Country Payroll Platform market dynamics along with a detailed vendor profile of Ramco.
About Quadrant Knowledge Solutions
Quadrant Knowledge Solutions is a global advisory and consulting firm focused on helping clients as a strategic knowledge partner in achieving business transformation goals with Strategic Business and Growth Advisory Services. Quadrant's research and consulting deliverables are designed to provide comprehensive information and strategic insights for helping clients formulate growth strategies to survive and thrive in ever-changing business environments.