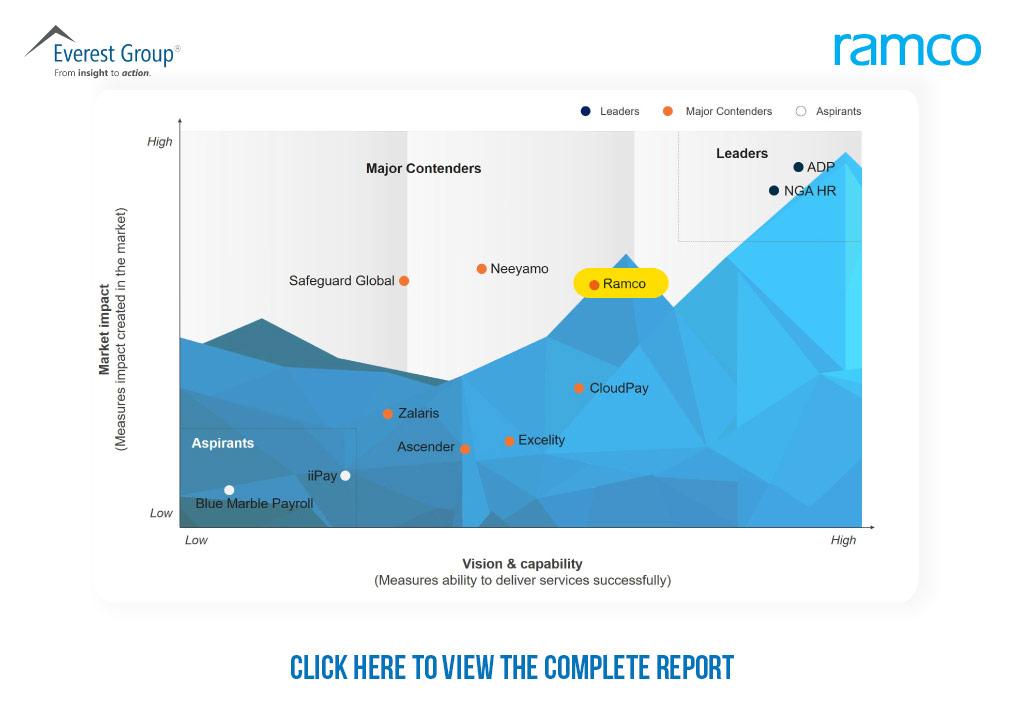 Ramco Systems positioned as a Major Contender in Everest Group's PEAK Matrix for Multi-Country Payroll Platform (MCPP)
Focus on innovative features leads to Ramco's prominent positioning
Chennai, INDIA – March 04, 2019 – Buoyed by the success witnessed in winning the trust of Fortune 500 and Multinationals looking to consolidate their multi-country payroll on a single platform; Ramco Systems, global enterprise software provider, today announced that it has made its maiden entry into Everest Group's Multi-Country Payroll Platform (MCPP) PEAK Matrix™ Assessment and Service Provider Landscape 2019 as a Major Contender payroll platform vendor globally. Download Report
Examining the dynamics of the MCPP provider landscape, Everest Group assessed 11 MCPP service providers in terms of their market impact, vision & capability. Ramco's thrust and focus on building Innovative features including the focus on Artificial Intelligence & Machine Learning powered Global Payroll Engine, Mobility, Chatbots, Voice and much more has been a game-changer ensuring a prominent place as a Major Contender in the PEAK Matrix™.
Citing Ramco's key strengths, Everest Group's Practice Director, Anil Vijayan notes – "Ramco's investments in digital technologies such as chatbots, in combination with its suite of end-to-end solutions, including HCM and T&A have garnered it considerable success in the market. Its focus on enhancing its sophisticated payroll platform with extensive and employee-centric features, including MailIT, which enables transactions entirely through email, positions it well to address the evolving needs of the buyers."
According to Everest Group, the Multi-country Payroll Outsourcing (MCPO) market is among the most competitive and fastest growing markets in the HRO (Human Resource Outsourcing) space. Multi-country Payroll Platform (MCPP), the cornerstone of this market is fast becoming a differentiating element in providing a truly global payroll experience.
Commenting on the recognition, Virender Aggarwal, CEO, Ramco Systems, said, "Unlike most Payroll Outsourcing vendors, we started our journey by building a platform and offering our services on top of it. With a coverage of all of Asia, Australia and Middle East on a single platform coupled with latest technology enablers like Chatbots and Machine Learning, customers get a complete package that is truly Next-Gen. Our entry into Everest Group's Multi-Country Payroll Platform (MCPP) PEAK Matrix™ is a testament to our consistent efforts in offering a unified payroll experience that not only provides visibility to costs and data reporting, but also offers clients, an engaged and empowered workforce."
The global payroll industry has been developing at a faster pace. Organisations are embracing tech transformation at a rapid scale to manage payroll more efficiently. The multi-country payroll outsourcing market size grew to ~1.8 billion USD in 2018 and has been registering a growth rate of ~20% Y-o-Y.
"At Ramco, we have built an intelligent Payroll engine that can address some of the most significant payroll challenges revolving around data hygiene, payroll fraud & leakage, timesheet & data entry issues, payroll taxation, and so on. We are confident that with the onset of Artificial Intelligence and Machine Learning, we are moving towards an era of 'Self-validating HR & Payroll system'," added Aggarwal.
Complete with chatbots, voice, and facial recognition based workforce management, organizations can deploy Ramco HR with Global Payroll on-cloud, on premise or leverage as a managed service. The multi-tenant architecture with embedded intelligence and device agnostics features now serves more than 450+ customers (across both single and multi-country clients) worldwide. With innovative concepts of Artificial Intelligence & Machine learning, Context-sensitive Pop-ups and Chatbots to carry out self-service, and Voice based HR transactions on Google Assistant & Alexa, Ramco has been setting the benchmark for Innovation in this segment. With statutory compliance across 45+ countries covering ANZ, Asia (including Japan & China), Middle-East & Africa, UK and Ireland, Ramco's Global Payroll is available in English, Japanese, Mandarin, Bahasa, Thai, Malay, Arabic among others.
Download the complete report HERE.
*Google Assistant™, virtual personal assistant is a trademark of Google LLC | Alexa and all related logos are trademarks of Amazon.com, Inc. or its affiliates