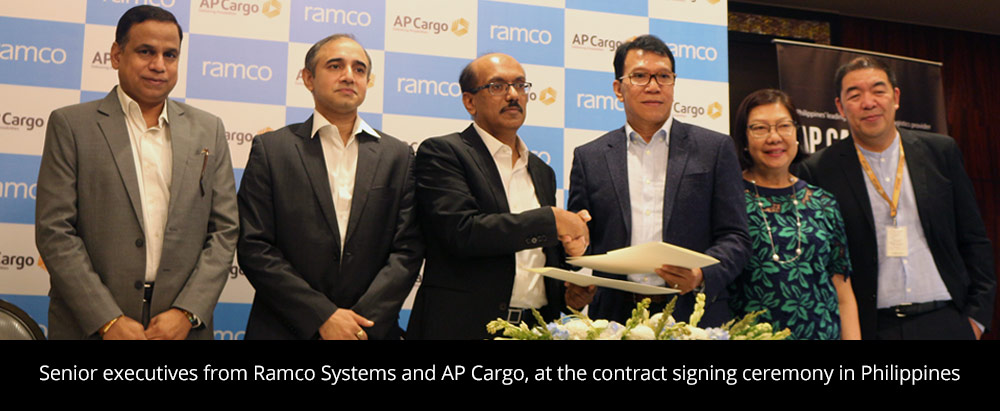 Ramco Systems wins multi-million-dollar software deal from Philippines' Air Freight Leader AP Cargo
Ramco Logistics Software to enable digital transformation of the company's logistics and shipping operations
Manila, PHILIPPINES / Chennai, INDIA – August 09, 2018 – AP Cargo Logistic Network Corp., Philippines' leading domestic provider of express logistics for air cargo and other goods, today announced that it will implement Ramco Systems' Logistics Software to streamline its freight operations nationwide.
Ramco – an award-winning provider of enterprise software on cloud, mobile and tablets – beat local and global vendors to secure the partnership with AP Cargo. It will roll out its integrated Logistics platform bundled with next-gen Finance and HR, for the benefit of more than 1,600 employees, covering over 500+ fleet, reducing manual workloads and generating cost savings while automating tedious administrative tasks.
The partnership comes at a time when Philippines is rapidly adopting IT solutions to ramp up its logistics capabilities and infrastructure. According to ResearchAndMarkets.com, the Philippine freight and logistics market is expected to be worth USD 60.22 billion by 2023, with the rise of e-commerce, internet penetration and increased spending power anticipated to boost demand.
Ramco, which set up its Philippine subsidiary in mid-2016 has been witnessing stupendous growth in the region, with nearly 40% of the new order booking for APAC in 2017-18 coming from Philippines. Ramco's continuous thrust on Logistics segment and focus on employing some of the innovative minds locally, has been strengthening the company's position in the region.
As part of the agreement, Ramco will implement its unified, mobile-friendly modules for transport management, hub management; warehouse management, fleet management, visibility; rating and billing, finance and accounting, integrated with end-to-end HR and Payroll compliant with Philippines' statutory requirements at AP Cargo.
Commenting on the deal, Vincent John S. Villacorte, Vice President – Business Operations and Virgil Francis Villacorte - VP Sales, AP Cargo, said, "The decision to automate our manual systems with a future-ready logistics suite is part of a larger strategy to overhaul our supply chain. Ramco's unified solution will offer real-time operational visibility and better planning capabilities, enabling us to arrest revenue leakage and boost productivity to drive overall growth. Ramco has a great track record as a logistics software provider in the Philippines, and we are excited to work with them for our digital transformation."
Virender Aggarwal, CEO, Ramco Systems, said, "We are pleased to announce AP Cargo as our latest customer in the logistics and shipping space. Logistics is the backbone of global trade and the Philippines has enjoyed remarkable growth in recent times. Our intelligent, mobile-friendly enterprise suite has won us the trust of customers throughout the Philippines, helping local enterprises optimise their operations and meet the changing demands of commerce in the region."
"Having already secured partnerships with leading logistics providers in the Philippines, we have built our solution to address specific pain points in this market and enable clients to leapfrog the competition. This win represents another milestone in our ongoing journey to strengthen our presence in the high-growth ASEAN economies," added Aggarwal.
Ramco Logistics Software is an integrated Cloud-based platform for Third Party Logistics, Freight Forwarders, and Parcel/ Courier service providers seeking a high-performance logistics software. An Integrated end-to-end solution that can link every stage of a logistics chain and bring all the functionalities under a single technology platform, which is flexible, scalable, cognitive, and ready to adapt to change is helping the solution attract customers, worldwide.
About AP Cargo:
AP Cargo established in the year 1972 as a simple trading firm, which later on ventured into the Shipping and logistics industry. The company in 1981 pioneered into air-shipping in the Philippines under the name MBS trading. In 1991 MBS Trading was renamed AP Marine Philippine Trading, following the company's specialty in delivering aero packages. In the year 2000 AP Cargo group of companies transitioned into AP Cargo Logistics Network. AP Cargo was selected to be Cebu Pacific's authorized logistics agent and Avon's exclusive handler of Visayas and Mindanao air shipments. The company has also been consistently present in Business Profile's Philippine Top 7000 Corporations. AP Cargo was designated as Philippine Airlines' authorised cargo agent.
At present, AP Cargo has remained steadfast in its devotion to achieving its goal with only the highest ethical and professional standards. It has linked the country together more than any other domestic shipping and logistics provider with its substantial network of ports and stores; thus, it is distinguished as the country's leading air freight shipping provider. For more information visit: https://apcargo.com.ph/