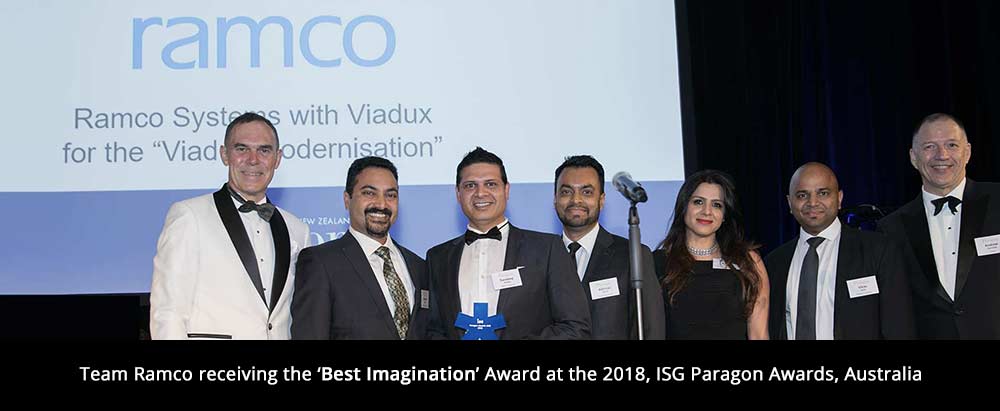 Ramco Systems wins the 'Imagination' Award at the 2018 ISG Paragon Awards
For the creativity and entrepreneurial spirit in helping Viadux digitally future-proof its business and better serve customers
Sydney, AUSTRALIA / Chennai, INDIA – March 27, 2018 – Global enterprise software provider, Ramco Systems today announced that it has won the 'Best Imagination' Award, at the 2018 ISG Paragon Awards, Australia for enabling digital transformation at Viadux resulting in modernization and streamlining of its business to improve customer experience. Ramco had earlier bagged the 2015 Paragon Awards for Innovation along with NorskeSkog Australasia for its Cloud ERP integrated with Asset Management implementation.
Announced at a gala event in Sydney, The ISG Paragon Awards celebrated the evolution of the sourcing industry through the application of new sourcing approaches and digital technology, including the use of robotic process automation. Ramco along with Viadux nominated its Postmodern, Cloud ERP implementation – a transformation driven by innovation, for the Imagination award. Ramco's yet another nomination under the Business Transformation category of Logistics business at The Glen Cameron Group was adjudged the finalist in its category.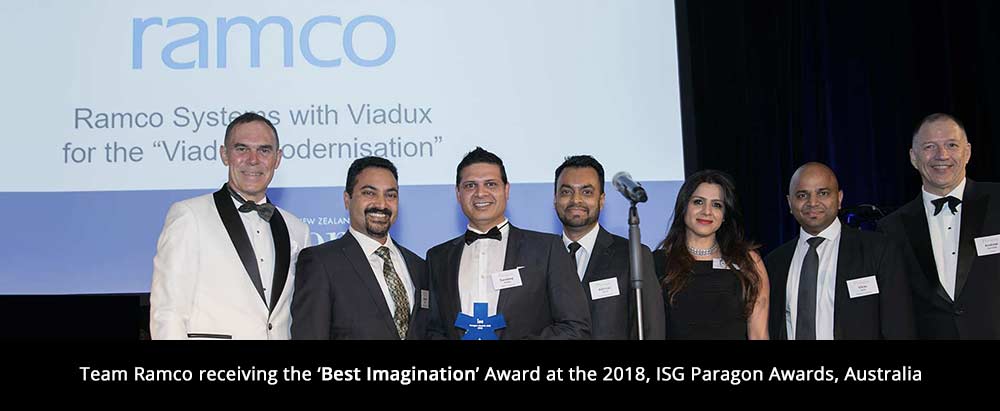 Viadux, Australia based leading manufacturer and supplier of water and environmental solutions, successfully implemented Ramco's full-suite ERP (including HCM, Payroll, Finance and Sales) for 5 entities across 10 locations in Australia, in a short span of 9 months, replacing 8 disparate legacy applications with a single solution. Viadux actively manages 1400+ customers and 2000+ suppliers spread across multiple locations, planning for 25000 items, handling 500+ customer orders and 800 shipments per day on average.
Interestingly, Ramco and Viadux's award winning case study has also made it into ISG's Top 25 Digital Case Study book.
Acknowledging the award, Virender Aggarwal, CEO, Ramco Systems, said, "The Paragon awards celebrate organizations which have delivered significant impact on their clients' business. By exploring new technologies and developing applications that help address business pain points, we strive to untangle complex IT landscape and simplify operations. It is this Innovation streak that has helped us win the trust of leading organizations, globally."
"We can proudly say Digital Transformation is a reality with Ramco's next-gen ERP which has been the platform behind 3 finalists and 2 winning entries at ISG Awards. Viadux's digital transformation was a complex program requiring 8 disparate systems to be replaced into one ERP platform. Ramco ERP brought in a leaner, more agile, platform-driven approach which successfully accelerated Viadux's growth and profitability" added Aggarwal.
At the time of go-live, Michael Negri, the then – CEO, Viadux Pty Limited, said, "8 months since we processed our first order in Ramco's end to end ERP system including HCM, Payroll, Finance and Sales, we are starting to simplify the backend of our business, we are seeing the benefits of improved visibility through the analytics and develop processes that create a leaner, more responsive customer orientated business. It has been an important initiative in our journey to become far more responsive and a real-time enterprise for our customers. We have begun our journey to become leaner, more agile, and a platform-driven business with much better and automated processes, mobility and insightful dashboards. Despite challenges of a complex, big-bang implementation, we have done well. We have got rid of high cost, legacy ERP and other systems which were holding us back, and now with this new cloud platform, we are looking forward to accelerating our growth and profitability."
Ramco ERP on Cloud with advanced Finance and Accounting and HCM modules equips customers with better visibility, tighter control and improved profitability. Ramco's focus on innovations in usability, context-awareness, mobility, overall flexibility, apart from a comprehensive set of functionality has enabled smooth transition for customers to the VAT-era with multiple customers already upgrading and opting to be VAT ready.
With steadfast growth witnessed in Oceania, Ramco recently announced its plans to set up a Workforce Innovation Centre in Melbourne, to develop next-gen workforce management solutions for a frictionless computing era.
About Viadux:
Viadux is a born again distributor of water network solutions, providing pipes and valves to transmit fresh water across the country. After a recent acquisition by private equity the company is embarking on modernizing and streamlining its business to improve the customer experience. With a foundry based in the Gold Coast producing high quality ductile iron valves and fittings and distribution centers in all major cities in the country, Viadux is a leader in the industry. At Viadux we believe in always looking to the future to what is possible, innovation and improvement is at the core of how we will improve the customer experience. For more information, please visit http://www.viadux.com.au