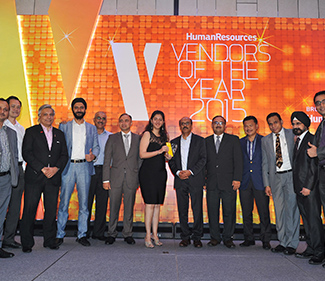 Ramco wins Best HR Management Software Award
Recognized for its complete yet refreshingly simple HR, Talent Management and Payroll System
Kuala Lumpur, Malaysia/ Chennai, India – December 2, 2015 – After being ranked as a Leader in NelsonHall's NEAT Report for Payroll Outsourcing 2015, and winning the 2015 ISG Paragon Award for Innovation, Ramco Systems beats global HR software majors to bag three awards for Best HR Management Software, Talent Management Software and Payroll Software at the HR Vendors of the Year 2015 event organized by Human Resources in Kuala Lumpur, Malaysia on 1st December 2015.
Mr. Virender Aggarwal, CEO, Ramco Systems received the Gold award for Best HR Management Software and Silver for both Payroll and Talent Management software on Tuesday night. The Vendors of The Year 2015 awards ceremony in Malaysia was organized by Human Resources magazine to honour companies which offer first-rate solutions in the field of human capital.
Acknowledging the award, Mr. Virender Aggarwal, CEO, Ramco Systems, said, "We are excited to win the most coveted HR award in APAC against global majors. While most HR vendors are trying to understand the nuances of the multi-cultural, multi-lingual APAC market, we pride in bringing Global best practices with local compliance through a complete, yet refreshingly simple HCM application. The HR Vendor of the Year award is a testament of the customer belief and product capability built over the years. With the launch of Ramco HCM in US, we have been creating disruptive waves across the globe clocking 2 new wins every week."
Addressing the Malaysian media, Mr. Aggarwal, added, "Kuala Lumpur is already our largest operation outside India. We will use our Malaysian operations, where we have more than 40% local staffing, to support regional operations and to serve as a centre for excellence, where we will carry out innovation and R&D on new products for all three key services – HCM, aviation MRO and ERP on cloud".
For H1 2015, Ramco Systems' order book and revenue in Malaysia grew approximately 348% and 80% (in local currency), respectively. Ramco Systems has committed to double its staff strength in the country within the next 12 months. In April 2016, it will more than double its office space in KL Sentral to over 5,000 square feet from 2,318 square feet currently.
Congratulating Ramco on winning the award, Mr. Zulkifly bin Abdul Rahman, Senior Director, Renesas Semiconductors KL Sdn. Bhd., (Ramco HCM customer), said, "I congratulate the entire team at Ramco on this recognition. At Renesas, we have been using Ramco HCM to integrate our APAC HR operations on a single platform with multi-country Payroll. It has tremendously helped us streamline our HR operations right from Recruitment to Succession and Career Planning. We are glad to be on a futuristic HR platform which is winning global laurels."
In a market filled with multiple point solutions and HRMS vendors trying to complete the HR matrix by acquiring companies, Ramco has built an end-to-end HR software on a scalable, Cloud enabled platform, Ramco VirtualWorks®. Ramco HCM with multi-country Global Payroll and Time & Attendance covers the 360° lifecycle of an employee from hire to retire.
Trusted by 350+ global customers, Ramco Payroll is compliant with statutory and taxes across 40+ countries and has partnerships with providers in Europe & Americas to totally cover Payroll for 100+ countries, globally. Multi-country Payroll, Mobility, and Intuitive user experience are driving the product to add on an average 2 new customers a week. With a comprehensive coverage of APAC, Middle East and Australia, Ramco Global Payroll covers countries such as Hong Kong, Philippines, Thailand, Indonesia, Singapore, Malaysia, Vietnam, India among others in APAC; all of GCC and Egypt, Nigeria, Ghana, Sudan, Republic of S. Africa, in Middle East-Africa; Australia, New Zealand, United States and UK.
Read Human Resource Magazine's Official PR announcing winners of the 2015 HR Vendors of the Year Awards, HERE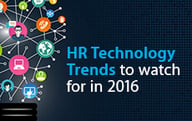 In todays dynamic world, it is really important to keep pace with the new trends to get an edge over the market.
Discover HR Technology Trends for 2016
Redefine the paradigm of HR & create significant business impact for your organization