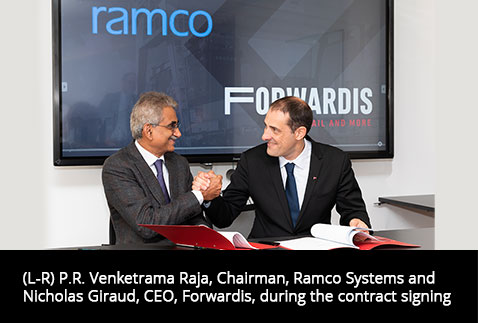 Top rail and multimodal logistic player, Forwardis signs Logistics Digital Transformation program with Ramco Systems
To implement Ramco Logistics Suite across all entities of the Group; Capitalize on smart IT solutions to create value all along the supply chain
Paris, FRANCE – June 24, 2019 – Forwardis, a SNCF Logistics subsidiary and one of Europe's leading rail and multimodal freight transport providers announced the signing of a major ERP Transformation program with next-gen enterprise cloud software specialist, Ramco Systems for implementation of Ramco's Logistics Suite across all the entities of Forwardis Group. This win, marks Ramco's entry into the European Logistics industry. In line with Forwardis' vision to become the gateway offering the best sustainable and green logistics, the company has embarked on IT modernization program with Ramco.
Rail Freight Forwarding is a challenging business which involves planning and managing operations spread across multiple stakeholders while delivering profitable operations. Ramco's comprehensive Logistics Suite will replace the existing inhouse applications to offer a truly modern and future-ready enterprise application that connects customers, suppliers and users on a unified platform. Ramco will implement its Transportation Management, Hub Management, Fleet & Asset Management, as well as Rating and Billing along with ERP modules including Financials, Procurement & Inventory. In addition, the Visibility module will help bring much needed transparency and operational visibility across customers, suppliers and other stakeholders, all on a unified platform.
"We imagine bringing to our clients the most value out of the multiple possibilities offered by the rail freight world and beyond. With this vision in mind we were seeking the IT tools which would support this vision. We began by drawing a list of 110 potential providers and selected RAMCO at the end as we were convinced their solution best fits our current and future needs. It will support our highly qualified people to design quickly the best solution available on the market according to the requirements of our customers who will also get a real benefit during operation. By connecting to Forwardis gateway, our customers will be connected to the rail freight world and get all the relevant information they need regarding their shipment or their wagons whatever transport mode they will use, whatever Railway Undertaking or Shipper will transport their goods, and whatever the owner of the wagon or the container" said Philippe Golder, Managing Director of Forwardis Germany, in Charge of IT Transformation for the Group.
Virender Aggarwal, CEO, Ramco Systems, stated, "From the start of our discussion we could understand that Forwardis had a clear vision of what they wanted to achieve - to bring rail freight forwarding on the technological edge. We presented our domain capability with next-gen innovative levers such as Bots, AI / ML, Mobility and Optimization to help bring their vision into reality. We are excited to start our Logistics journey in Europe with a prestigious win in Forwardis, which is part of the SNCF, France's national state-owned railway company."
After successfully winning the trust of road and air freight transport providers, Ramco enters the rail freight forwarder segment with this win. Infused with Artificial Intelligence and an Optimization Engine, Ramco's integrated Logistics solution will enable Forwardis reduce its Total Cost of Operation, significantly. Forwardis is expected to Go-Live on the new system by the first semester of 2020.
Ramco Logistics Software is an integrated Cloud-based platform for Third Party Logistics, Freight Forwarders, eCommerce, Project Logistics and Parcel / Courier service providers seeking a high-performance logistics software. It is an integrated end-to-end solution that can link every stage of a logistics chain and bring all the functionalities under a single technology platform, which is flexible, scalable, cognitive, and ready to adapt to change is helping the solution attract customers, worldwide.
About Forwardis:
As an acknowledged expert in rail freight and the supply chain, with a strong focus on bulk, FORWARDIS designs the most effective solutions tailored to the requirements of industrial and shippers and tracks their logistics, end-to-end As part of the complete array of available solutions, FORWARDIS promotes competitive rail transport solutions, offering a culture based on security and safety, high loading capacities and added value services. Combined with other transport modes (waterways, road, sea) or independently, rail freight is a specific sphere that demands wide-ranging expertise and an in-depth knowledge of all actors involved, to deliver optimum performance.
For more information, please visit www.forwardis.com
Follow Forwardis on Twitter @forwardisgroup and on LinkedIn: https://www.linkedin.com/company/forwardis-s-a-/