Valiram Group chooses Ramco HCM for all entities
To integrate its HR & Payroll operations of 3500+ employees, targeting 8000+ users in 5 years spread across Malaysia, Singapore, Indonesia, Thailand, Australia, Philippines, Hong Kong & Macau
Kuala Lumpur, Malaysia/ Chennai, India – February 2, 2016 – Valiram Group, a conglomerate of luxury and lifestyle brands, and one of the most prestigious specialist retailers in Southeast Asia, with more than 350 stores in Asia and Australia, today announced that it will integrate its regional HR and Payroll functions using Ramco Systems' comprehensive HCM solution integrated with Global Payroll.
Ramco Systems, a leading enterprise software provider on Cloud, Mobile and Tablets, beat big-name vendors to secure the contract from Malaysia-headquartered Valiram Group which represents more than 100 brands including Victoria's Secret, Micheal Kors, Tumi, Jimmy Choo, Canali, Kate Spade and many International Watch brands. Valiram Group marks to be Ramco's first Retail customer, in the Southeast Asia.
As per the agreement, Ramco will implement its HCM solution at Valiram's headquarters, in Kuala Lumpur and across all entities in Malaysia, Singapore, Indonesia, Thailand, Australia, Philippines, Hong Kong & Macau, integrating the HCM functions of over 3500+ employees. It will be an end-to-end HCM implementation which includes modules like Core HR, Time & Attendance, Talent Management, Recruitment, Payroll, along with Planning and Analytics.
Sujjath Ahmed, CIO, Valiram Group, said, "Being the specialist retailers in Southeast Asia, the Valiram Group continues to tap strategic business opportunities, while preserving the heritage of the brand. With the growing global presence of the group, there certainly was a surge in demand for a unified, innovative solution that could integrate all our HR operations. From capturing Time & Attendance of staff at retail outlets to monitoring and incentivizing Sales staff was getting tedious with our existing platform. Ramco HCM with its simplified user interface and mobility features perfectly suited our business needs. Given the understanding Ramco exhibited in the Retail industry, its Multi-country Payroll capabilities and comprehensiveness of coverage, we were glad to choose them. With Ramco HCM, we hope to significantly streamline our HR and Payroll operations, enabling us to better channel our resources and expand into newer horizons."
Virender Aggarwal, CEO, Ramco Systems, said, "We have been growing our footprint in the ASEAN region and this win further cements our leadership in the HR & Global Payroll market. Valiram is a 'household' brand of great repute and winning their trust is a great pride for all of us. I am glad, our investments in building Mobility, User experience, multi-country payroll is getting us the desired market attention. We will continue to focus on adding innovations that bring business transformation to our customers."
Trusted by 350+ global customers, Ramco HR & Global Payroll (covering Payroll for over 108 countries) with Time & Attendance is a comprehensive offering on Cloud and Mobile. Ramco HCM has been adding innovative features like Mail It – enabling transactions by sending an email, HUB It – a one screen does it all concept, Thumb It – mobility redefined with option to choose than type and Prompt It – a cognitive ability that prompts the users with action. Ramco has been adding 2 new customers every week, globally.
As part of its commitment to businesses in Southeast Asia, Ramco will double its staff strength and office space in Malaysia this year. Kuala Lumpur is set to become a major R&D and support centre for Ramco's regional operations.
About Valiram Group:
Asia Pacific's leading Specialist Retailer & Brand Builder in both Downtown and Travel retail Environments. Some of the brands Valiram currently manages are Victoria's Secret, Micheal Kors, Tumi, Jimmy Choo, Canali, Kate Spade and many International Watch brands
The Valiram Group, established in Kuala Lumpur in 1935, has grown from a textile merchant into a conglomerate of luxury and lifestyle brands, placing the company as one of the most prestigious specialist retailer in Southeast Asia today. The group represents more than 100 brands and operates over 350 stores in numerous categories from fashion and accessories, timepieces and jewelry, perfume and cosmetics, to confectionary and fine dining concepts. Its footprint covers Malaysia, Singapore, Indonesia, Australia, Thailand, Greater China, Philippines and Russia in both domestic and travel retail environments.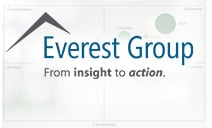 Everest Group assessed global payroll platform vendors in the rapidly growing Multi-country Payroll Platform (MCPP) market. Read their Evaluation of vendors on Functionality & Usage and Execution effectiveness.
Download Report