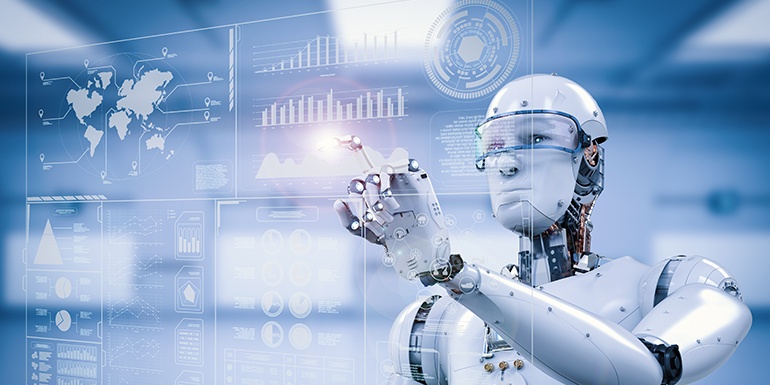 There's no shortage of buzz these days about AI (Artificial Intelligence) and RPA (Robotic Process Automaton), and the HR / HCM domain is quickly establishing itself as a one of the most logical places in an organization to apply these innovative capabilities. This is because HR processes such as benefits administration, payroll operations, on-boarding, PTO and leave requests, time recording aspects, compliance obligations, policy explanations and other HR Help Desk queries are largely predictable and repeatable.
Thus far all the attention being given to these emerging technologies hasn't necessarily served to bring a lot of clarity to what these various "digital era" terms mean. Nor has the buzz managed to clarify what the realistic opportunities are for capturing efficiencies while also enhancing the employee experience – for all organizations, not just the largest ones.
So let's do both: Offer a few clear definitions, and provide some examples of applying these capabilities in HR.
"White Hot" Digital Era Terms
AI is the simulation of human intelligence processes by machines such as computer systems. These processes include learning (e.g., curating or acquiring information and understanding how to use the information), reasoning (applying logic based on the rules presented) and self-correction. In simulating the way people think, solve problems and perform tasks, AI is essentially bringing together cognitive and machine learning capabilities, sometimes within a predictive or algorithmic framework, all powered by programmed business rules. Additionally, the three core variables that characterize AI use cases are: Whether the data used is structured or unstructured (examples of the latter include social media, blogs, resumes and emails), whether the rules applied are static or dynamic, and the degree of complexity of tasks to be performed.
RPA is a manifestation of AI in which technology simulates humans performing repetitive, rules-based tasks. Within the HR arena, automating an on-boarding process or the collection and validation of payroll transactional data are prototypical RPA applications that will absolutely become more prevalent. Early RPA examples are more readily found outside the HR domain however, including the standard or exception-based processing of invoices or expense reports. Here the RPA program determines if certain invoice or expense report exceptions can still be processed since they meet other over-riding criteria, or perhaps they follow a learned pattern or past configuration of data. While RPA can run routine operations such as opening emails and attachments, copying and pasting data to complete forms, moving or consolidating files, etc., one of the more impactful contributions of RPA in any domain involves activities such as finding, collecting, merging and manipulating data, connecting to systems and performing calculations – usually much faster than humans. What distinguishes RPA from traditional IT programming is RPA's ability to be aware, and to adapt.
Chatbots or Bots are a form of basic, rules-driven AI that utilize Natural Language Processing (NLP) and popular messaging applications such as Slack and Microsoft Teams, in conjunction with end-users texting on computers or smart-phones (for now, voice is coming soon). Early uses of bots in HR involve communicating around applying for a job or inquiring into the status of a job application, obtaining company policy info, checking and applying PTO balances, managers asking "who is on duty now?", an employee asking "when does benefits enrollment begin" or "will my first check be directly deposited", etc. And we will soon see "super-charged" bots that leverage more sophisticated AI capabilities of self-learning, working with unstructured data and more complex rules, including rules that achieve a personalized experience based on HR data available.
Internet of Things (IoT) is a process in which people, machines, and devices such as sensors are connected to one another via a single network in order to automatically exchange data without any manual / human involvement. IoT in the HR space is sometimes referred to as the "connected worker"; and in the future it will be used to track the productivity of workers in the field, assign tasks based on the nearest (or fittest) worker, tie scheduling to customer flow, and even offer real-time training after certain types of accidents occur.
RPA Opportunities in HR (Especially Payroll) are Plentiful
Returning to the RPA topic, here is a simple way to classify potential use cases specifically in Payroll -- given how data-intensive that function's is:
"Do" capabilities describes the use of RPA to move and manipulate payroll data without human involvement; e.g., consolidating payroll input or transactional data from different sources. "Do and think" capabilities include the machine flagging and fixing hundreds of data issues pre-payroll run (very quickly and accurately!). And "learn" capabilities are an RPA capability in payroll processing that's still being tested and improved upon (as with machine learning in most areas). One interesting ("learn") use case is the ability to anticipate spikes in payroll processing based on time of year, hiring spikes, business cycles or new regulations, and then guide the organization in achieving adequate staffing levels.
Interestingly, Ramco is also presenting a webinar on Robotic Process Automation in Shared Services. Click here to listen to Payroll experts from Schneider Electric, Hackett Group Consulting, Ramco & the Global Payroll Association talk on how RPA & AI are shaping the future of Payroll Outsourcing, and understand how organizations are reducing spends while increasing productivity & performance.
Final Thoughts
While both RPA and Bots deployments are in almost every medium and larger company HR Department's 1-2 year operating plan, RPA (vs. Bots) examples will probably be more plentiful, at least in the near term. The reason is that change management in support of RPA initiatives typically involves services teams more than those being serviced. The former is obviously a much smaller group to win the support of, and the right set of payroll audit checklists and payroll controls could help achieve it.
Contact Us for Global Payroll