Whenever ink bleeds over a line, blood and sweat soon follow. Nodding already? Check this out
EVERY genius architect was once just a kid with a box of crayons and a big sheet of paper. With the drawing teacher's simple rule holding his fingers – never let your sun, cloud, hill, cottage, fish, crow, tree, boat cross the boundary.
Margins on paper make margins on business report cards. It is not a luxury but a staple then that whether it is the sketch of architecture or IT, the colours should not spill over the margins that any project's blueprint has set out.
As to IT, this simply calls for an ERP that can translate the vision scribbled on a plain sheet of paper or a sleek drawing board on to a real physical canvas – but staying within the lines.
What are these lines by the way – timelines, deadlines, scope-brackets, resource-buckets?
More, actually.
This is perhaps why the EPC (Engineering, Procurement and Construction) industry is still kind of trundling with make-do products. Some totter with big ERP monsters for reasons of scale and feature-rich functionalities. But then they always pine for some bespoke factor, some customization gap-concrete. Niche solutions come in as an alternative here, but they again seem to lose steam when the question of global scale or a large number of projects or financial reporting alignment kicks in.
Any ERP, whether it is niche bird or in-house custom-made toy or a full-blown animal, cannot translate a blueprint well unless it doodles a box first and fills the colours later.
What's inside the box – a building, a bridge, a hotel, a road – can easily scale up or down as long as the margins are respected with rigor.
If bad ERPs can abet creeps, good ERPs can do a lot in avoiding them.
A utopian ERP is hence quintessentially box-oriented or project-centric. It keeps you well grounded so that your calendar, resource-costs, time-clocks, requirements and even expectations do not rip and damage the box.
When a project-centric ERP is at the centre of the entire grind, it can cut down construction delays bridging dangerous gaps in information, equipment or material function levels.
Also, with seamless and well-integrated spokes into areas of financial, supply chain as well as purchase departments, it delivers results without letting the final outcome trespass established budget and time-bars.
Moreover, when ERP is an integrated platform, it can make the whole cycle from proposal or bidding to commissioning or operation, work like a well-oiled symphony. Needless to state that when all parties and action-bubbles are brought on the same page, the result is a beautiful Venn diagram that chops away possible cost and time overruns, while keeping a firm eye on project risks and vulnerabilities.
Project-centric ERP stand out as they are well-muscled for special project management needs which is a different road altogether than a standard ERP domain.
Think project-estimation tools, rigorous collaboration and document management and you would imagine what we mean. This means a lot for a large-stake and high- value project where business silos and IT islands between departments like purchasing or construction or operations can just not be afforded.
A good ERP always offers real-time visibility that automatically translates into tighter controls, whether it is about wasted human resources, redundant or overlapping purchasing items or about intersecting and at times tangentially lazing timelines.
That brings everything in a boundary throughout the project and keeps them that way.
So that when the big day arrives, the only thing you need those scissors for is an inauguration ribbon.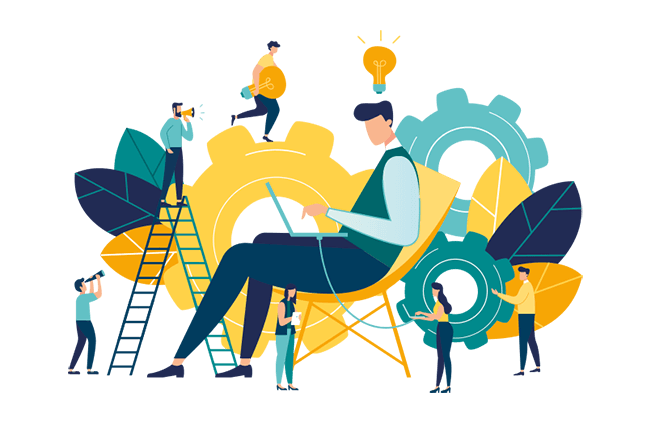 Contact Us for ERP Software