Are you running just for the sake of running?
Every day in life everybody runs, there is a difference between "who runs to win the race" and who runs for the sake of running.
Is there a void within me? This may be the prominent question in the minds of many others who are managing operations in an IT/ ITeS/BPO company…
Let's catch up with Paul, who is an operations manager in an IT services company which does development & implementation of software systems to various clients in US & Europe.
Paul says, "I run my race every day, in fact daily on different tracks somehow pushing myself to win… but don't succeed… "Is there a void in my daily work routine? Is there a void in my company's operations?" I am supposed to help my clients automate their operations, but I end up investing my prime time in doing lot of manual work. Yes… I want to win my race. So what is that winning formula which makes my day more productive and in turn my company more successful?
Some introspection on what I do AT PRESENT – is that a THREAT?
I spend most of my time in collating / consolidating timesheet or verifying the time booked with the respective employees.
I just make calls to several people at the fag end of the month to get even the smallest detail like the right invoice date and sometimes even the invoice amount…
I do not have enough visibility of my resources and the expired contracts? My team sometimes ends up billing expired contracts.
I struggle to forecast profits in my projects and yes, revenue leakage scares me
Are my current projects profitable? – The answer is not consistent always. I have to collect data from various sources/ systems to get the actual profitability.
Every time I prepare my MIS, I need to extrapolate my data, relative data and some past month data.
I still have a strong feeling that this ERP is NOT MADE FOR ME! …. because our ERP has some modules for every function like finance, sales, procurement etc., but it doesn't suite for an integrated operations with Finance and HR systems.
Are you inferring a VOID? – The energy sucker!
Yes …I am inferring to a VOID. Even though I have multiple systems (which are experts in their own areas) in place, I still see something missing. Yes, I see the VOID. I talk about "TEAM WORK" in the organization, but my SYSTEMS, being disparate in nature, are "not working as a team". Is there a way I can knit the systems together into one-end-to-end-system to give me a holistic picture? Is there a way I can get one system which is scalable across hierarchies? The underlying question is 'What should I do, to utilize my energy in the right way so that I can WIN the race?'
The Solution I need …
I need every function/ system to talk to each other. I need one integrated and consolidated end-to-end-system which can help break the silos across disparate systems.
Finally an ERP for Services is here!
As competition within the services sector intensifies, a new IT category – Service Resource Planning (SRP) – An ERP made for Services Industry – is emerging. Cut off from umbilical chord of Manufacturing ERPs, SRP shifts the focus towards "human capital" as the primary resource instead of raw materials and hard assets. It strives to track and enable business owners to have a holistic overview of all 4 business cycles viz., Contact to Contract (C2C), Execution to Billing (E2B), Quote to Cash (Q2C) and Requisition to Release (R2R) of resources and without the unnecessary burdens of the manufacturing age.
C2C – Holding track on your sales and contracting cycle
E2B – Executing the signed contract and then invoicing to the customer
Q2C – Tracking your cash against the budget
R2R – Having visibility of the resources across the organization
SRPs are here and now you can not only boost your firm's strengths on workforce management or project implementation, chop away operational/data redundancies, accelerate information flow, improve productivity/efficiency levels; but you can simultaneously juggle the finance department and project functions seamlessly, and at the same time give your clients all the clarity and SLA satisfaction they expect.
As the economic landscape changes and more service-driven businesses start to emerge, what businesses need the most is an ERP system dedicated to the service industry.
It's very true that sometimes the right answer is right before our eyes and we still go around looking for answers
Paul can surely see, rather EXPERIENCE a difference after getting SRP in place to manage his operations… Not only Paul, but also his management can visualize the difference and have control over things … As a TEAM they can surely win the race!
Ramco SRP is made specifically for service industry with inputs from Industry veterans, successfully enabling smiles in the daily lives of operational managers, finance directors and even board of directors of various services companies viz., IT, BPO, Staffing, Consulting and Facility management business lines.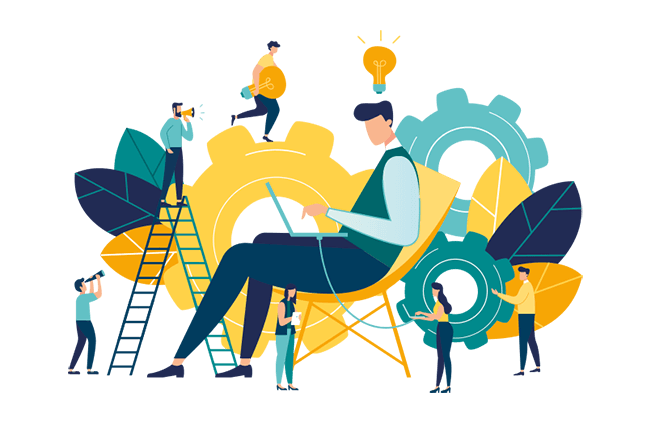 Contact Us for ERP Software