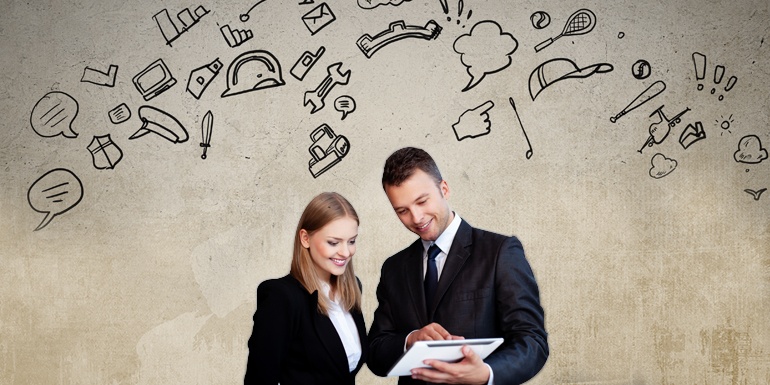 What if HR and Technology started seeing each other? Think about it. Or rather read this cupid-account
She was drumming her fingers in exasperation. Exhausted, irritated and disillusioned– that was how she looked right now. On any other day she would have been the most gorgeous, warm, friendly person in the room, but today Ms. HR looked another creature altogether.
After all, it had been five hours already and the speed-dating adventure was everything but the thrill she had been promised. Four suitors had come and gone, each piling her with more ire and disappointment than the previous one – leaving her wondering – where have all the good guys gone?
In fact, the first one, Mr. Change Management, had seemed the quintessentially-suave and appealing guy she had always secretly imagined. He had approached her with a warm air, shown all the impressive chivalry but in a matter of five minutes, had also managed to feel her like some mullock. His tirade on aging processes, obsolete mindsets, out-of-vogue haircuts and what not had made her feel more miserable than her Mom's daily observations ever could. He had even commented something nasty about her dressing style. She mentally slapped herself for prolonging the chat even after he had scribbled the word 'junk' when she asked to scribble something random on the notepad there – her acid test before any conversation.
The words varied. The next guy, Mr. Marketing, ran the pencil in a swagger and wrote the word 'proposition'. Albeit a good conversation-starter, the word hung in the air with every syllable and vibe that came out of him. He tom-tommed endlessly about how great and indispensable he was. At one point, Ms. HR even managed to interrupt his brag-brag soliloquy and ask him if he had ever noticed her before? The answer came pat, flat and as expected – Sorry, who are you by the way?
She had moved on like a lifeless cog in this wheel for the next two guys too. There was Mr. Culture Consultant, who had written 'Organisational Dynamics' on the paper, and then there was Mr. M&A, who had to spend a good five minutes thinking and writing the small word – 'Losses'.
And then he erupted. Like a waft from a freshly-baked-cake, like Noah on the D-Day, like a spring-water fountain in endless sand dunes – immediately capturing her attention and curiosity.
"Hi, I am Mr. Technology." He offered a warm hand, smelling confident (and no arrogant-stink or desperation-breath anywhere).
"Hi, I am Ms.HR." She silently thanked him for saving her day.
"I know, you are the most talked-about lady at the moment and I have been catching a lot of buzz about you." He smiled with his eyes.
"Really! All good buzz I hope? Why don't you write something on this paper before we get started?" She hesitantly requested.
"Of course." He cheerfully grabbed the pencil, scrawled upon it and shifted the paper to her side.
As she read the word, she couldn't help but flash a huge smile in relief. He had written it there, plain, simple and what she had asked – 'Something'.
"Now that's some chatter-material, isn't it?" He winked and asked if he could take a seat.
Ms. HR was rebooting already, but she had to know the guy a bit more. "So what have you been hearing about me?"
"Oh, a lot of interesting stuff. You are not what people often carelessly paint you to be. This guy Deloitte got me thinking when I read his Global Human Capital Trends 2015 report. There, culture and engagement popped as the most important issues. But at the same time, People analytics was hugely discussed as a strategy with the potential to change the way HR will work. It also built upon previous year's top trend of the 'overwhelmed employee' (24 per cent ratings). All in all, I was amazed to see how companies are moving to great lengths to simplify work, implement design thinking, to 'doing less better' and how 'machines as talent', 'collaboration, not competition' or 'cognitive computing' are entering the mise-en-scene of HR today and tomorrow."
"Whoa, I did not know that technology can be so interested in us too?" Ms. HR was listening in a hypnotic spell.
"What's not to be interested in? HR is not what it was or some myopic folks expect it to stay. It is practically re-inventing and sending tectonic shifts in the way organizations run, grow and survive in today's unrelenting times." He appeared genuine as he shared more compliments and observations from his side.
Ms. HR had to intercept the roses rudely and ask him for the brickbats too. "Tell me honestly Mr. Technology, why would I even be relevant five years from now? What it is that I might be missing?"
Mr. Technology paused and weighed his words well before answering. "I am sure you already know the gaps. Deloitte did not sugar-coat those pills when he told of only 5 per cent of HR leaders believing their organization's talent and HR programs to be excellent (mere 34 per cent rated them good). He had noted this sharply that while businesses are growing and changing exponentially, HR maybe catching up at a much slower pace. In fact, a big chunk of HR spends is coming to our side but that tech-buck is not supported by similar investments in process and people. Can you believe that a mere 35 per cent found HR analytics as 'under active development' when analytics is 'the' talk of the town?"
Ms. HR was chewing every nugget seriously.
Mr. Technology continued. "Times have gone when HR systems were designed primarily to help HR professionals do their jobs. Today the end-user is redefining HR management systems (HRMSs), applicant tracking systems (ATSs), learning management systems (LMSs), payroll and benefits applications like never before – they are now tools for employees and not ivory towers or paper castles."
"That is why we have been part of the old-generation ERP brigade wipe-out to mobile- and cloud-first regime. And more and more companies are on the path to 'appify' their HR tools. New 'built for cloud' companies have ushered in consumer-like (read ease of use, very inexpensive to buy, and built for mobile and the cloud) products in your very HR space." He went on.
"I agree, and if I can discreetly confess, there is indeed a lot of flab that I have lost and a lot of good protein I have gained in the last two years." Ms. HR chimed in.
"Yes, and everyone is noticing the change. It trickles down to every part of your personality – your confidence, your appeal, your charisma, your effectiveness and like you wondered earlier – your relevance." Mr. Technology seconded.
He gave more examples. "In fact, I was curious to learn that just 20 per cent of HR professionals claim to be very involved in innovation within their organization. Isn't that disturbing when 'always on' computing, transparent, co-worker feedback are gaining ground as more accepted and effective way of influencing and guiding -- vs. reviewing performance."
"Yes, it is. Someone was telling me yesterday that people ditching the numerical ranking of employees or tossing out the entire performance review process have grown considerably - from 4 per cent in 2012 to 12 per cent in 2014. Come to think of it, 65 per cent don't even find it relevant to their jobs! And managers too feel that way - 95 per cent of managers were not satisfied with their organizations' performance management processes." She added.
"I also know that technology is working wonders and augmenting what we do in entirely unpredictable ways. I was delighted to learn that HR can spin the whole cliché around and actually help in boosting innovation. But that would need us to leverage technology. We need to incorporate innovation into so many areas." said Ms. HR.
"Let me guess." He jumped in. "in competency and performance management frameworks; facilitating allocation of employees to innovation project opportunities that can inspire them; helping to break down the 'hogging of talent' by departments; and delivering a mechanism for ideas to spring forth from all levels of employees?"
He could make her laugh effortlessly.
"Yes," she said. "But what gets me worried is the talk about persistence of lack of analytics-related in most HR departments or how to go about personalizing training and development to accommodate individual differences in how people learn, and ensuring that pace and mediums are aligned with learners?"
"I guess we should order more coffee. This conversation is not going to end too soon if I may venture?"
She nodded happily. "I wonder how we never met before!" She added with a blush.
"May be we met. But not like this." Mr. Technology pulled a chair for her and looked forward to a great evening of amazing conversation and a more-amazing companion after eons.
Contact Us for Global Payroll