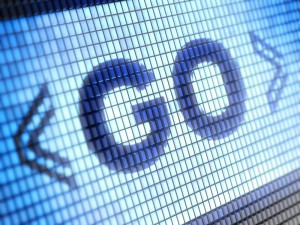 Gone are the days when one had to struggle with complex user interfaces and get stuck with inconsistent applications. The time has come to get rid of the old traditional systems and upgrade to something that would change the way one works and revolutionize the way we do things. With work-rate being the top priority nowadays, everyone is working on the go as multi-tasking is clearly the new trend that has made 'Enterprise Mobility' the new buzz word in the industry today. With people working round the clock, it has become a necessity for people to be able to work from anywhere, anytime.
But, why should enterprises go mobile? There are several factors which influence enterprises to go ahead with mobility, some of which have been mentioned. Mobile phones have a widespread consumer adoption which creates a new communication channel with high potential and opportunities for Mobile sales and services. Also mobile payments and account access with scope for real time notifications and alerts are possible. Being mobile improves staff productivity and efficiency specifically in the areas of executive reporting, analytics and dashboards, customer relationship management (CRM), workflow review and approval. It then allows for capture of data at transaction points such as Retail/Factory shop floor, Field inspections, maintenance, repairs and inventories.
Enterprises often focus on the device and a few priority mobile applications without planning for a long term mobility transformation. As momentum picks up, disparate initiatives duplicate effort, leading to support problems. Also, the use of inconsistent processes poses functional problems, hampering the on-going momentum. To overcome such hurdles, one must always develop a custom mobility strategy depending on the needs of the business. Developing mobility also involves proper planning and management. It starts with establishing a business mobility roadmap and identifying mobility requirements wherein enterprises set their business mobility goals, develop business cases and prioritize. Once the use cases and priorities are set, the next task is to identify target verticals and customers and keeping them in mind, develop the mobility strategy.
We at Ramco are proud to be involved in 'modernization of work' with our very own intuitive and one-of-a-kind approach. We plan to enter this market with user friendly, secure and innovative screens which can help customers to access business critical information on the go and get the right information at the right time from almost anywhere. With Ramco's Mobility application, one can seamlessly work and control an entire business just with a single touch on the iPad/Smartphone. It helps the sales team clock sales orders, view stock position & view the status of the orders. Users can also receive instant alerts based on workflows defined in the system.
Ramco's applications enable people to do business 'On the Go', in the most efficient way possible. With a user-friendly and hassle-free user interface, it offers a simple yet effective working scenario. These services can be availed anywhere, at any time now with the integration to the cloud. Ramco ERP on Cloud enables an organization to seamlessly integrate processes and get a complete overview of their business right down to tracking every small detail. With Ramco ERP on Cloud, one can experience an empowering software solution on the cloud.
Blog by: Ramasamy M, Business Analyst, Ramco Systems