CloudPay and Ramco announce a strategic partnership to deliver next generation integrated global Payroll solution
Strategic partnership to enhance global payroll coverage for both organizations and focus on visibility, compliance, standardization and co-innovation in payroll for multinational organizations
New York & Chennai – August 10, 2016 – CloudPay, one of the world's foremost providers of managed global payroll and payment services and Ramco Systems, a leading global HCM and payroll company, today announced a strategic partnership formed to help enterprises take better advantage of cloud payroll solutions. The partnership will combine CloudPay's SaaS platform and expertise in managed payroll for multinational organizations with Ramco's leading payroll software to deliver solutions for today's increasingly complex and disbursed workforces.
By using Ramco's platform, CloudPay will enhance and expand its managed payroll services for existing and new customers across more than 120 countries it serves. Ramco will leverage CloudPay's managed services solution to bring its Multi-Country Payroll platform to global organizations and continue to develop next generation innovations in payroll technology. The two companies, just named "Achievers" in Everest Group's 2016 Multi-country Payroll Platform (MCPP) Assessment seek to address the rapidly growing US $1.37B multi-country payroll outsourcing market.
Commenting on the partnership, Rajesh Ranjan, Partner, Everest Group, said "Multi-country payroll outsourcing is a fast growing market with enterprises embracing it to realize better agility and greater cost, control, and compliance objectives in an increasingly dynamic global business environment. The partnership between CloudPay and Ramco seeks to leverage each other's strength to offer a potentially compelling option for enterprises to consider."
Paul Bartlett, CEO, CloudPay commented "We are transforming the way payroll processes and information are leveraged within the enterprise, moving away from fragmentation of data and global non-compliance that challenge multinational organizations. Our partnership with Ramco will allow us to further enhance our platform, provide cost-effective solutions, and address an even wider range of payroll complexities through greater standardization and innovative features around analytics."
"While Ramco's own platform covers Payroll for 35+ countries across ASEAN, Middle East and ANZ, CloudPay brings with it extensive reach and expertise in Europe and US. Together, we will now be able to give customers a seamless technology platform and services to manage their Global payroll. By combining CloudPay's managed services offering with Ramco's payroll platform, we hope to give multinational organizations a future-ready technology platform to manage their end-to-end payroll needs" said Virender Aggarwal, CEO, Ramco Systems.
About CloudPay
CloudPay is the next generation payroll solution for multinational businesses with complex global payroll requirements. CloudPay is the world's only cloud-based platform for integrated global payroll, analytics and payments processing and delivery. CloudPay's solution ensures that employees get accurate and timely payments while centralizing all payroll data to allow organizations to improve the performance of their global operations. With CloudPay's unique analytical toolset, companies can turn their payroll data into meaningful business insights, and use CloudPay's compliance tracking functionality to assure continuous compliance with all local and statutory regulations and tax requirements. Positioned as an 'Achiever' in Everest Group's 2016 MCPP Report and Winner of the Global Payroll Transformation Project of the Year Award 2016.
www.cloudpay.net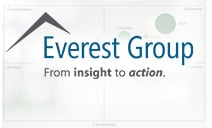 Everest Group assessed global payroll platform vendors in the rapidly growing Multi-country Payroll Platform (MCPP) market. Read their Evaluation of vendors on Functionality & Usage and Execution effectiveness.
Download Report