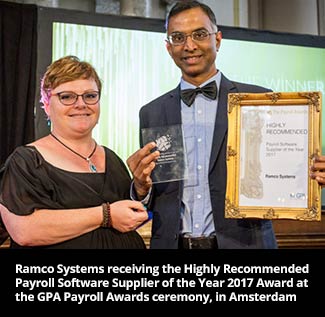 Global Payroll Association confers Ramco Systems with 'Highly Recommended Payroll Software Supplier of the Year 2017' Award
Ability to address 40+ country Payroll covering Asia including Japan, China; ANZ, Middle East & most of Africa on a single platform and steadfast focus to bring technology innovations such as Bots and RPA driven Payroll bring home the recognition
Chennai, India – June 19, 2017 – After bagging coveted titles for HCM and Payroll offering, Ramco Systems, the global HCM and Payroll software provider on Cloud and Mobile, walked the ramp yet again to win the Highly Recommended Payroll Software Supplier of the Year 2017 Award at the Global Payroll Association's Payroll Awards. Ramco was awarded for providing innovative, fully integrated Payroll solutions to clients.
Presented by the Global Payroll Association, The Payroll Awards held in Amsterdam, in the first week of June 2017, witnessed global payroll professionals from all over the world celebrate excellence in payroll, software, and consulting.
Congratulating Ramco on their win, Melanie Pizzey, CEO, Global Payroll Association, said, "The Payroll Awards are an important annual event to recognize the outstanding work of the global payroll community. That Ramco received the 'Highly Recommended' accolade as HR and Payroll Software Supplier of the Year is testament to its great work in providing customers with the enabling technology required to make their payroll operations a success."
Commenting on the recognition, Virender Aggarwal, Chief Executive Officer, Ramco Systems, said, "We are thrilled to receive the recognition from Global Payroll Association. Our ability to offer an integrated suite which brings Core HR, Time & Attendance, Talent Management, Recruitment and Analytics along with Global Payroll on a unified platform places us at a unique edge. This coupled with innovations such as Bots and RPA are driving organizations to leverage the platform to simplify, automate and amplify Payroll operations across the globe."
With statutory compliance across 40+ countries covering ANZ, Asia, Middle-East & Africa, Ramco's Global Payroll platform is available in English, Japanese, Mandarin, Bahasa, Thai, Malay, Arabic among others. Complete with chatbots, simplified User Experience, and an intelligent In-memory based engine which identifies, suggest and resolves errors, organizations can deploy the application on-cloud, on-premise or offered as a managed service
Recognized as an Achiever in Everest Group's Multi-Country Payroll Assessment, Ramco HCM has built-in Mobility and Intuitive user experience. With a comprehensive coverage of APAC, Middle East and Australia, Ramco Global Payroll covers countries such as Hong Kong, Philippines, Thailand, Indonesia, Singapore, Malaysia, Vietnam, China, Japan, India among others in APAC; all of GCC and Egypt, Nigeria, Ghana, Sudan, Republic of S. Africa, in Middle East-Africa; Australia, New Zealand, United States and UK.
The Global Payroll Association's second glittering annual awards ceremony brought together both seasoned and new practitioners who work in the global or domestic payroll industry. The event celebrated both technical excellence and outstanding professional performance among the industry's unsung heroes, which include payroll managers, expatriate teams, in-country providers and software suppliers. The international panel of judges selected winners across 17 categories related to global payroll and consulting.
I am interested to explore Ramco Global Payroll