Iberia Maintenance, Leading European Provider of MRO Services in IAG Group selects Ramco Aviation
To digitally transform its business operations on a unified platform
Madrid, SPAIN / Chennai, India – December 21, 2020 – Global Aviation software specialist Ramco Systems announced that it will implement its flagship aviation software, Ramco Aviation M&E MRO Suite for Iberia Maintenance (Iberia MRO), one of Europe's leading MRO service providers in IAG Group.
Ramco Aviation Software will replace multiple systems to unify operations across Airframe Maintenance, Engine Shops, Component Shops & Supply Chain. In addition, Iberia Maintenance would also benefit from digital enablers such as Mobility via AnywhereApps, HUBs, Artificial Intelligence (AI), Dashboards and integration to ecosystem offerings powered by Ramco.
The technology transformation program will enable Iberia Maintenance to future-proof its business growth while offering simplified user experience driving better user adoption, increase process automation and self-service, among others.
Implementing this new ERP (Enterprise Resource Planning) brings four important advantages for Iberia MRO: first, maximum mobility in accessing documentation and assigning maintenance tasks online, among others; second, information and real-time update of the work carried out on the Aircraft; third, the reliability and agility of having a single source of information for Iberia MRO production management system and, finally, a much more sustainable and efficient paperless solution, as Ramco Aviation ERP eliminates printing and scanning for tasks to be performed.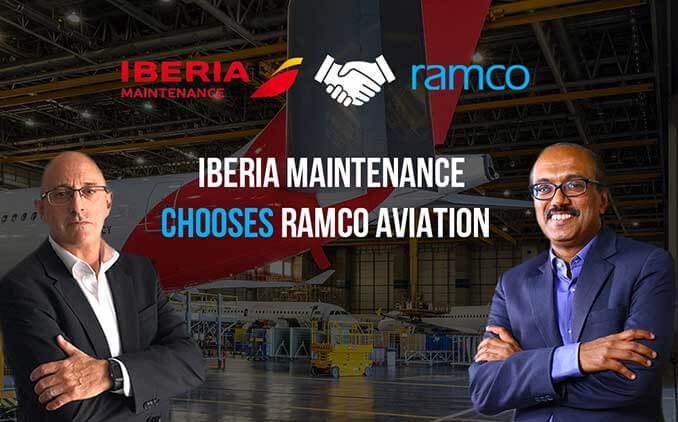 This new ERP developed by Ramco will be used by more than 3,000 Iberia maintenance personnel. A 50 people team will work in its implementation project.
Andy Best, Chief Technical Officer, Iberia Maintenance, said, "We were looking for a best of breed Aviation MRO Software that caters to our different business lines. Ramco Aviation were the standout option which offers comprehensive MRO-specific functionality all in a unified offering as an out of the box solution. We are confident, the digital transformation program with Ramco will help us bring major benefits to our customers through operational efficiencies, reduced maintenance TAT, simplified processes and improved productivity. Also, as an organization, we strongly believe in investing in the latest technology and innovation to help deliver superior and differentiated services to customers. Our partnership with Ramco will help us stay ahead on the Innovation front. Together, we look forward to delivering this game changing technology."
Virender Aggarwal, CEO, Ramco Systems, said, "We are excited to partner with Iberia Maintenance to help them achieve great heights in the market. Our laser sharp focus in building deep MRO specific functionality coupled with latest technological tools has helped us win the trust of global majors. The pandemic has driven many large businesses to speed up their digital transformation agenda. We are keen to support Iberia Maintenance with our best-in-class mobility, chatbots and AI capabilities to achieve business growth. We look forward to a long and successful journey with them."
Ramco Aviation Software is trusted by 24,000+ users to manage 4,000+ aircraft globally. Accessible on cloud and mobile, Ramco Aviation Software continues to innovate with 'Anywhere Apps', significantly reducing transaction time both during aircraft-on-ground (AOG) conditions and critical aircraft turnarounds. Ramco is changing the paradigm of enterprise software with Artificial Intelligence and Machine Learning based solutions, powered by cool new features such as digital task cards, offline capability, chatbots, email-based transactions, HUBs and cognitive solutions. With 80+ Aviation organizations onboard, Ramco is the solution of choice for top heli-operators, leading defense and multiple MROs around the world.
About Iberia Maintenance:
Iberia Maintenance is a leading provider of MRO services to the IAG group airlines, OEMs and wider industry. With Airframe maintenance capabilities covering all group Airbus fleets including the state of the art A350 and A320neo. Our engine portfolio specializing on the V2500, CFM56 and legacy RB211 with the GTF and LEAP platforms soon to be introduced and component shops covering a wide range of ATA chapters. Our operation supports customers around the globe, and we continue to develop and innovate our business model to support our customers and partners changing demands. We provide the highest quality and safety standards combined with a flexible and competitive commercial approach. Our well trained and experienced employees providing services from our main operational hubs in Madrid and Barcelona ensure that we are here for you now and into the future.