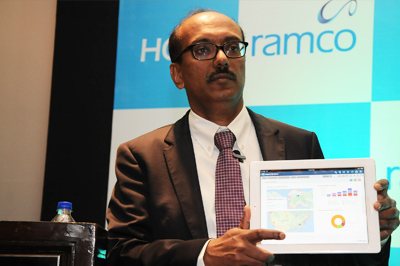 Ramco announces global launch of HCM on Cloud
Unveils its power-packed, In-memory engine—Minnal
Bangalore, India–June 26, 2013 – Ramco Systems, an enterprise software product company focused on delivering ERP on Cloud, Tablets and Smart phones today announced the global launch of its comprehensive HR & Talent Management solution, Ramco HCM on Cloud (Human Capital Management).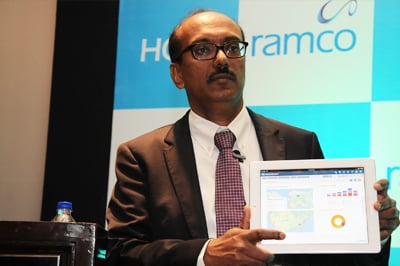 The launch also marked the unveiling of Ramco's In-memory engine, Minnal which dramatically improves processing speed by up to 100 times.
Speaking at the launch, Mr. Virender Aggarwal, CEO, Ramco Systems, said, "The Enterprise Cloud market is growing rapidly with adoption across organizations of all sizes. Our investments in technology and our focus towards bringing Mobility, Gen-Y User interface, role-based WorkSpaces and In-memory engine into a Cloud-based offering has helped us carve a niche position, globally.
After taking ERP and Aviation solutions on Cloud, we are now taking our comprehensive HR solution on Cloud. Our ability to offer a multi-country payroll that is flexible enough to integrate with any standard ERP has been a key differentiator in the global market. In order to capture the booming HR software market, we are also partnering with large ITeS players to offer our HR Platform as a Service."
Ramco HCM on Cloud
IDC's revenue forecast for worldwide HCM market is $11 billion in 2016, growing at a compound annual growth rate (CAGR) of 8.1%.
Gartner is projecting a $10 billion HCM market by 2015, with $4 billion in talent management, 75% of that market coming from SaaS.
According to an Aberdeen study published, 39% of "High Growth" organizations planned to invest in cloud computing in 2012.
Market data and trends show that the HCM market is predicted to grow rapidly in the next few years. Ramco has been offering its on-premises HCM software globally, and it now runs in 300+ organizations, including customers with employee size of 100,000+.
The experience and knowledge gained over the years has been invested in re-architecting the product to bring in a Gen-Y interface, making it accessible on Smart phones (iPad, Android and Windows 8), integrating it with Social channels, besides bringing in the speed and agility of an In-memory engine and the intuitiveness of a context-aware solution.
Ramco HCM on Cloud is a comprehensive solution that covers every aspect of an employee lifecycle: Workforce Management, Recruitment, Talent Management, Employee Development, Workforce Planning and Payroll & Benefits.
Launch of Minnal:
Ramco also unveiled Minnal, a flexible, light weight, In-memory Engine which can be used for any Planning, Scheduling, Optimization and batch processing (APO) activity.
The newly launched HCM on Cloud was test launched in a few markets and is currently being implemented at leading organizations such as RedTag, Khimji Ramdas, (retail brands from Middle East); and Podar Group of Institutions in India, among others.