Ramco Systems wins the HR Vendors of the Year 2022 Awards
For Best Payroll Software and Best Payroll Outsourcing in Singapore and Malaysia
Chennai, INDIA – November 17, 2022 – Leading global payroll software provider Ramco Systems bagged 3 major awards at the HR Vendors of the Year Awards 2022, held in Singapore and Malaysia. Ramco beat global vendors to win 2 Gold and 1 Silver awards under the Best Payroll Software and Best Payroll Outsourcing categories.
Organized by Human Resources magazine and adjudicated by industry leaders, the HR Vendors of the Year Awards are one of Asia's biggest events dedicated to HR solution providers.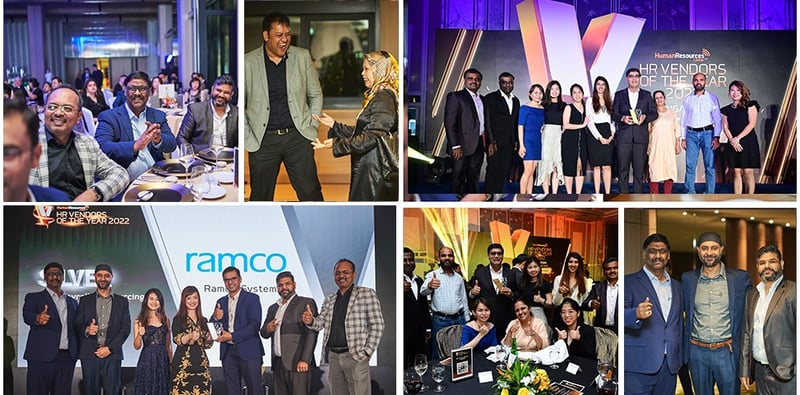 Acknowledging the award, Rohit Mathur, Head – Ramco Global Payroll Solution, Ramco Systems, said, "We are honoured to have won the eminent HR Vendors of the Year Awards in this region. I dedicate these laurels to our customers, partners and associates, who have reposed their trust in us and have together believed in our vision of a touchless payroll experience. This win is a testament to our dominance in the APAC market, our robust client portfolio and our dedication to deliver an automated, simplified, streamlined, next-gen payroll experience."
"Over the past year, we have launched a multitude of innovative features which enhance the value our payroll solution provides to our clients. Our focus on leveraging AI, ML to address payroll challenges has been bringing value to our clients and enabling them to embrace the world of digital payroll" added Mathur.
The awards culminate a triumphant year for Ramco winning several accolades, including 'Global Payroll Software Supplier of the Year' award from Global Payroll Association; 'Elite Innovation Provider' at the HKIHRM HR Excellence Awards 2021/2022; as well as being positioned as a Leader in Everest Group's Multi-Country Payroll (MCP) Solutions PEAK Matrix® Assessment 2022 for APAC.
About Ramco Global Payroll:
Complete with mobile, chatbots, voice, and facial recognition-based workforce management, organizations can deploy Ramco Global Payroll on-cloud, on premise or leverage as a managed service. The multi-tenant architecture with embedded intelligence, device agnostics features and API integration now serves more than 500+ customers worldwide. With innovative concepts of Artificial Intelligence & Machine learning, Context-sensitive Pop-ups and Chatbots to carry out self-service, and Voice based transactions on Google Assistant & Alexa, Ramco has been setting the benchmark for Innovation in this segment. With statutory compliance across 60+ countries covering U.S., ANZ, Asia (including Japan & China), Middle-East & Africa, Ramco's Global Payroll is available in English, Japanese, Mandarin, Bahasa, Thai, Malay, and Arabic among others.