Sometime in 2018, New Zealand's largest telecommunications and digital services company realised that though they assisted their clients to digitally transform their own employees' experience with payroll was anything but digital. This leading telephone and mobile network in the ANZ region, with services across broadband, entertainment media and cloud computing, were faced with the predicament of modernising payroll. And so the journey started in 2019 to digitise their operations and drive payroll modernisation, and they chose Ramco HR & Payroll.
Key Business Needs

Provide superior employee experience and empower them through automated payroll application

Accurate and compliant payroll technology

Eliminate manual efforts that use up the employees' time and skills

Replace a 15-year-old legacy payroll application with a modern, comprehensive, compliant cloud payroll platform with intuitive mobile apps

Resolve data issues that were caused by the legacy systems which provided inaccurate data at times
Ramco helped the telecom giant digitise its payroll operations and comply with the region's payroll statutory and new tax office filing requirements for its 5,000+ employees spread across ANZ. The implementation had its fair share of challenges, chief among which was the 2020 pandemic outbreak. Though initially slated for April 2020, the outbreak and the subsequent lockdown delayed the go-live. But it was successfully achieved by August 2020, with the project handover to the Global Support team by November 2020.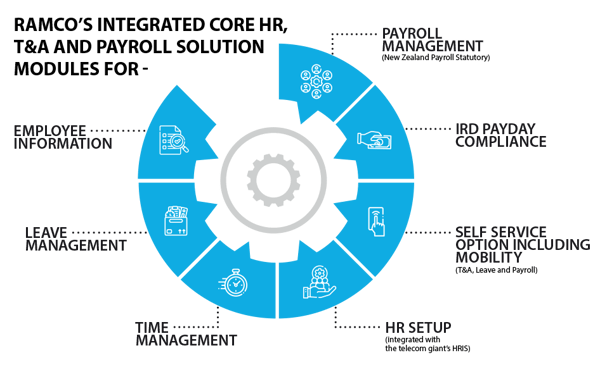 "Ramco has provided an outstanding user experience for the employees – be it with the desktop applications or the mobile apps. Employees now can access information like payslip details or book overtime anytime, and anywhere. We are also glad that we have a payroll product that is moving with the times, innovative, and making changes based on customer needs."
- Payroll Technology Lead


The actual time to produce pay was slashed from 3 to less than 2 days.

One stop solution for Time & Attendance and Payroll. Decreased the time to do each transaction by over 50%

Provided a real time fully synchronised data flow from SAP HR to Ramco.

Increased employee efficiency through ESS. User experience and quality of data improved.

Overall automation of transactions and decreasing payroll preparation time by 30%

The solution available on desktop systems as well as mobile devices offers access to employees anywhere, anytime.