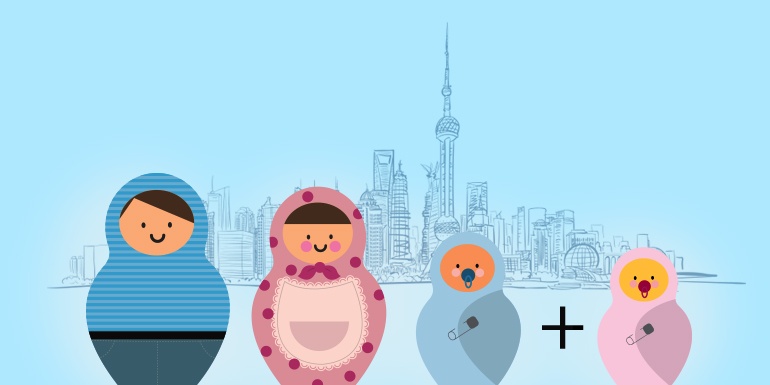 In a historic move, the Chinese government passed a legislation effectively ending the one-child policy that drastically influenced China's demographic framework for over 35 years. In a crucial attempt to resolve the looming crisis of economic imbalance and the alarmingly increasing rate of the aging population, the government in January 2016 formally approved the amendment that allows couples in China to now have up to two children in their families.
This change is expected to have innumerable implications on the country, its social structure, economy, legal structure, and employment opportunities. The amendments became effective in January 2016. The new legislation allows couples to have two children, providing them multiple additional benefits. It however takes away all additional benefits given to parents only having one child and to couples opting for late marriage or late childbirth.
So how is this change effecting the HR & Payroll policy in the Chinese organizations?
All the maternity leave allowances provided to women who married or gave birth to their first child late (i.e., older than 24 years) have been discarded

In general, the maternity leave allowance for the two childbirths is now up to a maximum of 158 days covering both maternity and the nursing period (subject to variances in local laws across provinces)

Women employees are paid their entire salaries during their maternity leave and cannot be terminated up to about a year after giving birth

The paternity leave allowance is now 15 days, but this is a choice of the local regulation

The legislation also includes a marriage leave of about 1 to 3 days, with a few provinces providing even 30 days' leave

No formal approval of birth is required for two children

If a woman employee cannot manage the usual official responsibilities during pregnancy, the employee has to reduce her workload

Pregnant women should not be exposed to harmful work environments - including harmful chemicals or radioactive materials

All benefits extended to one-child families - for people getting into matrimony after a specified date - will be withdrawn
Many provinces have already adopted the legislation in its entirety but with multiple variances.
Challenges in revising organizational policies owing to the new legislation
Individual provinces have their preferred versions of the policy. Hence, awareness of region-specific requirements is critical
For example, being the first area to publish local legislation, Guangdong sets a paradigm for what we might expect to see from other provinces in the coming months. The province has in addition to scrapping late marriage and late childbirth incentives, slacken a number of other rules. Notably, maternity leave has been increased from the national baseline of 98 days to 128 days, while paternity leave now stands at 15 days, up from 10 days
Organizations are bound to struggle through the transition period from old to the new legislation
Not all provinces are transitioning to the new legislation at the same rate; hence this time gap has to be considered
All rules regarding leave application and approval will completely change
Maternity leave coverage - organizations will have to plan its hiring and temporary work coverage activities well in advance
The extent of work required to make this transition as smooth as possible is currently incomprehensible. The National Health and Family Planning Commission has anticipated that around 90 million couples will choose to have a second child. Hence, in accordance with corresponding provincial and municipal regulations, employers would have to review their special allowances, marriage and childbirth leave policies, and other company legislation related to family planning. There are plenty of gray areas right , with multiple queries and concerns looming large, so organizations would have to proceed with caution to ensure that all their policy revisions are in accordance with the specific region's legislation.
The Chinese labor force is one of the most important factors that contribute to the country's unparalleled economic development. Navigating the payroll in China for a huge population of workers, where the laws vary from one city to another, is no mean task.
Technology could be a go-to solution to keep up with this upcoming change in HR & payroll policy in China. Incidentally Ramco HCM has launched China payroll software in May 2015. Multinational companies which have long struggled with different tax regimes will now be able to harmonize their entire payroll – including locals and expatriates – into a single unified bilingual platform from Ramco Systems. Ramco HCM solution can be configured to accurately comply with different tax regulations, enabling more companies to meet the Chinese Government's taxation compliance standards. The payroll solution also includes Mandarin and English language capabilities for local and expatriate staff respectively. Ramco's solution includes new functions for Employee Stock Ownership Plans ("ESOPs") and social insurance contributions.
With a comprehensive coverage of APAC, Middle East and Australia, Ramco Global Payroll covers 35+ countries on a single platform - Hong Kong, Philippines, Thailand, Indonesia, Singapore, Malaysia, Vietnam, India among others in APAC; all of GCC and Egypt, Nigeria, Ghana, Sudan, Republic of S. Africa, in Middle East-Africa; Australia, New Zealand.
Contact Us for Global Payroll