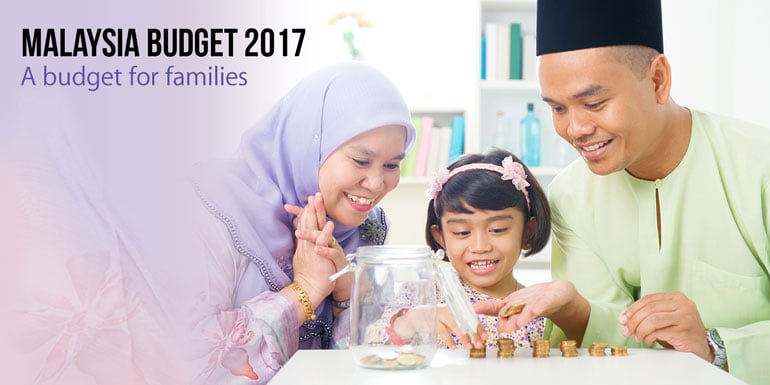 Malaysia's Prime Minister Datuk Seri Najib Tun Razak has announced the budget 2017 on October 21, 2016. The budget speech theme is "Accelerating Growth, Ensuring Fiscal Prudence, Enhancing Well-being of the Rakyat".



Budget 2017 focuses on lifestyle of individuals, children with special needs and young families by announcing tax relief measures, incentives, budget allocations. The following is a summary of the key measures announced in the 2017 budget:

Tax reliefs

Currently, the following tax reliefs are available to the individual taxpayers
| | |
| --- | --- |
| Personal reliefs | Maximum amount (RM) |
| Purchase of reading material (excluding newspapers and banned materials) | 1000 |
| Purchase of sport equipment | 300 |
| Purchase of computer (once in 3 years) | 3000 |
| Subscription of broadband internet (YA 2010 until YA 2012) | 500 |

In order to facilitate tax payers in claiming the existing tax reliefs, these reliefs will be combined into a new lifestyle relief of RM2500 per year. This relief is extended to include:
Purchase of printed newspapers
Smartphones and tablets
Internet Subscriptions
Gymnasium membership fees
Tax relief for fees paid for child care centers and kindergartens
Further, to ease the burden of working parents, a tax relief of up to RM 1,000 will be given to individual taxpayers who enroll their children aged 6 years and below, into registered nurseries and pre-schools, from the year of assessment 2017, benefitting 40,000 individuals.
Tax Relief for the purchase of breastfeeding equipment
To support working women who are still breastfeeding, the Government will introduce a new tax relief up to RM 1,000 which is claimable for purchase of breastfeeding equipment. This relief is claimable biennially effective year of assessment 2017
To support parents in reducing children schooling expenses, the Government will continue to implement the following programmes:
Provide Schooling Assistance Programme of RM100 each to students from families earning up to RM3000.
Allocate RM1.1 billion for Hostel Meal Assistance Programme for 365,000 students.
Allocate RM300 million for Malaysia Supplementary Food Programme for primary school students.
Provide RM1.1 billion to include Additional Assistance Payment for School Fees, textbook Assistance and Per capita Grant Assistance.
Provide Special Needs Student Allowance of RM150 monthly, involving 67,000 students as well as replace buses for 21 special education schools. Malaysians with special needs are entitled to the allowance so long as they are in government or government-aided schools (from preschool to matriculation) on condition that they are not receiving financial aid from other organizations.
Provide an allocation of RM600 million to Special Fund for Improvement and Maintenance of Schools
Some other important measures to support families:
Financial assistance to poor families, including general assistance up to RM300 per month and children assistance up to RM450 per month
An allocation of RM424 million is provided to senior citizens, including senior citizen socioeconomic assistance of RM300 monthly as living allowance and pocket money. This will benefit 120,000 senior citizens. In addition, eight senior citizen activity centers will be established
A sum of RM535 million is provided to the persons with disabilities (PWDs), including employee allowance, disabled children training allowance and assistance for PWDs who are unable to work. This assistance program will benefit nearly 150,000 PWDs
How would these changes impact the Ramco Payroll software?

Ramco Payroll is compliant with statutory and taxes across 35+ countries including Malaysia. Hence, the changes announced in budget 2017 will require minimum adaptation which can be achieved with minimal effort. The efficiency and adaptability of Ramco HR and Payroll will ensure the client will not face any discomfort while these changes happen in the system. Additionally, Ramco has partnered with various consultancy firms for providing statutory updates in real time which keeps our product statutorily compliant and fresh.
Ramco Managed Services is a proven end-to-end solution for efficient and effective payroll processing. They combine the power of Business Analytics and Workflow with the user-friendliness of the browser, to deliver a world-class solution. The end-to-end solution addresses all payroll needs, from strategic to operational, and helps improve information management and decision-making.
We at Ramco ensure to provide the latest HR Technology such as Bots, AI, Employee Sentiment Analysis & more. Ramco Global Payroll covers 35+ countries on a single platform - Hong Kong, Philippines, Thailand, Indonesia, Singapore, Malaysia, Vietnam, India among others in APAC; all of GCC and Egypt, Nigeria, Ghana, Sudan, Republic of S. Africa, in Middle East-Africa; Australia, New Zealand. Interested to know more, write to us.
Contact Us for Global Payroll