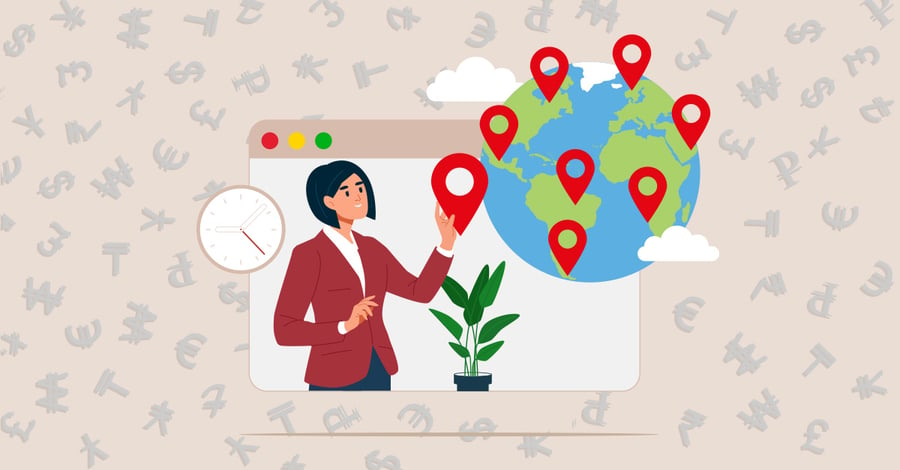 According to a recent survey by Harvard Business Review, CEOs of large companies projected that in the next decade 40% of the value their companies created would come from entering new markets and launching new business models.
While expanding into new and emerging markets brings a lot of business benefits, there are also a set of challenges that companies may encounter in this journey.
Understanding the new workforce can help you succeed
According to Forbes, "Going Global" is the worldwide movement toward economic, financial, trade, and communications integration.
But for companies, this can potentially disrupt their existing business models and HR processes. It also means understanding the cultural differences within the country they're trying to expand into compared to the markets they already operate in. Legislative and cultural differences play a key role in the structuring and management of the new workforce. Some of the other differences might include- differences in standard working hours, working relationships and communication methods.
It necessitates the need to build a localized strategy and business plan that can help drive local success and remain integrated with the overall corporate strategy and objectives at the same time.
Global Expansion's Impact on Payroll
Every country has their work-related legislation, taxes, deductions, and other rules that dictate what companies are- and are not- supposed to pay their employees. When a company aims to expand its business globally, it should be equipped with a payroll system that allows it to pay its international workforce accurately and easily.
Expansion often calls for the need to implement additional payroll services and systems. This will result in separate or fragmented areas of work that seldom communicate with each other. Each region working separately and not as a connected whole can introduce inaccuracies in global reporting, creating extra work for the HR department.
Lack of local expertise is another challenge businesses face when they expand into the global market. That said, one can easily overcome all these challenges with the right HR processes and payroll provider in hand.
The Right Payroll Software Can Help Manage Your Payroll Challenges
A company can manage its local compliance needs with the right global payroll solution. This way, instead of worrying about the local legislative and regulatory requirements, it can focus its efforts and time on running its business.
Additionally, payroll digitisation can offer HR department and managers the control they require to manage a global workforce. Payroll automation facilitates automation of operational tasks involved in payroll processing for a global workforce. But the question arises – should a global organization use individual payroll systems for each region or a single unified global payroll system for processing payroll for its newer workforce. Running individual payroll systems in each region might make it operationally challenging and can also bring about reporting problems as the data from each system needs to be collated. With a single global payroll system, multi-national companies can improve operational efficiency and save time as all the required data and information is available in a single system.
Ramco global payroll solution is an ideal payroll solution for your organisation if you are looking forward to expanding your business into new regions and require a global payroll solution. And if you still have doubts regarding payroll digitisation, our experts are always ready to help clarify them.
Contact Us for Global Payroll