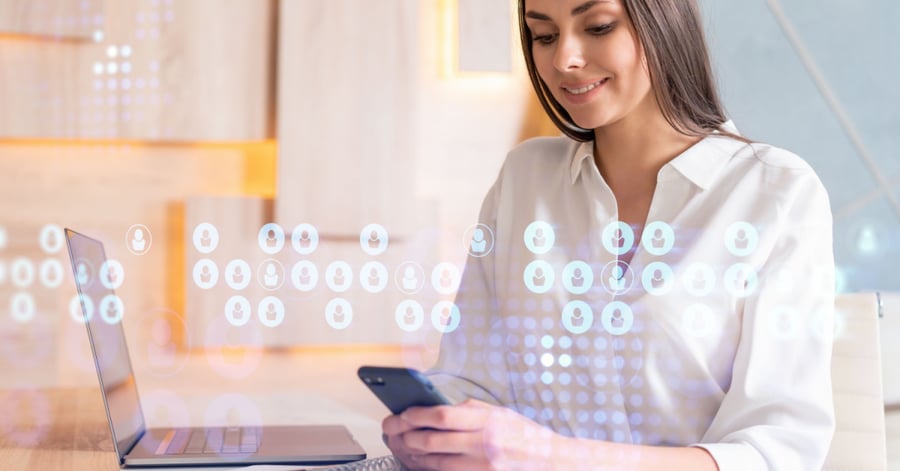 As per PwC's Digital Transformation Survey 2022, 96% of the HR leaders believe in HR role as change agents, employee experience designers and talent developers.
The survey also highlights that contribution of HR professionals in a company's digital transformation goes far beyond just digitizing the HR function. As employees today deal with the digital disruptions, 57% of the HR leaders believe that upskilling is becoming important while 49% believe that a changing culture and mindset is becoming important. Still, only one out of four leaders have a well-defined HR digital transformation strategy, which is a small number.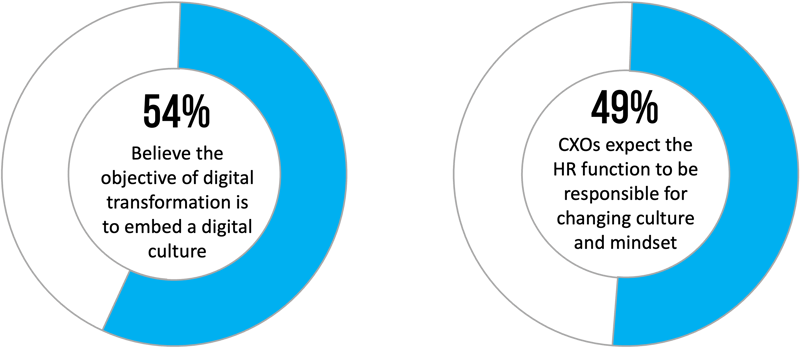 The HR leaders need to look for ways to harness the power of technologies like AI, machine learning, and deep analytics for better decision outcomes. Though the organizations that are experimenting with this are primarily the ones employing a significant population of digital natives, HR functions at all companies need to build analytics expertise and reskill their workforce. It will help them leverage algorithms to select the best talent, asses unique development needs of employees and analyze the root cause of attrition and absenteeism.
Before embarking on the journey of HR digital transformation, there are a few things that HR leaders must know.
Things Businesses Must Know Before Getting Started with HR Digitalization

Understanding the Goals and Benefit of HR Digitalization
It is important for the businesses to understand why they want HR digital transformation and what benefits they hope to achieve with it. The goals of HR digitalization may include improving the efficiency of HR processes, enhancing employee experience, reducing costs, and improving data accessibility and accuracy.
Identifying HR Digitalization Needs
After understanding and defining the HR digitalization goals, a business needs to identify HR functions and processes that need digitalization. Some of the common areas include recruitment and onboarding, employee management, performance management and HR analytics.
Then, they can list down the areas that need digitalization on priority, and accordingly choose the right tools to meet the goals.
Choosing the Right HR Digitalization Tools
This step is critical to the success of any business's digitalization efforts. Some of the popular tools include robust, all-integrated platforms. Be it Oracle HCM or Workday HCM, the key is to have seamless integration with payroll technology. Ramco global payroll offers certified and seamless integrations with all leading HCM platforms. Ramco's managed services offer remarkable features like payroll automation, frictionless employee self-service, role-based dashboards, modern cloud infrastructure and automated help desk support through chatbots.
One of the Southeast Asia's leading conglomerate's trusted Ramco to embark on a future ready payroll transformation project covering 190 organizational units. Its key business needs included consolidation of multiple payroll systems, minimizing data errors, improving payroll operations efficiency, and automation of payroll processing. With our AI and ML based technologically advanced payroll solutions, the conglomerate could:
Seamless integration with human capital management platform

Reduce the payroll processing time by 200%

Improve payroll efficiency including leave eligibility accuracy

Download MIS reports from within the system

Improve employee experience as the employees could access e-Payslips from mobile
Investing in Employee Training and Change Management
As HR digital transformation involves major changes to the ways the HR processes are managed, this could be challenging for the employees that are used to the traditional HR practices. Therefore, it is essential for the businesses to invest in employee training to make them understand the advantages of HR digitalization and how to use the digital tools.
Moreover, change management is critical to ensure that the employees are comfortable using the new digital HR processes, facilitating a smooth transition.
Ensuring Data Security and Privacy
As HR digitalization involves the collection, processing, and storage of critical employee data, it is important to make data security and privacy a top priority. While selecting HR payroll software or payroll outsourcing service provider, it is essential to ensure that they have robust security features like access controls, encryption, and data backup. It is also highly recommended to train employees on data security best practices, like not sharing sensitive information and using strong passwords.
Monitoring and Measuring the Success of HR Digitization
Measure the impact of your HR digitalization efforts carefully and regularly to ensure the efforts are successful. Some key performance indicators to track include the improvements in data accuracy and accessibility, time and cost savings, and improvements in recruitment and retention. Ramco's managed digital payroll services enable powerful insights from employee data to improve employee satisfaction, enable payroll process improvement, and much more.
Conclusively, HR digitalization is a powerful tool that can aid HR professionals improve their effectiveness and efficiency in managing HR processes. However, it is important to approach digitalization strategically and with a clear understanding of your needs and goals. Organizations need to shift the focus of the HR digital transformation from technology to people. Creating and embedding a digital culture, training, and developing leaders with an advanced digital mindset and enabling new ways of working are a few foundational components of the remodeled digital HR transformation agenda.
By choosing a reputable payroll outsourcing service provider or robust HR payroll software, you can achieve significant improvements in your HR processes. And deliver a better employee experience while executing the digital transformation of your HR processes. Top of Form
Before signing up for our payroll management services, you can even request a free demo with our experts and make an informed decision.
Contact Us for Global Payroll