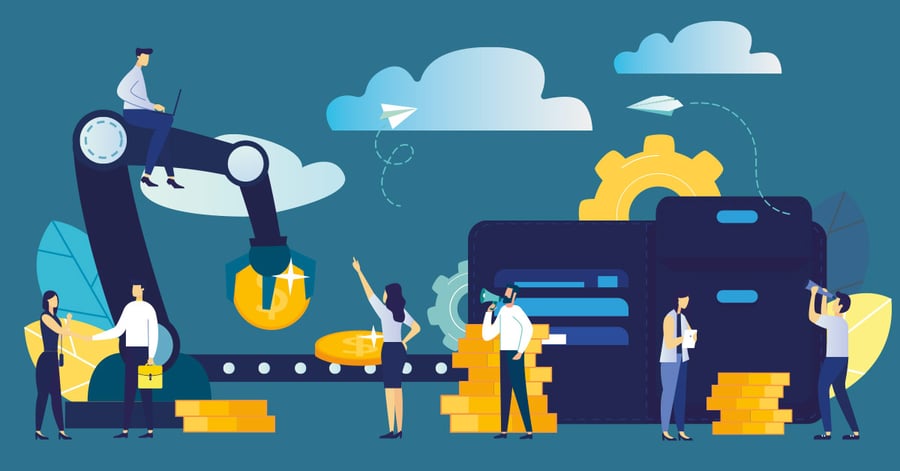 First things first - what is automated payroll? Payroll automation or automated payroll is a way to help you simplify the process of paying the employees accurately and on time. Most payroll managers and executives usually like using an automated payroll system - as it saves time as well as effort on overwhelming processes like tax filing (federal, state, and local), generating reports, processing direct deposits, and calculating withholdings.
It is not practically possible for the payroll managers to spend days & weeks on crunching the numbers as well as managing spreadsheets. Many of them also have responsibilities like maintaining employee relations, recruiting, and hiring, benefits management and training and development. However, as an office manager or executive assistant, it is a part of a payroll manager's job. This is where the need of payroll automation becomes evident. It takes off a huge chunk of burden off the shoulders of the payroll managers and makes managing global payroll processes seamless besides offering benefits like accuracy, transparency, and compliance. Let's take a brief look at all the lesser-known benefits of payroll automation in detail –
Reduce errors
Just like the calculators are a little better at math as compared to human brains, tools like payroll software are better at calculating the deductions, PTO, overtime pay and the commissions that affect the pay of employees. Plus, if you are not entering the data manually, there is no risk of copying the data incorrectly or mistyping a number.
Save time
Automating the payroll processes and tasks can save a major amount of time. Ideally, an automated payroll system can save up to three to five hours of work and replace most of the manual data.
Increase Security
Spreadsheets and paperwork are not secure places to keep your crucial payroll data. With an automated payroll system, your data is encrypted and password-protected, so that no one (besides your team) can easily access it. This will keep your employees' data safe and secure, which is the utmost important requirement of the organizations.
Create Reports Easily
Predicting labor costs and making strategic decisions is easier with the help of automation. What is not easy is digging through all the manual work to track your payroll information and assemble and curate it into a report by hand. Many automated payroll software platforms will provide you with downloadable reports, so that you can be confident that everything is running uninterruptedly, and you are making the right decisions.
Simplify Tax Filing
Understanding the tax system is a complicated task. There are thousands of tax jurisdictions in every country as well as region, and these tax rules change regularly. And if your organization is operating in multiple states, you'll have to track it even more intensely. It is crucial to stay on top of all such changes, however, it can be a time consuming as well as an incredibly costly process if you get it wrong.
Deploying automated payroll system or outsourcing payroll services can help track these updates in tax policies. This would ensure you meet all the deadlines while calculating withholding tax for the individual employees. In this way, organizations can be confident that the taxes are filed on time and correctly.
Employee Self Service
Gives the employees autonomy to view their paychecks seamlessly and update their personal information. This helps streamline your business's payroll processes, keeping extra tasks off the manager's to-do list and limiting the errors. With the payroll automation and digitization, many systems allow their employees to perform tasks like -
Viewing benefits statements
Editing their personal information
Viewing deductions
Updating their direct deposit
When and How to Automate Your Payroll Process?
Answering the 'when' of the above question – companies should automate payroll, deploy payroll software, or outsource payroll services right from the beginning. If the size of the company is small but plans to grow, then it will be easier and faster to onboard the employees with one system instead of trying to start from the scratch or switch. People get comfortable with the way the things are and so is the case with your payroll managers. If you already have a complete system in place which supports growth, you will be able to scale your workforce without any hurdles. There are high chances that you will be better off in the future. You may even grow more than you might have estimated.
Answering the 'how' of the question – irrespective of the size of your organization, integrating a third-party payroll system is the easiest way to automate payroll process. A few of the important features that you should look for in the payroll system should be – Open APIs, Minimalistic UI, one global payroll platform, simple licensing policy, deployment model (available on Cloud, on Premises and as Managed Services) and more. Ramco's feature-rich and reasonably priced Global HR and Payroll Solution can be an ideal choice for your organization. Get in touch with us to know more about our payroll services. Let's build a successful partnership!
Contact Us for Global Payroll