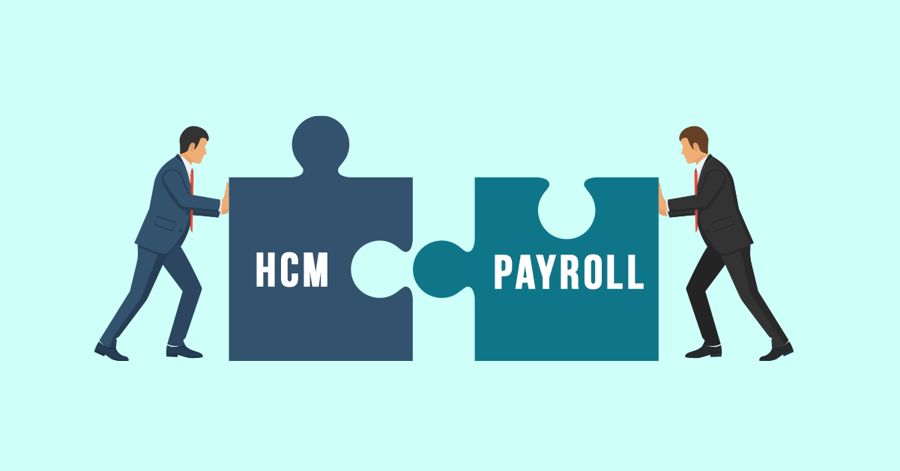 Introduction
Adopting better-integrated technologies, and systems have become essential for organizations to thrive in the ever-changing business environment. Additionally, understanding the need to simplify Human Resource (HR) processes with better technology and payroll solutions can help make the processes more efficient.
Though there is an option to manually manage all the HR activities, using a payroll software with HCM integrations can help immensely. This makes it essential to understand the process and the benefits of the payroll integrations with HCM for an organization. But before that, let us have a quick look at what HCM involves.
Human Capital Management (HCM)
Human Capital Management entails multiple processes and tasks, starting with talent acquisition, employee remuneration, employee engagement etc. and ending with employee separation. Involving standardized reporting and scheduling with the payroll solutions helps the HR department better manage the employees and their expectations. In other words, your organization can gain multiple benefits using the HCM integrations with payroll.
The HCM market is expected to reach $37.8 billion by 2025 at a compound annual growth rate of 2.4%, as per Apps Run the World, 2021. Promising organizations continued growth with a better flow of data, the benefits offered by payroll solutions and HCM integrations are highly prominent. So, let us explore them here.
Integrate Payroll with Your HCM Solution
Managing a business or an organization involves multiple activities to be performed in a synchronized manner. One such critical segment to manage is human capital management. While HR payroll management is one of the primary responsibilities in HCM, other operations also must be performed regularly.
This is where the process of integrating the payroll with HCM plays a crucial role. Allowing the seamless flow of information, HCM integrations like the one offered by the Ramco Multicounty Payroll solution with Workday and Oracle ensure smooth operations and better profitability.
The process of payroll integration with the HCM involves the following steps:
Create a framework that defines all HCM issues and payroll solutions to be implemented.

Build a plan to address individual HCM requirements separately in link to the payroll.

Define all the inputs to be passed to the payroll solution from the HCM integrations.

End with the implementation and check the performance at regular intervals.
Benefits of Integrating Payroll with HCM
Although knowing the basic steps of integration is essential, it is equally important to understand its benefits. Unifying the HCM integrations with the payroll software on a single platform can offer the business multiple strategic and cost-linked benefits. Such as,
Reduction In Manual and Repetitive Work
HR and payroll involve various repetitive tasks. You would be required to maintain attendance, performance, reporting, and other similar worksheets for the appraisal process. Using the payroll solution with HCM can eliminate the need for paperwork and reduce the burden of manual tasks.
Improves Accuracy and Efficiency
Managing HR payroll is not an easy job. An error in the data can create dissatisfaction among the employees. But using a single payroll and HR data management system can offer better insights and information to improve the decision-making process. Additionally, it enables human resources to concentrate on leading the teams and carrying out improved performance evaluations.
Improvement In Employee Satisfaction
Employee satisfaction is one of the critical factors to business growth and sustainability. The HCM integrations with payroll will ensure an easy process right from employee onboarding. Without adding to the HR team's workload, a simple onboarding process can aid the organization's growth. These solutions increase employee engagement in business processes by giving them on-demand access to all the required information.
Better Data Security
Data security and compliance are essential when dealing with sensitive employee data. Companies can have a consolidated, secure database to store and manage employee data by integrating payroll solutions with HCM. Reducing the chances of a data breach, redundancy, or even tampering, such an HCM integration can help the HR department to perform safely and efficiently.
Better HR Outcomes
The HR department is interlinked with every employee of an organization. Any changes in the policies or procedures by the top management need to be informed to everyone promptly. Using the HCM integration, HR can reduce the workload by shifting labor-intensive tasks to automation and focusing on more crucial tasks like training and development.
Enhanced Transparency
To create an ecosystem of satisfied employees, it is essential to ensure transparency in all the processes. Using the HCM integrations with the payroll solutions will improve the data enabling better reporting. Offering systematic data visibility will help address issues quickly with better solutions.
Conclusion
HCM integrations with payroll are a central point for all data access needs. From an employee's first day on the job to their promotions, you can access everything with just a click using the HCM integrations. It centralizes the data, gives secure access, and relieves the HR manager's workload.
Integrating the Ramco Multi-Country Payroll Solution can offer seamless data flow with a frictionless employee experience. To get more information about our payroll solution, connect today.
Contact Us for Global Payroll