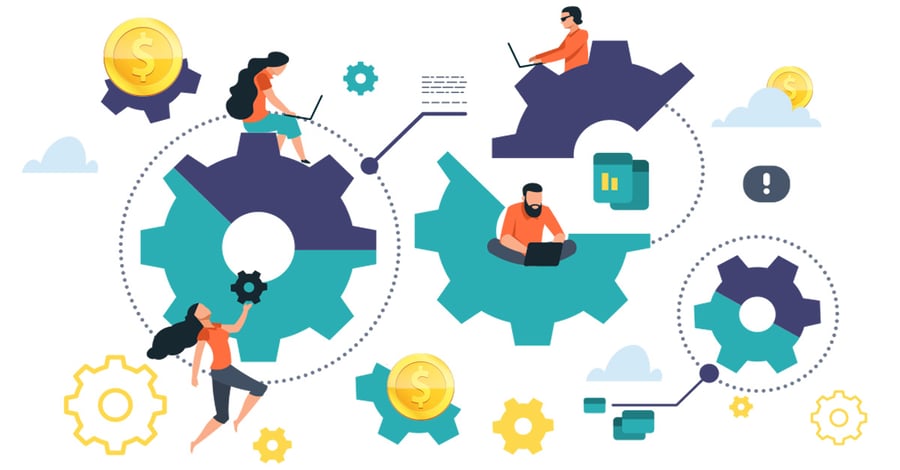 Many businesses in the past have taken a traditional approach by keeping their payroll and human resources (HR) responsibilities separate. While that may fulfil basic requirements, an HR digital transformation offers various benefits by combining HR and payroll management services.
Today, we live in a world where small or large businesses produce, share, store and collect their valuable business-critical data in many ways, later used to remain competitive in their marketplace. As HR and payroll systems share a lot of the same data, wouldn't it make sense for companies to combine these systems into a single automated solution?
By integrating HR payroll software, multiple teams can access the same data required to run a compliant pay period accurately and promptly. In addition, running combined HR and payroll services is quick and easy as there is no need to export and import data or to cross-reference different databases manually. Explore more benefits of integrating HR and payroll systems down below.
Minimizes Compliance Risk
Integrating HR and payroll services means any changes that are made to the employees' information, such as salary deductions, pay changes, holiday allowance, timesheet records, etc., can be accessed to calculate pay accurately. You can analyze how payroll will be affected and identify any potential mistake or amendment before running payroll. This will, in turn, save your time and reduce the risk of penalties for non-compliance.
Reduces Manual Data Entry
When these services run on separate systems, the changes made in the HR system might not reflect in the payroll system, unless done manually. This will often lead to incorrect calculations. Now, if both these technologies combine, any information changed on the HR system will be automatically updated to the payroll system. As a result, payroll and HR will use the same data to pay their employees efficiently and accurately.
Comprehensive Reports
With the constant increase in the number of data pools one handles within a business, it can be challenging to collect all the required information from multiple systems to find actionable insights. On the other hand, having all your data stored in a single place allows you to build reports or produce data samples easily and quickly.
Environmentally Friendly Solution
If any aspect of your payroll functions is still being operated using paper, then integrating payroll with HR software can help reduce the paper load. While this will decrease the amount of clutter at the workplace, it will also reduce the overall company impact on the environment. This can be a substantial solution as it not only reduces the use of paper but also eliminates the need to find spaces for storing paperwork.
Improves Communications & Teamwork
When payroll, time and attendance, and other HR services are controlled using a single interface, improvement in communication and teamwork can be achieved. For instance, a single change made by an HR professional in a specific area can be viewed by others when needed. It will not only make it easier to make changes but also helps in avoiding confusion.
Helps with Employee Empowerment
By using an integrated HR payroll solution with a self-service option, employees can access their payroll information as they want. This will allow them to check payment accuracy, determine the amount they will pay ahead of time and retrieve payroll information when required. While allowing employees to view their payroll information empower them, it also saves the valuable time of HR professionals.
Increased Data Security
An integrated HR payroll software stores all important and sensitive information, including employees' payroll numbers, personal contact details and tax information, all of which are kept in a single place. As it is stored in a secure system, the chances of data getting hacked are lesser.
Single Contact Point for Assistance
If your organization uses an integrated HR and payroll solution, both your payroll and HR teams will have a single point of contact if they require any help with the system. That is to say, and their queries will be resolved quickly, reducing the risk of disruption.
Human errors are unavoidable and can cost companies thousands to millions in damages. Depending on manual techniques to share resources can cause a huge impact on business. When HR and payroll management services are integrated, organizations will have better access to data, errors will be reduced, and processes will be smoother and more efficient.
Contact Us for Global Payroll