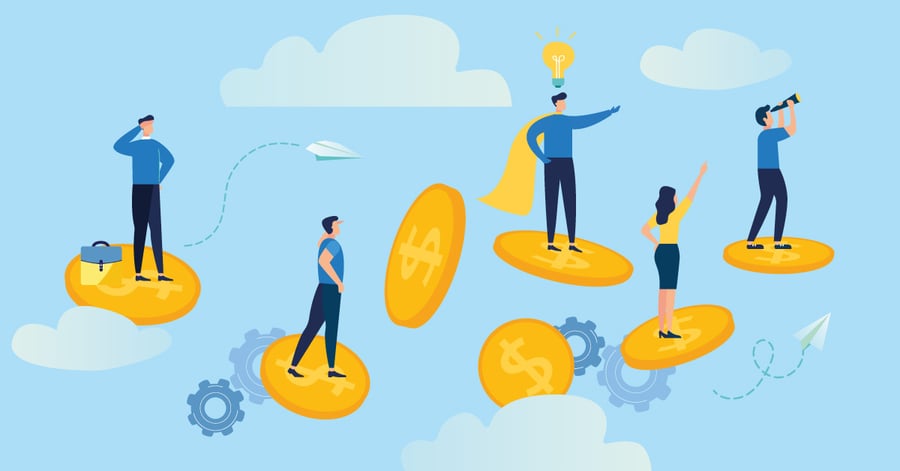 Payroll processing involves collecting every employee's data, calculating their working hours and monthly salary, tax deduction, distributing pay timely and evaluating employee benefits. As it is a crucial process for the company as well as employees, any minor error may lead to major consequences. Moreover, there are many ethical and legal factors involved in payroll management that need to be taken care of, making it even more important to maintain your payroll records in an organized way.
What does it take to make your payroll process error-free and seamless? It's cloud payroll outsourcing. In this, you involve and trust a third party with handling and managing your payroll processing services remotely. There are many reasons which have encouraged small, medium as well as large businesses to rely on cloud payroll outsourcing solutions. A few of them are:
1. Compliance with Tax Laws
While handling multiple responsibilities and tasks, it is challenging for HR managers and executives to stay legally compliant, which is an integral component of payroll management. Even a minor issue or miscalculation with taxes can lead to a huge complication and impact your company's reputation.
2. On time payment
As employees look forward to an accurate and on-time salary every month, a slight delay in processing their salary can lower their morale and cause discontentment amongst them as they might not be able to meet their routine expenses on time.
3. Cost Effectiveness
Managing payroll in-house may prove to be costly as you'll have to deploy the latest technology and hire payroll experts. Moreover, it may take up a lot of time and shift the attention of employees and business owners to non-core responsibilities.
4. Process Centralization
Payroll managers are required to coordinate with the accounts department, HR, individual employees and attendance management teams for assimilating and synthesizing the payroll data. If you delegate all these tasks to your HR team and ask them to handle and coordinate all these processes, it can get overwhelming for them to manage everything together. Moreover, the chances of missing out on important details or committing mistakes would be high.
Why is Payroll Outsourcing a Viable Option for You?
1. Time Management
Managing payroll internally can be perplexing and complicating. It involves tracking employees' overtime, their leaves, evaluating employee benefits, managing new hires, or terminating a few of them, and other tasks. For handling all these tasks efficiently, payroll providers need to stay updated with the changing federal and state laws about payroll and have an agile human resource management system for smooth functioning.
Outsourcing cloud payroll solutions will lift the employer's and HR team's burden and hand over the same to an efficient and trusted service provider having a team of experts. They have access to the latest tools and software and come with years of experience in managing payroll, ensuring your payroll management process is done meticulously.
2. Cost-Effective
Outsourcing cloud payroll services help you manage your expenses better while reducing the amount you plan to invest in the efficient management of the payroll process, provided you select a reputable and well-established payroll outsourcing company. Payroll is not merely about disbursing salary to your employees, it goes beyond that and involves staying tax compliant, training, tracking leaves of employees and other evaluations and calculations. Handling these tasks internally makes it a time-consuming process and deviates your employees' attention from their core responsibilities. Further, hiring payroll experts will add to the cost. Therefore, partnering with an expert cloud payroll outsourcing service provider will prove to be cost-effective.
3. Latest Technology Advantage
Payroll automation is the present and future of payroll. It uses advanced technology, tools, and software to manage your employees' payroll while taking into consideration their specific details such as leaves availed, extra hours devoted, and others. It leaves minimum to no room for errors, thus keeping employees satisfied
However, it might not be possible for every company to keep up with such technology trends in payroll. They would need payroll experts' help to manage the same, which might be even costlier, thus, making outsourcing payroll services a viable and cost-effective option.
4. Safety and Security Concerns
As payroll processing gives access to every employee's personal information and involves extensive monitoring as it is a crucial process, theft of information can cost too much to a company. Therefore, it is advisable to partner with a trusted and reputable payroll outsourcing firm. They use the latest technology which alerts the system as and when it recognizes payroll fraud. Multiple backups and server locations help in protecting data and securing employees' personal information. Certified for confidentiality of data
Adopt Robust Payroll Processing Solutions to Stimulate Organizational Growth
Be it a small-sized, medium-sized, or large-sized company, all of them benefit from payroll outsourcing services as it helps you overcome all the payroll challenges and maintain payroll processing in an organized and immaculate way
Ramco's payroll processing solution helps you in creating organization-specific rules, staying compliant to standard practices across different geographical locations, considering variances within individuals, and dealing with multi-country payroll. With a robust payroll processing solution, take a step closer to achieving overall organizational goals.
Contact Us for Global Payroll