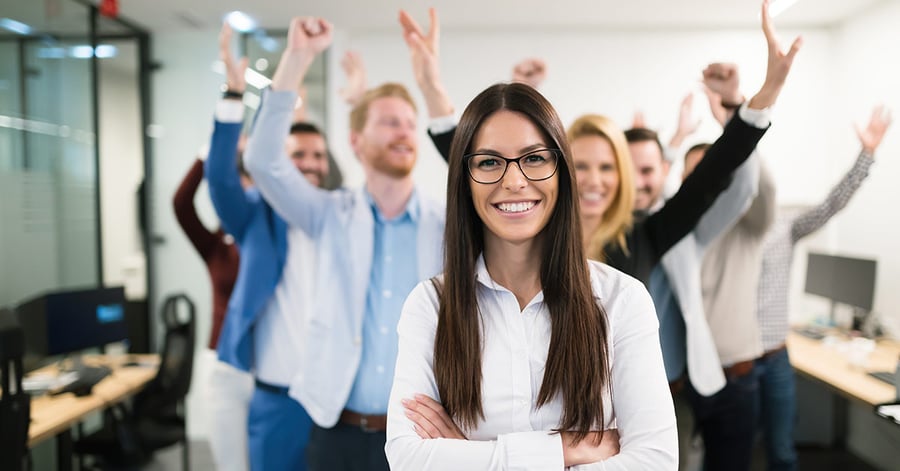 As a business enters the growing stage, it usually encounters issues with workflow optimization, scaling, process automation, and workforce management. Managing employees of an organization and their payroll gets more and more complex with the increase in the headcount and multi-country operations.
Therefore, to manage day-to-day HR tasks and payroll needs, it is advisable for businesses to leverage the advantage of cloud human capital management software. It is a specialized software that helps in managing employees, automating human resource business process, payroll and compliance. Now, let's look at the areas where HR management system makes big difference and eliminate most of the above-mentioned issues
Monitoring KPIs
KPI (Key Performance Indicator) is a measurable value that shows how effectively an organization or employees are achieving their business goals and objectives. Businesses should necessarily measure the activities that really matter to obtain real results.
This process can be easily automated with all-inclusive cloud HR management software. It helps in setting qualitative and quantitative targets, tracking employee's performance appropriately and rewarding them with bonuses or other perks besides processing the right payroll at the right time. The important KPIs to monitor with the software are:
Duration in the Position
The productivity of an employee decreases and employee dissatisfaction increases if they remain in the same position for a long period of time. One of the tasks of HR management software is to monitor the duration for which an employee stays in a particular position and even remind HR managers when employee is due for promotion. Moreover, employees' movements can be easily tracked with HR management software which enables HR functions such as transfers, promotions, and deputations. In this, all the relevant history is maintained for reporting, analysis .
Employee Retention
The retention rates play a significant role in measuring an employee's retention at and organization besides indicating job stability within oragnization. An advanced HR management software may also help in monitoring the retention of the talent, facilitating the overall productivity of an organization.
Absenteeism
This indicates the number of days for which an employee took off from work, due to any reason. An agile HR management software would track employee time data and interprets it to provide error free attendance inputs for payroll computation
Managing Employees Efficaciously
Automating some processes while reducing repetitive administrative tasks within an organization would improve the overall efficiency of an organization. Most HR management software makes it seamless to collect data centrally, automate business workflows and add visibility using graphs and charts. A few features of the HR management software that improve workflow and employee management are:
Payroll
Minor or major payroll errors can be a significant reason underlying a company's downfall and lead to legal complications. Therefore, it is extremely important to manage payroll effectively and efficiently. An efficient AI enabled all-inclusive human capital management software controls the pay schedule, calculates paychecks, and ensures accuracy and compliance.
Training Management
With all-inclusive human capital management software its easier for an organization to identify employee's training needs and train them on the same. Training needs can be identified as a result of competency gap analysis, performance feedback, career planning. Training programs are then planned, organized and assessment is conducted for the employees. . Ramco's best-in-class and integrated HCM captures more than 450 pieces of information about all the employees through pre-built functions such as training, skills, and personnel to name a few.
Hiring and Onboarding
To make the onboarding process of an organization quick, simple, and efficient, deploying a comprehensive human capital management solution would be the best decision. But how would it increase the onboarding process's efficiency? It would do that by:
Making every employee's role clear
Controlling the onboarding process
Allowing the companies to monitor progress
Making new joiners feel connected
Enhances Employee Self-Service
Employee self-service is one of the in-demand features of modern HR management software. Oftentimes, employees have questions about salaries, leaves, time and so on and it consumes lot of bandwidth of HR department to answer these questions individually.
Therefore, an AI enabled automated HR management system that provides higher employee satisfaction and better employee self-service experience would be helpful here.
Example - If any employee wants to check or avail their available paid sick leave, paid time off or anything else, they can just do it themselves through login in their portal account or by using chatbots or using mobile app.
Choosing the Best HR Management Software
Competitive human capital management platforms offer a wide range of benefits such as simplified compliance, ability to analyze data, handling administrative tasks, maintaining employee records and so on. Ramco's payroll solutions in addition also provides complementary modules such as time and attendance management systems, pandemic control systems, global payroll software and digital managed services. All these are built on a common platform and are a perfect example of a comprehensive and progressive payroll solution.
Moving to a cloud payroll solution is now not a question of 'if' anymore, rather it is about 'when'.
Contact Us for Global Payroll