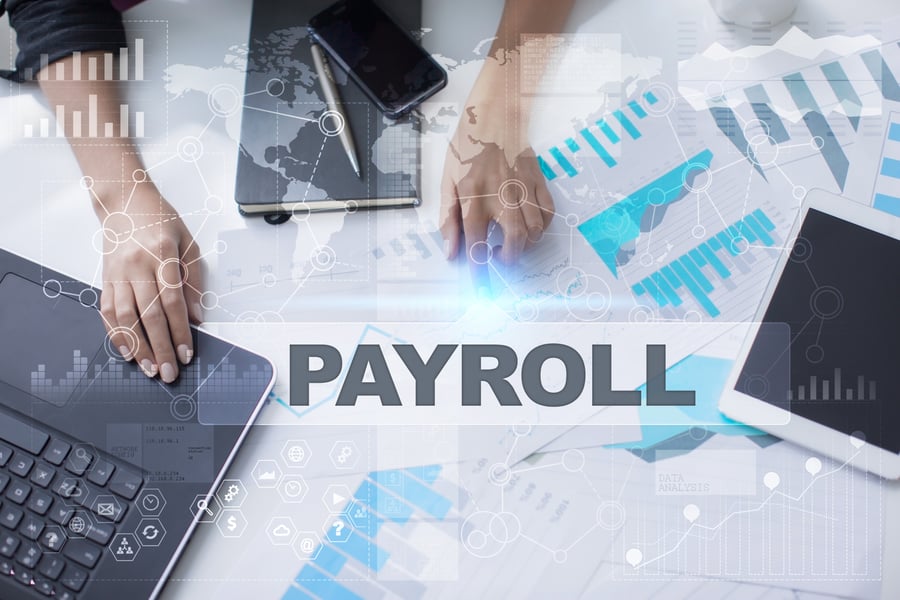 And Its Three Tangents – People, Technology, Compliance
It is a no-brainer that operational hygiene is fundamental for the working of any organization. The irony, however, is that this very area has the least attention and lowest expense for change and innovation allocated to it. One of the critical functional areas of operational hygiene is Payroll. Organizations continue to work with dated Payroll services & solutions which while being compliant are not up to speed with the latest people and technology developments. Albeit its transactional nature, Payroll has the potential to impact workforce experiences significantly, thereby affecting productivity, morale, and retention.
We at Ramco believe that organizations who are genuinely dedicated to the cause of enhancing employee experiences and (thereby becoming the employer of choice) consider Payroll Services as a strategic driver and no longer a mere operational function.
It is not just us who believe this. Greyhound Research confirmed much the same in a recent study. Here's what stands out from the study:
95% of the workforce expect organizations to deliver enhanced experiences.
89% expect organizations to provide anytime, anywhere, any device access to Payroll services.
1 in 5 (and increasing) of the workforce command non-standard (read complex) engagements with organizations such as Statement of Work (SoW) based, multi-country, multi-geography Payroll services.
A report from Everest Group also state findings to the same tune. The above data points in one (and only) direction – Payroll services are not a technology topic alone, and hence organizations must think multi-tangentially. Here's how.
People
With the workforce so used to getting things done at the click of a button in all their day to day online and social applications, they expect organizations to follow suit. However, reality doesn't reflect the same. Not to say that organizations aren't making an attempt, but what organizations must build cognizance towards is the need to bridge this expectation gap and deliver on it. Must note, with an increasing number of Millennials entering the workforce, organizations can only expect this gap to widen. The expectation of the workforce (including the Millennials) when it comes to Payroll is for organizations to simplify everything. They are questioning the repetitiveness of tasks or non-intuitiveness of systems, be it multiple logins or repeat data entries for routine tasks like expense claims and leave applications which affect the employees' pay out. While the goal of Payroll services has remained unchanged through the times, i.e. to get a perfect payslip and a perfect pay register, the ask is primarily usability. Thus, we at Ramco suggest organizations to 'Re-imagine Payroll and to start now!'
Technology
With the premise that organizations need to deliver anytime, anywhere, any device access for Payroll services well set, the only way forward is using a robust technology backbone. This is a significant boon since organizations can stand to gain on aspects like higher efficiency, reduced costs and also happier employees. Technologies like Artificial Intelligence (AI), and Blockchain will not only help to automate basic Payroll services tasks but also engage employees by way of chatbots in many ways. At Ramco, our vision is to build Systems for Payroll services which would understand the context, anticipate the needs and accordingly serve the users. Someone said, if sound is stretched, it becomes music. We believe, if technology is stretched, it can give wonderful solutions! Think Facial Recognition beyond just frictionless flawless attendance capture to monitoring effective hours spent at the billing desk by a customer service staff instead of on Whatsapp. As Ramco continues to stride ahead in its Payroll simplification journey – from Employee Self Service (ESS) to Bots, to integrating Voice Assistants (like Alexa and others) and coupling it with the strength of Artificial Intelligence (AI) –organizations are welcome to be a part of this journey.
Compliance
While for the longest time compliance has rightfully commanded much attention, a lot is changing. With the demand for non-standard forms of contractual engagements on the rise, global Payroll services which cater to multiple countries and multiple currencies is a given in today's times. Currently, the way organizations addresses this is by using multiple vendors across various countries and regions. This approach costlier and more complex. The ideal consideration is a vendor that has an understanding of many countries, the ability to add more countries and currencies into their platform, and use technology as a backbone to deliver Payroll services. With the need for adherence to new and varied compliances, increasing possibilites offered by technology, and rapidly evolving contractual engagements, Next Gen Payroll Services are fast becoming a necessity.
The pointers above highlights the need for organizations to consider a net-new approach to Payroll services strongly. A great starting point for re-imagining Payroll is to understand the intersection of the three tangents, People, Technology and Compliance and how this applies to the organizational scenario at hand. What is critical to remember for organizations is that Payroll modernization is a journey with a moving goalpost. While the technologies we use will change and evolve during the journey, what organizations must try to achieve is standardization across its global Payroll to ensure insights, agility, efficiencies, and most importantly experiences for its workforce.
Also Read: Single Touch Payroll Phase 2 (STP 2) : Complete Guide Australia
On similar lines, listen to a recent webinar jointed by featured experts from Everest Group and PORR constructions … VIEW WEBINAR
Contact Us for Global Payroll